TransferWise's $3.5bn valuation – can anyone catch them?
In early March, we asked the question: was TransferWise worth $4bn? Turns out the correct answer was $3.5bn following its $292m fundraise announced yesterday.
Will TransferWise be number one?
Both TransferWise and Western Union like to report their total FX flows to the market. With TransferWise recently reporting a new milestone of £4bn FX flow/month, we can now forecast when we think they'll catch Western Union if both companies continue on their current paths.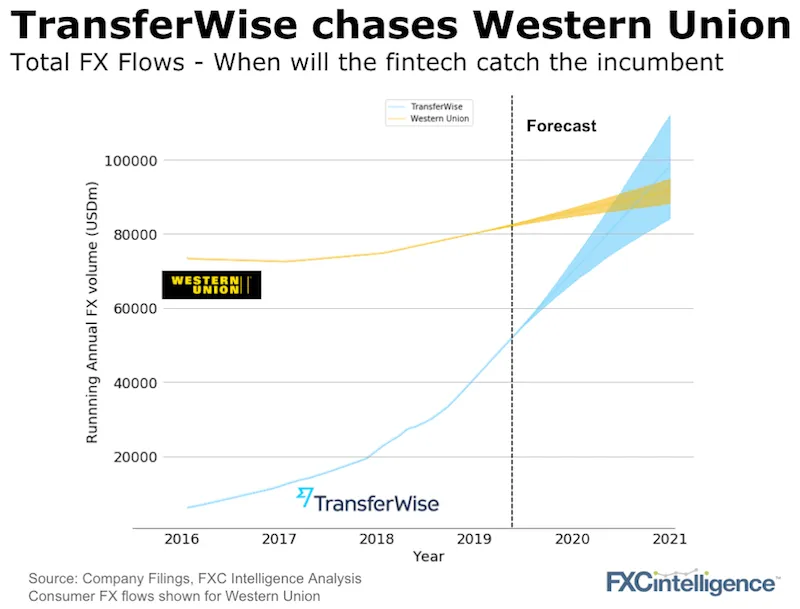 At current rates, we have TransferWise catching up in one to two years and directionally the trend is clear. In terms of FX margin (and therefore revenue), Western Union has a much bigger lead which will not be closed in two years. (Contact us for a deep dive on TransferWise versus the competition).
Where will TransferWise find its growth from?
Growing from $50-60bn of annual FX flow to $100bn is going to require some effort. In the consumer market, TransferWise's current run rate is still a small fraction of the c.$2tn market. Note that the World Bank numbers of c.$700m, which focus on migrant remittances, exclude large parts of the market that cover TransferWise consumer customers.
Which means growth has to come from:
Taking an increasing share of more geographical markets. Whilst it may be number one in the UK, in most other markets it still has plenty of room for growth.
Grow the SME segment. TransferWise is reworking its business product that currently accounts for around one sixth of its total flows. The SME market overall dwarfs the consumer market but growth often also needs human intervention meaning exponential growth rates are much harder to achieve.
Win more white label deals to add to BPCE, N26 and Monzo. These banking deals take a long time to do are hard to win but can add a lot of flow very quickly (note recent wins for TransferMate in the US and InstaReM in Thailand).
What might slow TransferWise down?
To think about this, we need to broaden the competitive set. Western Union will not stand completely idly by – it has a substantial digital business but its target customers primarily miss TransferWise.
PayPal has the clout – it's worth $100bn, has over 200 million customers and its FX flows are around double those of TransferWise.
Visa and Mastercard are increasingly getting into the cross-border space and then finally, we have to ask what Facebook, Google, Amazon, Tencent and Ant Financial may do.
Exciting times…