FX Pricing Data
Tracking price fluctuations in real time, benchmarking yourself against peers, gaining competitive insights into a changing market – these are just a few of the ways our pricing data is being used by the industry's leading players.
FXC Intelligence has been tracking the prices of international payments longer and more regularly than any other firm in the market. Learn more about our extensive coverage and data below.
What is it?
FXC Intelligence currently tracks how much is charged across the world by major banks and payment companies for international transfers. The majority of our data is updated every 15 minutes, giving you up-to-date insight into the prices being offered along major currency corridors.
This data is collected using three primary methods:
Web-scraping of providers' websites

Providers' own pricing APIs

Mystery shopping of prices where API access or scraping is not possible
This provides us with data that is accurate as recent as within 15 minutes. This allows us to work out each provider's up-to-date exchange rate markup (i.e. margin) against the mid-market exchange rate. Using these markups we are able to estimate each provider's live exchange rate.
In addition to exchange rate, we supply a full range of data points for each payment provider and bank, including margin, any additional transfer fees, transfer speed, and more. For full technical details regarding our API endpoints and attributes please contact us.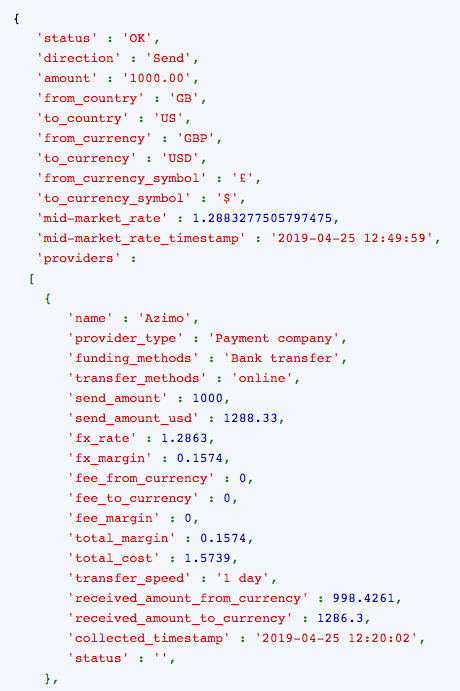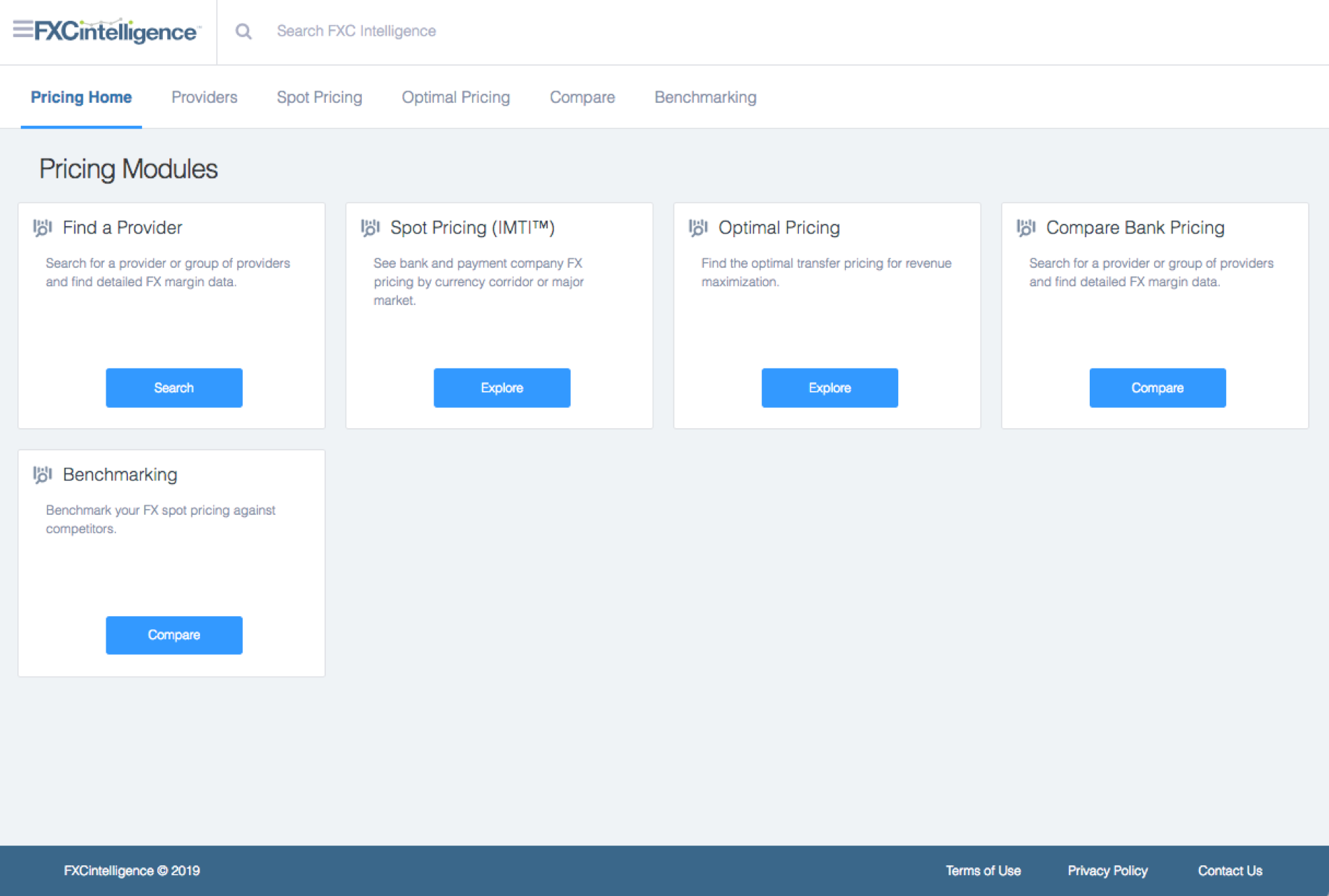 What do we cover?
Our pricing data is truly global and available via API.
We currently track the prices of over 50 banks/payment companies across 650+ currency corridors, including outbound pricing from the US, UK, Canada, Australia, Hong Kong, and the Eurozone.
Please contact us for a full list of the corridors and providers we cover.
Accessing our data
There are two primary ways to access our data – directly via our Pricing APIs or through our interactive, online portal. Our APIs facilitate direct access to large quantities of data for technical analysis or integration into a website or app, while our portal allows for easy access to market pricing overviews and pre-formatted data tables.
You can view a sample of pricing data in our online portal by creating a free account here.
For sample access to our API, please contact us directly at sales@fxcintel.com
Case Study 1
A large consultancy needed detailed data on short notice
The situation:
A global management consulting firm required data, on short notice, showing the FX prices currently being charged by payment companies across different corridors for use in a project covering the payments industry.
How we helped:
We provided payment company pricing data covering more than 200 corridors and all major payment companies, allowing them to quickly and effectively analyse the industry.
Case Study 2
A major industry player needed to refine their marketing
The situation:
A global payments company was looking to update the marketing claims they were making to customers. In particular they required up-to-date data on their savings versus banks in key markets where they operate.
How we helped:
We provided benchmarking data for the leading banks in multiple countries across a wide range of currency corridors to integrate into their marketing material and website. 
Example Pricing Data Clients