MoneyGram's next move and Visa's play with Earthport
A lot to cover. Our analysis of the first quarter results of the biggest publicly listed players, including MoneyGram. We look at Xoom quietly entering Europe, Checkout.com's massive raise and Visa closing its Earthport deal. But first a suggestion:
If you are an investor looking to enter the space, call us at the beginning of your process. Again this week, we spent time with an investment fund near the end of their process stuck with too many unanswered questions the generalist advisors couldn't answer. We're the only specialist in cross-border payments data and insights globally. Call us first.
To MoneyGram and its competitors…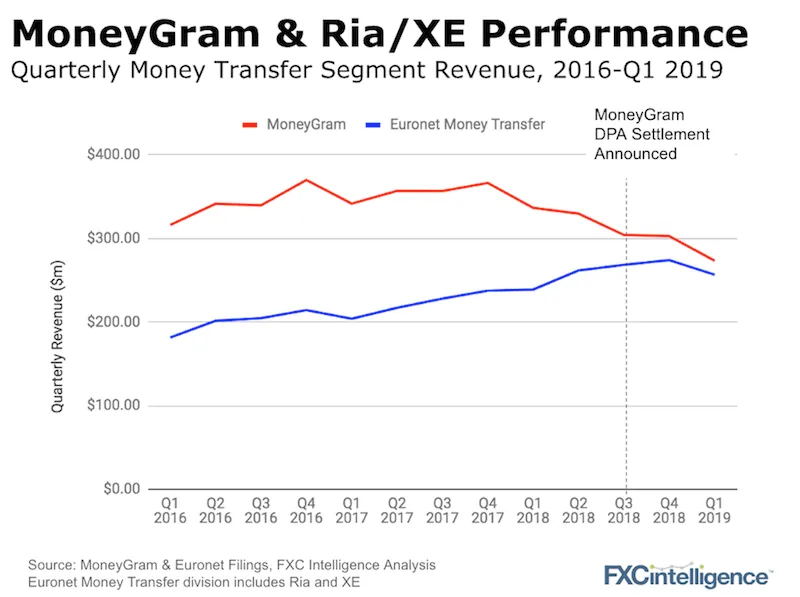 The big question for MoneyGram is will the decline in revenue continue. Their guidance for the year would suggest no, but the trends from the previous five quarters suggest it may. The shareholders response was to take 21% off their share price since the earnings were announced.
Also on MoneyGram's plate is refinancing its c$900m debt. The company has started with a new $245m loan but at 13% interest and warrants of 8% of their equity, this is not cheap money (and there are more conditions if you care to read them).
How does MoneyGram compare to the other big publicly listed groups?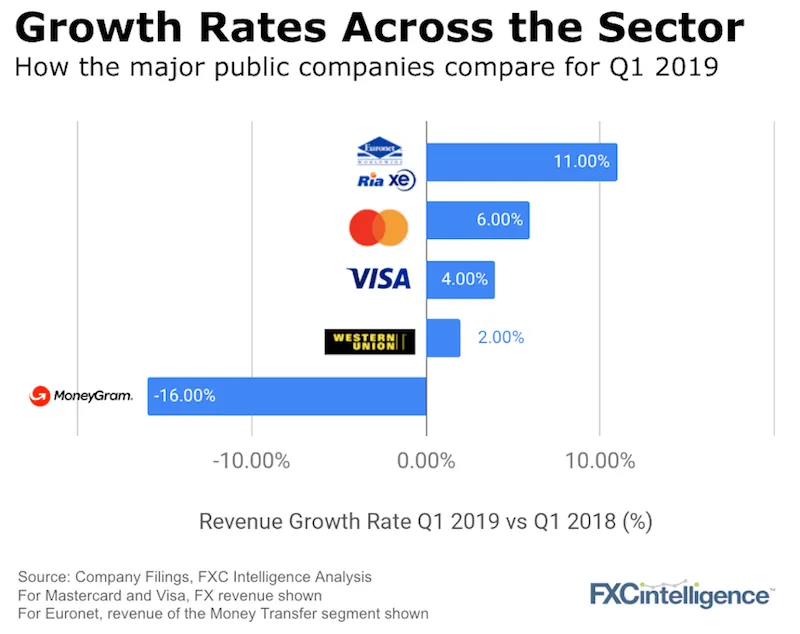 MoneyGram's decline due to the restructuring in its business was expected however, and there are positives within its digital business. Another question is how long can Western Union sustain below par growth rates in the sector? Its competitors (growing faster) are obviously catching up. 
Looking a little broader, both Visa (who closed their Earthport acquisition this week – more on that below) and Mastercard have giant FX businesses and Mastercard in particular continues to grow strongly. 
We covered PayPal two weeks ago and whilst they don't give quarterly guidance on FX revenues, their performance across this entire group continues to look strong.
Xoom (quietly) launches in Europe
Xoom, (owned by PayPal) has quietly launched in the UK and Europe. This follows its first launch in Canada at the end of last year, Xoom's first market outside the US.
Soft launching a corridor is par for the course. Expect a public announcement once any kinks have been ironed out. Remitly quietly entered the UK market in the same way back in March 2017.
Given that PayPal's acquisition of Xoom closed in 2015, there is some irony that a company called Xoom took four years to launch in Europe.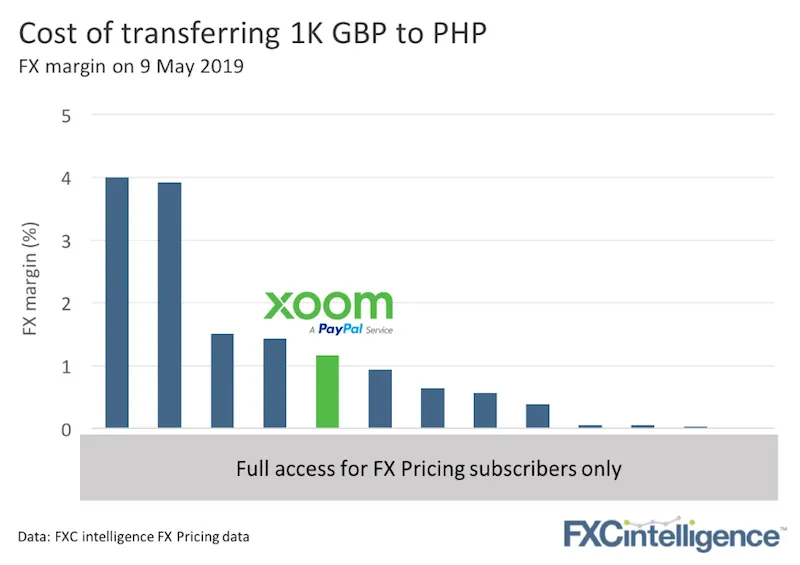 Pricing-wise, Xoom seems to be positioning themselves as a competitive but not incredibly cheap provider – possibly banking on their name recognition and visible PayPal link to keep them from having to compete solely on cost.
Checkout.com – now you've heard of them
Checkout.com broke some records this past week raising $230m as a Series A, the largest such raise for a European tech company.
Checkout.com claims to offer the most comprehensive cross-border payment solutions for merchants. Having quietly built a business with real revenue and top tier customers, it has now decided to make a big push. $230m should allow that to happen.
Clients range across all sectors but include many cross-border companies that use cards, including industry leaders such as TransferWise.
Visa completes Earthport acquisition
After a protracted battle with Mastercard, Visa has finally closed on its mark and now owns Earthport. Deal analysis here and Earthport analysis here.
The ambitions for the deal seem high: "The acquisition will make it possible for Visa clients to enable individuals, businesses and governments to utilise Visa to send and/or receive money through bank accounts around the world."
What has been stopping Visa from using normal rails to send account to account transfers is unclear. We expect there to be more to this.
Do you have all the pricing data you need?
Need it via API? Contact us to get ahead.