Does Earthport solve the challenges of correspondent banking
Earthport published it's 2018 results this week. Earthport's stated goal is to provide an alternative to the traditional model of correspondent banking.
Earthport has gone through a tough year – it has lost it biggest customer, lost another significant potential and has changed its board, Chairman and CEO. The share price has not reacted to favourably either. Earthport's current equity value is just over £30m (on revenues of £32m and an operating loss of £8.5m for the year to 30 June 2018).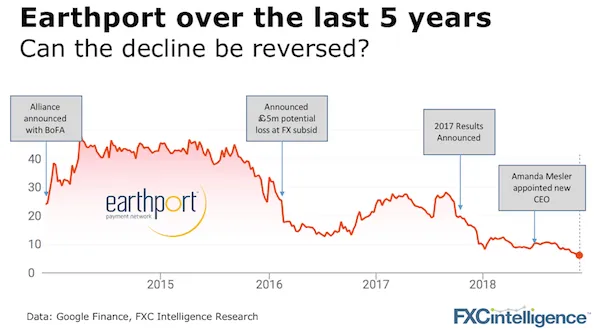 Given some of the substantial valuations of companies in the payment space we continue to see, either the market doesn't love Earthport specifically or it doesn't currently value the need and its ability to solve the correspondent banking model.
What's happening in correspondent banking?
In the past few weeks, an updated report came out from the Financial Stability Board that showed that correspondent banking has continued to decline over the last eight years. The question is: does this really matter?
Let's start with the biggest player in the market, SWIFT…
In 2017, SWIFT sent 3.5 billion messages related to payments. Of this, around 15% went via correspondent banks (the rest are between larger institutions).
In 2017 and 2018, Earthport was sending around 10 million payment transactions annually. That would put its market share at around 0.3% of all SWIFT payments and around 2% of all correspondent bank payments.
Is the correspondent banking model really broken then?
Over the period 2011 to 2017, there was an overall reduction of 7.3% in the number of active corridors (from 10,818 to 10,027) – i.e. most corridors are still open. But the number of correspondents declined by more than double that percentage due to tougher money laundering checks.
There are without doubt issues in some corridors and speed and cost can be impacted by the correspondent model but mostly the rails are still running. Are the declines a result of volumes shifting elsewhere or because of consolidation in the market? As the FSB suggests, more research is needed!
Postscript
After initially publishing the article above our newsletter we noticed the following.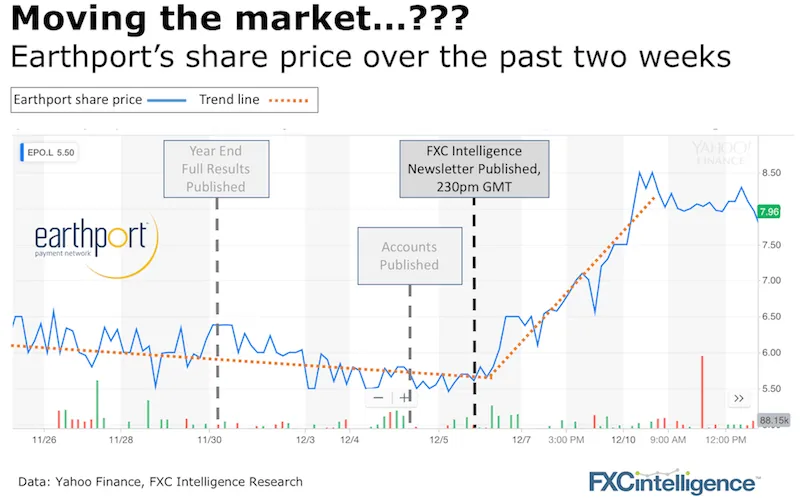 At 2.30pm GMT on 6 December, we had published our newsletter with our analysis on Earthport and correspondent banking. By 3.45pm, well…you can see for yourself (PS we have never owned any shares in Earthport).