The 30 Most Promising Cross-Border Payments Companies
The world's 30 most promising cross-border payments companies in 2023, according to FXC Intelligence.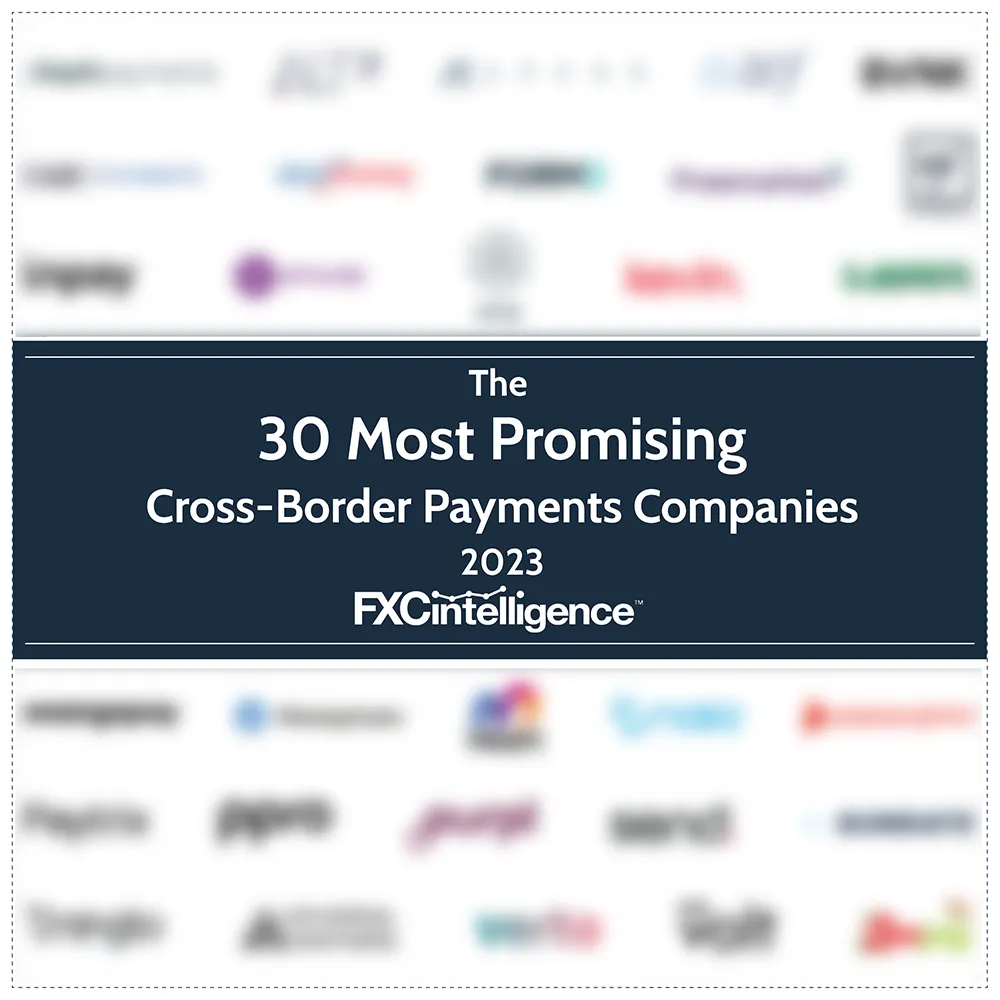 Cross-border payments companies are seeing another year of flux in 2023, with the world's biggest banks and fintechs continuing to make progress towards cheaper, faster and more secure international payments. But while established players always grab the headlines, newer market entrants are constantly making a name for themselves through the pursuit of new technologies, untapped markets and innovative growth strategies.
Keeping tabs on companies that are on the up is just as important as tracking the cross-border payment industry's biggest players and this is why FXC is unveiling its brand new industry market map: The Most Promising Cross-Border Payments Companies in 2023.
Using our team's industry expertise and FXC's data, we've created a guide to companies that are worth watching this year, spanning remittances, payment processors, B2B and more. Scroll down to view The 30 Most Promising Cross-Border Companies market map, or select from the links below to read about the companies in detail:
The 30 Most Promising Cross-Border Payments Companies: Market map
The list here is not meant to be a hierarchical top 30. Rather, it's an unordered list of companies from the cross-border space that have shown significant growth in recent years, whether that's particularly strong financial results; successful fundraising rounds backed by private equity firms or other major payments players; or significant changes in executive leadership in pursuit of a new growth strategy.
Here's the 30 Most Promising Cross-Border Payments Companies market map for 2023 in full: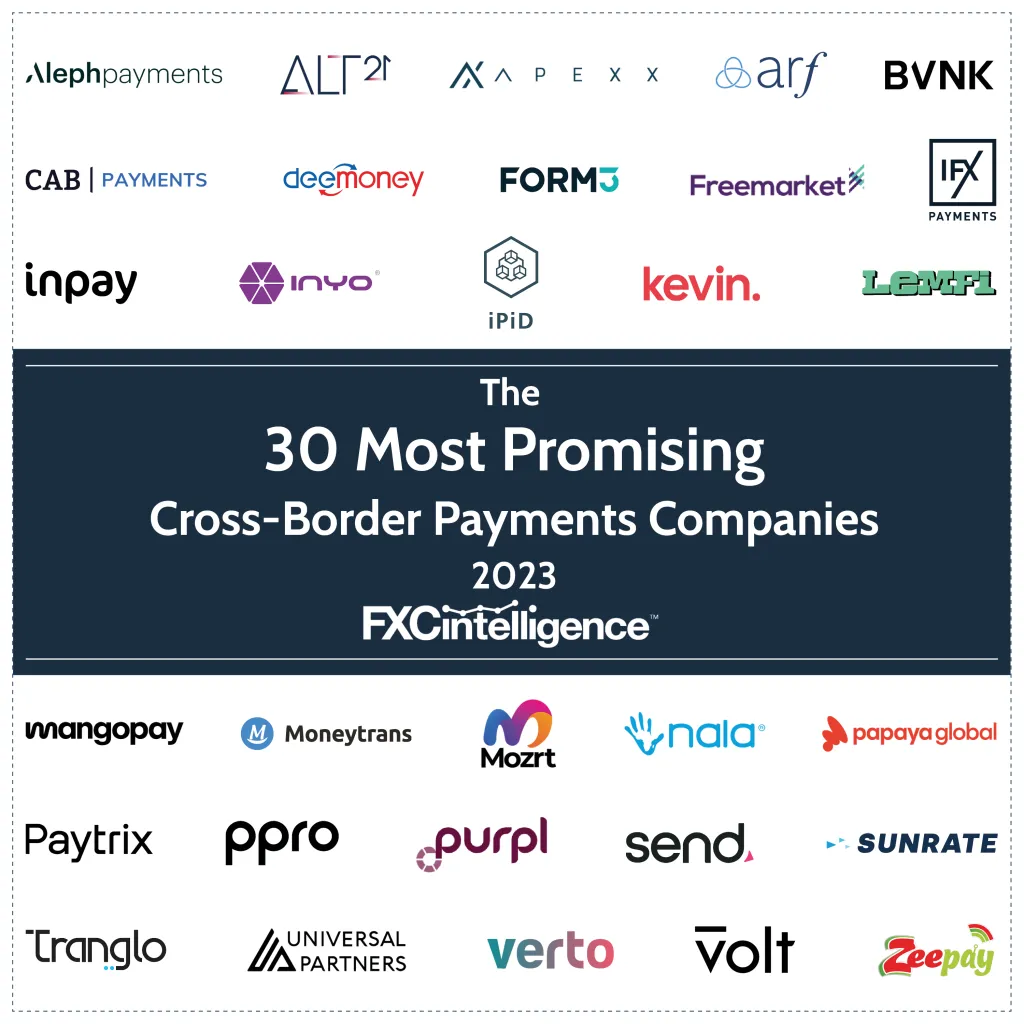 To make the list, companies have to fulfil certain criteria:
Be primarily or largely focused on cross-border payments. For some companies, this will be part of a wider range of services, but it will always need to be a substantial revenue line for an organisation to be considered for inclusion.
Be consistently growing. This may be demonstrated by increased product offerings, a rise in clients or additional hires at the business, but companies need to be demonstrating growth to be considered for inclusion.
Companies don't have to have raised outside funds, but they should have a reasonably or fully established customer base – we are unlikely to consider a company that has only just started, unless it is a spin-out from another established player.
How can FXC Intelligence's market sizing data help me grow my business?
The 30 Most Promising Cross-Border Payments Companies: In detail
A-B companies
Aleph Payments
Founded: 2023
CEO: Gaston Taratuta
Customer focus: Advertisers, agencies
HQ country: UAE/Argentina
Focus region: Worldwide
Aleph Payments is a newly unveiled division of digital media company Aleph, which was founded in 2005, that provides cross-border payments solutions specifically to advertisers and agencies around the world. Following its launch in August 2023, the company claims it will be able to facilitate the movement of $2bn in cross-border payments volume for more than 22,000 clients. To power its services, the company has reportedly listed more than 50 banking partners.
A brand new player, Aleph Payments is building on a broad network of digital advertisers, some of whom Aleph has already provided cross-border offerings for. According to the company, the large growth in digital advertising spending, paired with growth in the global cross-border payments market, will create a major opportunity for this new division.
ALT 21
Founded: 2016
CEO: Pritesh Ruparel
Customer focus: B2B, SMEs
HQ country: Ireland
Focus region: Europe
ALT 21, formerly Assure Hedge, is a provider of automated FX currency hedging solutions in more than 30 currencies, with a focus on SMEs. In 2022, it appointed new CEO Pritesh Ruparel to focus on rapid growth in the embedded market, which the company said constituted a largely untapped market of more than $1tn. The company has raised around $45m in total funding over ten rounds, with the most recent being a $21m pre-series A in October 2023.
Over the last 12 months, ALT 21 has invested significantly in its platform, infrastructure and employee base, bringing its total headcount to 68 people. The company claims that a very high proportion of SMEs don't currently use hedging services, and is therefore focused on solutions that bring the cost of hedging down for smaller businesses (such as a 'hedge now, pay later' service). Going forward, ALT 21 plans to expand overseas and broaden its partner base to target a larger demographic of SMEs globally.
Apexx Global
Founded: 2016
CEO: Peter Keenan
Customer focus: Merchants
HQ country: UK
Focus region: UK, worldwide
Apexx Global offers a number of payment solutions for merchants and businesses, including a payments orchestration layer that helps merchants to set up their online payments, as well as an API that connects merchants to buy now, pay later (BNPL) providers. The company also helps larger merchants to enter new markets by guiding them towards local processors, thereby avoiding additional FX fees.
Apexx Global has raised $37m in total funding, including a $25m Series B earlier this year. Earlier this year, it partnered with major BNPL provider Klarna, meaning that Apexx can allow its customers to integrate Klarna and give them access to the company's wide customer base.
Arf
Founded: 2019
CEO: Ali Erhat Nalbant
Customer focus: Remittance companies
HQ country: Switzerland
Focus region: Europe, US
Arf offers a liquidity and settlement platform for cross-border payments, allowing them to enable faster transactions and use their capital for growth instead of prefunding for transfers. Aside from fiat cross-border settlements, it also offers a credit line backed by stablecoins for financial institutions and money transfer businesses.
In a case study, the company reported that it helped a remittance company to enable real-time settlements across more than 800 money transfer locations in Europe. Arf has received total funding of $14.1m, including $13m in seed funding in October 2022.
BVNK
Founded: 2021
CEO: Jesse Hemson-Struthers
Customer focus: Payment service providers, B2B
HQ country: UK
Focus region: UK, Europe
A money movement company focused on digital assets, BVNK uses distributed ledger technology to enable international money transfers. The company's solutions span a global settlement network; fiat-to-crypto currency exchange; virtual accounts for easier cross-border payments; and embedded payments.
BVNK raised $32.8m in funding in a Series A round last year and is looking to ramp up industry collaboration, having recently hired Wise's ex-Head of UK and Europe as its new VP for Platform Partnerships. The company is focused on bringing stablecoin payments to more banks and fintechs, and recently partnered with open banking platform Noda for this purpose.
C-F companies
CAB Payments
Founded: 1833
CEO: Bhairav Trivedi
Customer focus: B2B
HQ country: UK
Focus region: Africa, Latin America, APAC, Middle East
CAB Payments, which is the parent company of Crown Agents Bank, provides B2B cross-border payments and FX services to over 520 clients. The company's API enables transfers across around 600 currency pairs and it has expanded rapidly, having recently undergone an IPO on the London Stock Exchange.
In its first H1 earnings as a public company, CAB reported a 94% increase in revenue YoY to £71.8m and a 56% EBITDA margin, driven by fast customer growth across a TAM worth $2.3tn, as well as interest rate rises. The company recently opened new markets in Brazil and the Pacific Island and is now looking to expand further into Europe and the US.
Deemoney
Founded: 2018
CEO: Aswin Phlaphongphanich
Customer focus: Remittances, money transfers, MSMEs
HQ country: Thailand
Focus region: APAC
Another relatively new money transfer challenger in SE Asia, DeeMoney enables money transfers for individuals and MSMEs from Thailand to more than 50 countries, with more than 70 partners globally. The company has processed more than ฿100bn ($2.7bn) in total, and reportedly handled more than three million transactions in 2022 – with a total volume exceeding ฿50bn ($1.4bn) for the year.
Driving this was a 60% increase in outward remittances through the company, as well as 10% growth in inbound remittances. The company has launched a new 'Owndee' business strategy in 2023 to focus on better, faster and easier money transfers. Its last funding round was in 2019 with a $5m pre-Series A, but the company is seeing impressive remittances growth in SE Asia, where the market continues to expand.
Form3
Founded: 2016
CEO: Michael Mueller
Customer focus: Banks, financial institutions, payments providers
HQ country: UK
Focus region: Europe, US
Form3 is a cloud-native payment infrastructure platform that enables processing, clearing and settlement for some of the world's biggest banks and financial institutions. Major payments partners include Mastercard, Visa, Nationwide, Lloyds and Barclays, and the company has won numerous fintech industry awards for its payments-as-a-service platform.
Form3 has raised a (disclosed) total of $240.1m in funding over seven rounds, with one being a $160m Series C led by Goldman Sachs Asset Management. In September 2023, the company saw a significant undisclosed investment from Visa, the clients of which will now be able to access Form3's payment infrastructure and reduce risk across real-time A2A payments.
FreemarketFX
Founded: 2011
CEO: Alex Hunn
Customer focus: SMES
HQ country: UK
Focus region: UK, worldwide
FreemarketFX is a platform for cross-border payments and currency exchange with a focus on SMEs, including companies in the gambling and online gaming industries. The company's platform enables payments across more than 140 currencies and across 100 countries.
The company has raised a total disclosed funding of £6.3m across six rounds (with other private equity rounds having an undisclosed amount). Freemarket is in growth mode, with multiple new business development hires this year, including a new business development director.
I-K companies
IFX Payments
Founded: 2005
CEO: Will Marwick
Customer focus: Businesses
HQ country: UK
Focus region: Europe, Middle East
IFX provides mass international payments, treasury management and FX services for businesses, including a virtual IBAN solution. The company says that it has more than 10,000 active clients and transfers around £15bn per year, and has more than 150 employees across offices in London, Warsaw and Dubai.
On the back of its IBAN product, IFX has seen fast revenue growth in 2022, with payment volumes rising by 258% and FX trade volumes growing by 234%, driving a 30% rise in revenues for the year. It is now seeking to expand to Canadian businesses, having recently acquired a Canadian Foreign Money Services Business licence. IFX Payments has also seen particular success enabling international money transfers for football clubs, including Hibernian FC, Brentford FC and AFC Bournemouth.
Inpay
Founded: 2008
CEO: Thomas Jul
Customer focus: Financial services, iGaming, ecommerce, NGOs, other businesses
HQ country: Denmark
Focus region: Europe
Inpay facilitates cross-border payments for businesses over a pay-out network spanning more than 200 countries and dozens of currencies. The company reportedly enables more than 500,000 transactions per month and has undergone several initiatives to boost financial inclusion, including partnering with the Red Cross to help it provide emergency aid funding, as well as launching the PostalPay remittances app in Uganda last year
The company announced record results for 2022, with revenues up 26% to £42.7m and an EBITDA of £8.3m, up from £2.7m in 2021. The company is now looking to boost its expansion across the UK, Asia, the Middle East and Europe, having recently acquired an Electronic Money Institution Licence from the Danish Financial Supervisory Authority.
Inyo
Founded: 2016
President: Daniel Cohen
Customer focus: Fintechs, banks, insures, remittances
HQ country: US
Focus region: North America
Inyo has a private network that enables money movement to 140 countries across Latin America, Africa, Asia and Europe. Its focus is on North America, where it is currently working to add to its existing licences in nearly 40 US states as well as Canada and Mexico. The company provides a full suite of services for businesses, including fund disbursement via cash pick-up, bank deposits or mobile wallets; mass payouts; and a compliance and KYC platform. It serves a variety of businesses, including fintechs, banks, insurers and remittance players.
The company says its platform can handle 2,000 transactions per second and transmit funds in over 100 currencies worldwide. It is currently connected to more than 100+ mobile wallets globally, and is reportedly projecting more than 10x growth for 2024, having recently expanded to new corridors and signed several large deals with Fortune 500 companies in the US. This year, the company hired Robson Dantas as a Co-Founder in charge of developing the next generation of Inyo's technology and products, adding to a senior leadership team that also includes Daniel Cohen, President of Inyo and former EVP, Global Head of Credit for Mastercard.
iPiD
Founded: 2021
CEO: Damien Dugauquier
Customer focus: Banks, fintechs, corporates, remittance companies
HQ country: Singapore
Focus region: APAC, Europe
iPiD offers two solutions to enhance global payments for banks, fintechs and digital wallets: Validate, an API that can be integrated with an existing payment systems to confirm payments are sent to the intended recipient, and Fetch, which enables customers to send payments to bank accounts using just a phone number.
iPiD received £3.3m of funding in a seed round in 2022, with recent new hires including an ex-Swift executive as a Chief Commercial Officer, as well as a Regional Director for the Middle East and North Africa region. In September 2023, iPiD partnered with Digit9, a cross-border payments platform launched in the UAE by LuLu Money.
Kevin.
Founded: 2018
CEO: Tadas Tamosiunas
Customer focus: Issuers, Gateways, Acquirers, Merchants
HQ country: Lithuania
Focus region: Europe
Kevin offers a payment acceptance network to merchants and other businesses, enabling instant fund settlements across PoS, mobile and online payments. The Lithuanian company has received $79.4m in total funding from 14 investors. As of last year, it was reportedly serving around 6,000 merchants across 12 European markets.
Kevin is differentiating its offering through a focus on A2A payments, which it sees as a cheaper process than card payments. The company has served a number of open-source ecommerce platforms, including WooCommerce, PrestaShop and OpenCart, and according to the company's LinkedIn page it has risen to over 200 employees spanning four offices.
L-N companies
LemFi
Founded: 2020
CEO: Ridwan Olalere
Customer focus: Remittances
HQ country: Canada
Focus region: Africa
Lemonade Finance is a remittances company that enables zero-fee money transfers to over 20 countries instantly. The company serves more than 100,000 customers, has more than 200 employees and has raised a total of $33.9m in funding over four rounds.
LemFi has made progress to improve services through partnerships – the company's new subsidiary Rightcard Payment Services has obtained a money transfer license from Nigeria's central bank to speed up transfers to the country. It is now seeking to expand its product offerings to the US, Europe, the Middle East and Africa.
MangoPay
Founded: 2013
CEO: Romain Mazeries
Customer focus: Marketplaces and platforms
HQ country: Luxembourg
Focus region: Europe
Mangopay provides payment infrastructure for marketplaces, spanning e-wallets, merchant acceptance, multicurrency payouts and KYC processes. The company says it has helped provide payment solutions for over 2,500 platforms, spanning entrepreneurs and startups to leading European and global marketplaces.
Mangopay was acquired by global private equity investor Advent International in 2022, which has boosted the company with an additional €75m investment. The company is putting this investment towards expanding its operations and recruitment, with an eye to expanding in the Nordic region while bolstering its position in Germany and Southern Europe.
Moneytrans
Founded: 2002
CEO: Jeremy De Smet
Customer focus: Remittances, money transfers
HQ country: Belgium
Focus region: Europe
Moneytrans is a remittances provider focused on P2P payments. Since 2002, it has built a base of 10 million customers across 140 nationalities, to which it serves money transfers as well as a finance app and a free debit card to withdraw and spend money abroad.
The company only saw its first major funding last year, with an €11m venture round, but it has reportedly built an extensive European retail network, with more than 3,000 branches linked to over 500,000 payout locations. It has been using the investment to help develop its neobank offering, which could eventually put it in competition with other neobanks in Europe such as Revolut.
Mozrt
Founded: 2019
CEO: Jeff Althaus
Customer focus: Banks, credit unions, fintechs
HQ country: US
Focus region: US
Formerly WireFX (and not to be confused with separate payments company Mozart), Mozrt is a provider of domestic and cross-border payments services for banks, credit unions and fintechs. In particular, the company provides an API that incorporates banking services with corporate and fintech ledger systems.
While the company hasn't yet had a public fundraising round, it has had some notable partnerships with US-based banks, including with Standard Chartered to integrate its cross-border payment capabilities for Mozrt clients, and Stearns Bank to help it onboard and manage new fintech clients.
NALA
Founded: 2017
CEO: Benjamin Fernandes
Customer focus: Remittances, money transfers
HQ country: Kenya
Focus region: Africa, Europe, US
Tanzanian fintech NALA (which currently has offices in Kenya, the US, the UK and the Netherlands) is a money transfer company focusing on remittances for the African diasporan worldwide. NALA launched in the EU in January 2023, adding 19 new Eurozone nations to its list of send markets. The company serves more than 100,000 people.
One innovation NALA has introduced has been allowing Kenyans living in the UK or US to pay bills in their home country (e.g. for education), adding an additional layer to its remittances offering. The company has raised $10m in total funding, from 21 investors.
P-S companies
Papaya Global
Founded: 2016
CEO: Eynat Guez
Customer focus: Businesses, Global enterprises
HQ country: US/Israel
Focus region: Europe, Middle East, Africa
Papaya Global is a payments and payroll company that makes it easier for global businesses to pay their staff members, in 12 currencies across more than 160 countries. Last year, the company acquired London-based remittances provider Azimo, with the aim of repurposing its technology to boost its payments capabilities and potentially add remittance services in the future.
This was one of two acquisitions made by Papaya Global, which has seen a total funding amount of $445.5m up to its most recent $250m Series D, though this was back in 2021. The company recently became one of Time's 100 most influential companies – the first payroll company to achieve this. However, Business Insider recently reported that rival payroll company Deel is interested in buying the company.
Paytrix
Founded: 2022
CEO: Aran Brown
Customer focus: Marketplaces, ecommerce, global businesses
HQ country: UK
Focus region: UK, Europe
Paytrix provides a payment infrastructure to enable companies to send and receive money worldwide. The company enables mass payouts for global businesses, as well as merchant acceptance and acquiring services. It also helps companies to pay contractors and full-time employees worldwide.
Since its inception last year, Paytrix has raised $24m in total funding in two rounds, including an $18.3m seed round earlier this year, and grown to around 100 employees. Having already acquired a UK payments licence, it is currently the process of securing a licence for the EU to scale up its services. It currently processes 133 currencies in over 200 countries.
PPRO
Founded: 2006
CEO: Motie Bring
Customer focus: Payment platforms, acquirers, merchants, banks
HQ country: UK
Focus region: APAC, Europe, North America, Latin America
PPRO provides a payments infrastructure to businesses and banks spanning a number of services, including integrating new payment methods, merchant acquiring, payment management and helping clients manage and adapt their payments strategies. It works with several big-name partners in the payments space, including Citi, PayPal and Stripe.
PPRO has made two acquisitions and has $370m in total funding, having closed its last funding round in 2021. The company has seen a number of changes near the top, including recently elevating CCO Motie Bring, who has years of experience at Worldpay and Nuvei, to CEO and appointing former Swift CEO Lázaro Campos to be its independent chairman. PPRO has signed a partnership with NPCI international payments to allow PSPs to connect to India's UPI payments system, which is used by more than 350 million people in the country.
Purpl
Founded: 2021
CEO: Karl Naim
Customer focus: Remittances, money transfers
HQ country: Lebanon
Focus region: Lebanon
One of the newest companies on the list, Purpl is a remittances and money transfer company focused on the Lebanese diaspora. The company was created in response to high fees required for remittances to Lebanon, which is currently undergoing an economic crisis that resulted in the closure of many bank accounts in the country.
The company enables digital money transfers (powered by Paysend and Remitly) via its app, with cash received from more than 45 countries. Cash can then be withdrawn from one of more than 100 ATMs in Lebanon. While the company is still in its early stages, it has rapidly accrued seven million customers – a high share considering it reports there are around 20 million Lebanese people living abroad. 
Send Payments
Founded: 2018
CEO: Paul Billing
Customer focus: B2B, consumer money transfers
HQ country: Australia
Focus region: Australia, Europe
Send Payments enables personal and B2B money transfers, as well as providing its international payment infrastructure to other businesses seeking to add a new FX product. The company's payments platform facilitates instant money transfers across 37 different currencies, including local, global and blockchain-powered payment rails.
Send Payments says that it has transferred over A$1bn for clients in more than 100 countries, has more than 200 referring partners and has grown to more than 40 employees. Earlier this year, the company raised A$11.5m as part of a Series B round (adding to A$5m raised last year), and it is now focused on scaling up its operations to reach large enterprises in Australia and Europe.
SUNRATE
Founded: 2016
CEO: Joshua Bao
Customer focus: B2B, SMEs
HQ country: Singapore
Focus region: APAC
SUNRATE is a growing global payments and treasury management platform that enables B2B payments in over 100 currencies and to more than 150 countries. Having raised an undisclosed amount of money in five rounds with nine investors, the company is in the process of trying to grow its platform from an SME focus to be a leading cross-border B2B payment platform for emerging markets.
According to FXC's data, the global B2B cross-border payments market is expected to total $56.1tn in value by 2030, presenting a sizeable TAM dominated primarily by large enterprises. We've also seen a growing focus on APAC from B2B payments companies such as BVNK and PayMate, so SUNRATE has plenty of competition.
T-Z companies
Tranglo
Founded: 2008
CEO: Jacky Lee
Customer focus: PSPs, Businesses
HQ country: Malaysia
Focus region: APAC
Tranglo provides remittance companies and businesses making cross-border B2B payments with a global payment network that supports payments across more than 150 countries, as well as payouts at over 2,200 banks/wallets and 140,000 cash pickup points. The company's network supported payments worth $15.2bn as of the latest available figure on 31 Jan 2023.
The company has raised an undisclosed amount in two funding rounds, with one in 2010 and one in 2021. The latter saw crypto company Ripple as a lead investor and Tranglo has now boosted its coverage to crypto payments through RippleNet. It has also had a number of high-profile remittance partnerships recently, including with UAE-based money transfer player Al Ansari (on our Cross-Border Payments 100 and recently IPO'd) and TNG Digital, which operates Malaysia's popular Touch 'n Go e-wallet.
Universal Partners
Founded: 2017
CEO: Oliver Carson
Customer focus: Remittances, money transfers, B2B
HQ country: UK
Focus region: Europe
Universal Partners is an FX provider and money transfer service for large and small businesses, as well as individuals. Serving 220 territories, it provides a number of business-focused solutions for mass payments, collecting revenues in different countries and hedging against FX. In total, the company has transacted over $3.1bn for clients.
For the year ending September 2022, Universal Partners saw its turnover rise from £710m to £1.3bn, a high number for five years in business, driven by investment in staff training as well as more efficiency when identifying prospective clients. It recently partnered with embedded finance provider Muse Finance.
VertoFX
Founded: 2017
CEO: Ola Oyetayo
Customer focus: B2B, enterprises
HQ country: UK
Focus region: Africa
VertoFX offers cross-border payment infrastructure for businesses, particularly in emerging markets. Through the platform, companies are able to trade in 49 currencies and make use of multicurrency wallets and global accounts. So far, the company has processed more than $10bn in cross-border payment volume with more than 3,000 clients.
VertoFX has accrued $12.3m in funding over four rounds. The company was initially a currency exchange marketplace before moving into cross-border payments for SMEs, corporates and enterprises having realised the opportunity in emerging markets. After the collapse of Silicon Valley Bank, Verto claimed that a quarter of the bank's customers operating in Africa were opening accounts on its platform.
Volt
Founded: 2019
CEO: Tom Greenwood
Customer focus: Merchants, payment service providers
HQ country: UK
Focus region: Europe, Brazil
Volt is an open payments platform with a stated aim of building the world's first global real-time payment network. Its coverage already extends to 680 million bank accounts and 25 territories worldwide, with seven networks integrated. It claims to enable merchants and payment service providers to process transactions between accounts held across more than 5,000 banks in the UK, the EU and Brazil.
The company is looking to expand its services to APAC, including Australia this year, on the back of a $60m Series B round, which brings its total funding to $87.8m. In June this year, Volt.io announced it was partnering with Worldpay (recently sold to GTCR) to give the latter's customers access to its open banking network.
Zeepay
Founded: 2014
CEO: Andrew Takyi-Appiah
Customer focus: Remittances, money transfers, mobile money
HQ country: Ghana
Focus region: Africa
Zeepay is a digital remittances and mobile money wallet business focused on the Ghanaian market. Through its partnership with MoneyGram, users outside Ghana can send money directly into a mobile money wallet via Zeepay's own money network. Zeepay also works with a number of other big cross-border players, including Ria and Small World FS, as well as companies such as Netflix and Shell.
With three offices and a presence in 23 countries, alongside having processed a million transactions, Zeepay is living up to its claim of being the fastest growing, wholly Ghanaian owned fintech. It scored a $10m Series A last year, and is on a path to increase its annual turnover from around $1.5bn in 2021 to $200bn over the next few years. In October 2022, Zeepay won Best Company at the Ghana Club 100 awards.
Get in touch to find out how FXC Intelligence's pricing, strategy and market sizing data can help your business