Worldpay sold to GTCR: Inside FIS's $18.5bn sale
Last week FIS announced that it is selling a majority share of Worldpay to private equity giant GTCR. We look at key details of the sale and what it might mean for Worldpay's future.
After first announcing plans to spin off the company in February of this year, FIS has announced that it is selling a majority stake of its Merchant Solutions division, otherwise known as Worldpay, to private equity player GTCR.
The move sees Worldpay valued at $17.5bn upfront, with an additional $1bn contingent on returns realised by GTCR exceeding certain but unspecified thresholds. GTCR will pay FIS $11.7bn for a 55% stake in Worldpay, with FIS retaining the remaining 45%. Worldpay itself will be spun out as previously planned, with the deal currently expected to complete by Q1 2024.
We conducted an extensive assessment of Worldpay and its potential place in the market back when the spinoff was first announced in February, however this report builds on that previous research to explore Worldpay as a GTCR-owned property and how the company might be managed going forward.
Topics covered:
The Worldpay sale: Initial prospects as a GTCR property
The acquisition will see Worldpay once again become a standalone company, with GTCR holding the controlling stake. Charles Drucker, who served as Worldpay CEO prior to its acquisition by FIS in 2019, will return as CEO, while FIS CEO Stephanie Ferris will join the company's board of directors.
"This new separation path positions Worldpay for immediate success, combining the benefits of a well-established global brand and group of talented payments professionals with the energy of an independent startup, all backed by a world-class private equity firm," said Drucker of the news.
"I'm excited to be working with my former colleagues and GTCR to win in the marketplace and position Worldpay for long-term success."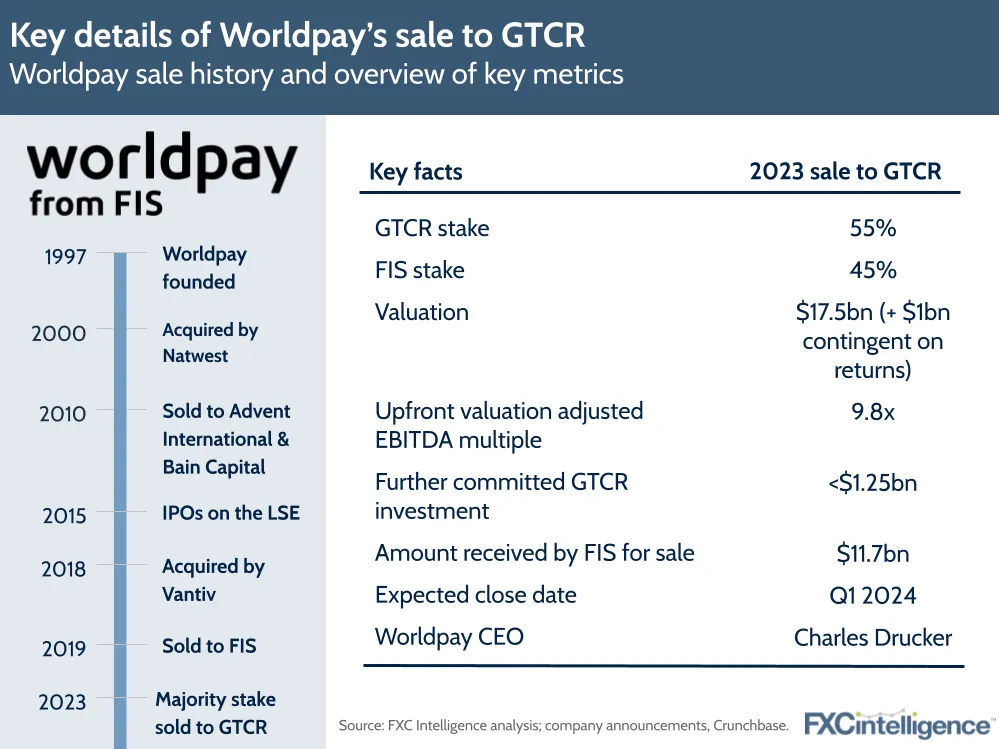 Worldpay is projecting a slight drop in revenue in 2023 due to weaker performance in both the SMB and card-not-present channels, as well as a downturn in UK-based enterprise. Ecommerce is set to be the only segment to grow in 2023.
It is also projecting a lower adjusted EBITDA margin, however this includes costs that Worldpay will incur as a standalone company that it previously did not encounter as part of FIS. As a result, this is a fairly modest hit and represents a firm foundation from which GTCR can grow the company in the future.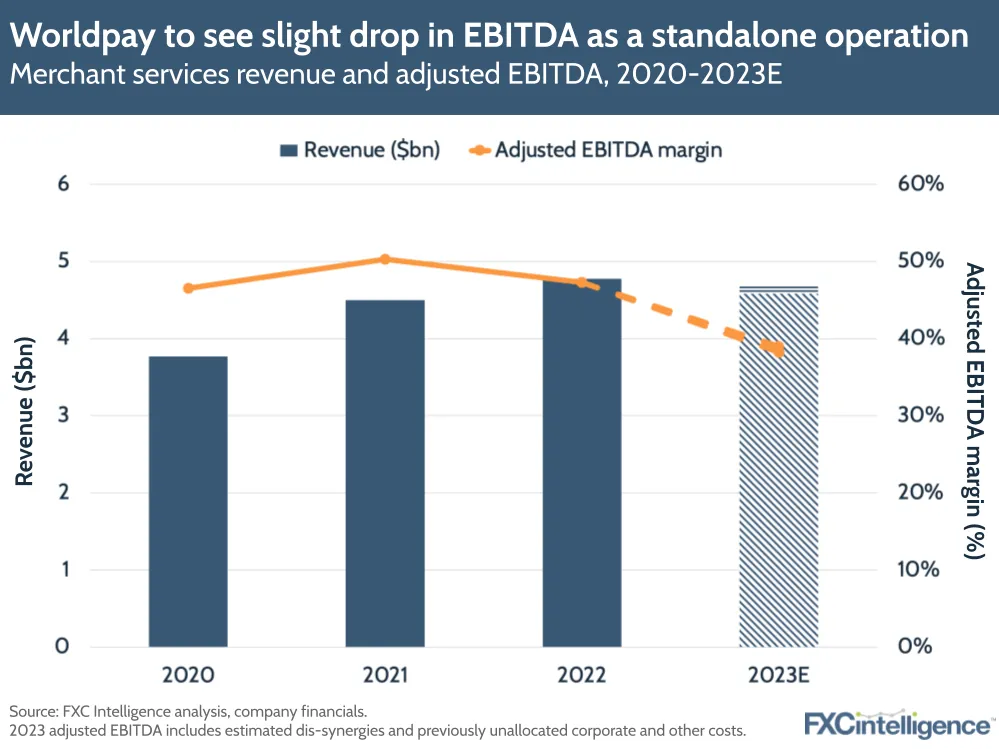 The two companies also plan to maintain a commercial relationship, with FIS set to use Worldpay as a distribution channel in some markets. Worldpay will also provide its clients with access to FIS's banking and treasury solutions, although the final terms of the two companies' commercial agreements are still being agreed.
FIS's benefits from the Worldpay sale
For FIS, the spin out of Worldpay represents a significant cornerstone of the company's broader cost-cutting initiatives under CEO Stephanie Ferris, and while it has said that it will "continue to evaluate opportunities to enhance shareholder value", FIS has not outlined any further plans beyond the Worldpay sale.
However, the sale does provide a strong opportunity for FIS to improve its balance sheet. With the company gaining $11.7bn upfront from the deal, it will be able to reduce its debt to around 2.5x leverage, down from 3.2x in Q1 23. Furthermore, it will provide around $2.5bn to be used for share repurchases and other investments in the business.
FIS also provided an update on its expected performance for Q2 2023 as part of the sale announcement, with the company anticipating organic revenue growth of 0% to 2% and an adjusted EBITDA margin of 41.1% to 41.3% for the quarter.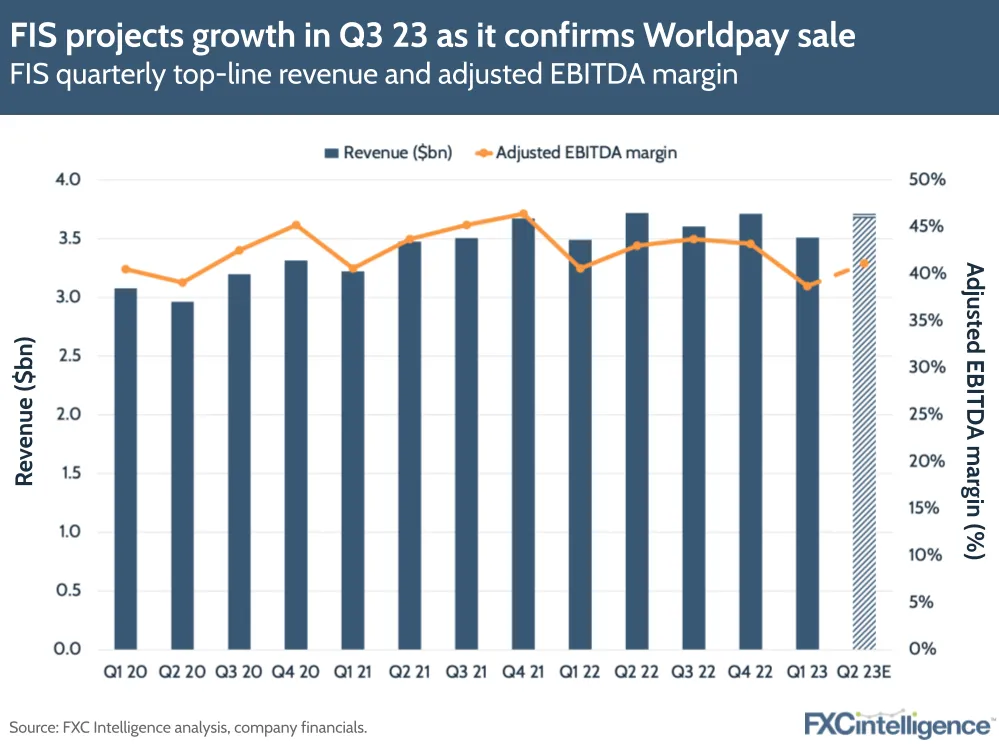 Despite the anticipated financial benefits for FIS, the sale of Worldpay does represent a significant drop in valuation from the company's purchase in 2019. Back then, the deal valued Worldpay at $35bn, meaning it has seen its value half over the past four years.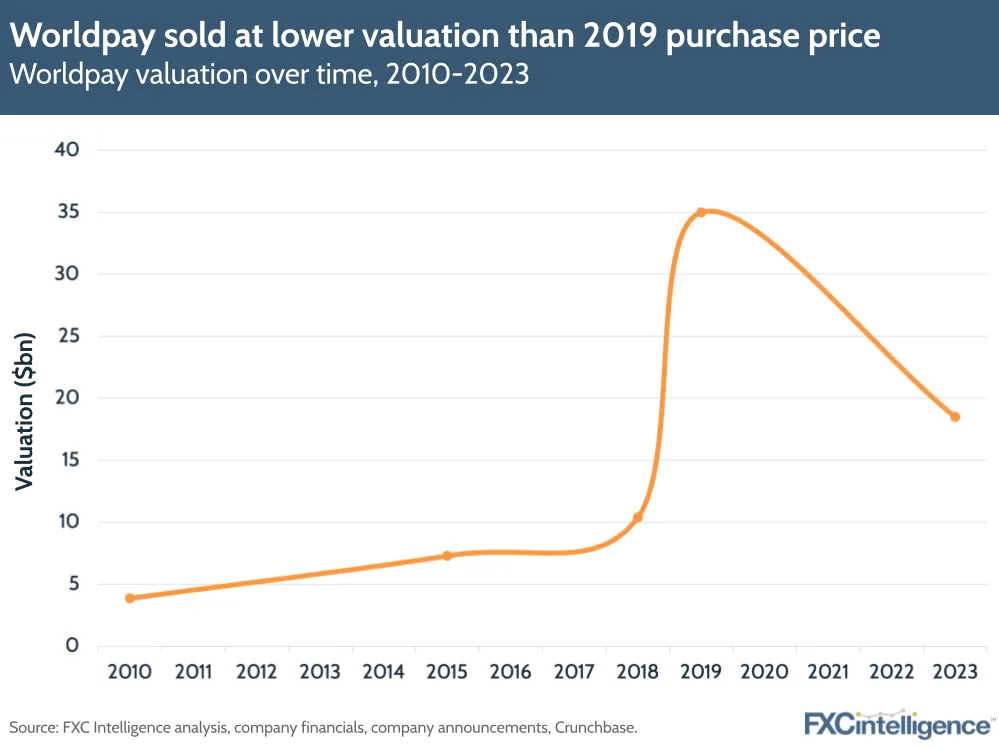 Inside GTCR: The company's investment strategy
GTCR, the company acquiring a 55% stake in Worldpay, is a private equity firm headquartered in Chicago, Illinois, founded in 1980. Currently managing more than $35bn in equity capital, it has invested over $24bn in 270 companies to date.
Its previous high-profile acquisitions include the 2003 acquisition of American Stock Exchange, which it sold to New York Stock Exchange within a year. It also acquired Sage Payment Solutions from Sage in 2017, which has since rebranded to Paya and in February of this year was acquired by Nuvei.
Reviewing the publicly announced acquisitions by GTCR over the past 20 years shows that while the company has acquired businesses across a range of industries, it has a preference for those in healthcare and related industries, with financial services coming in second.
As GTCR is looking to make a return on its investments, it is unsurprising that it has exited more than half of these acquisitions. Of those where both the purchase and sale price is public, it has made a profit on almost all.
For example, it purchased Lytx for $500m in 2016, selling the company on for $2.5bn four years later. Similarly the 2016 purchase of Optimal Blue for $350m was followed by a 2020 sale for $1.8bn.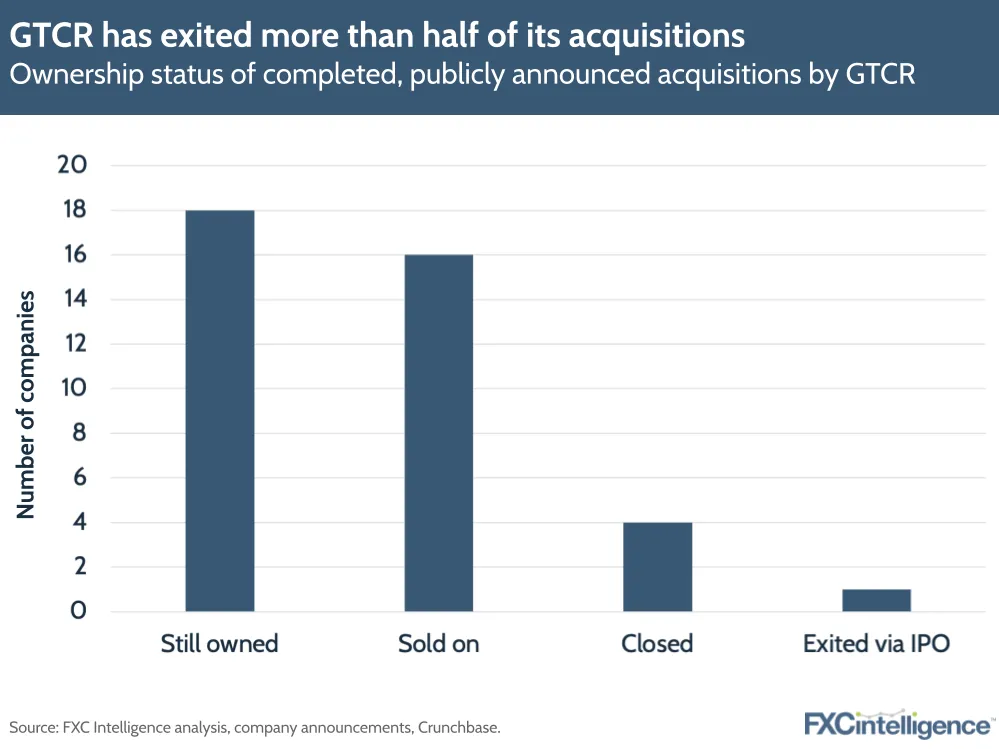 Notably GTCR has looked to exit its acquisitions within five years in most cases, although has retained a small number for almost a decade. Based on this, it is likely that the company will look to exit the Worldpay investment after a few years, suggesting it may see another change in ownership before 2030.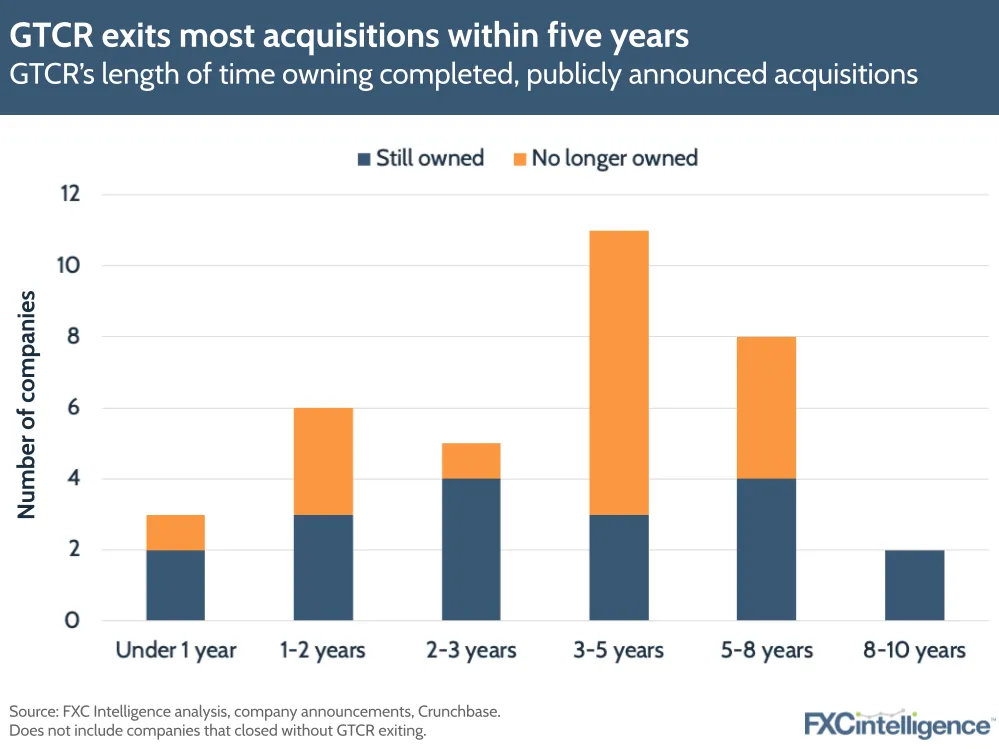 Worldpay as a standalone company: Market conditions and potential growth strategies
When compared to other payment processors, Worldpay has current and projected revenue that puts it in the lower middle of the pack, ahead of European players Adyen and Worldline as well as LatAm player dLocal, but behind the likes of PayPal, Block, Fiserv and Global Payments.
It is also thought to be ahead of Stripe, which as a private company does not put out revenue numbers or projections. Our February report also shows the company has favourable revenue per employee.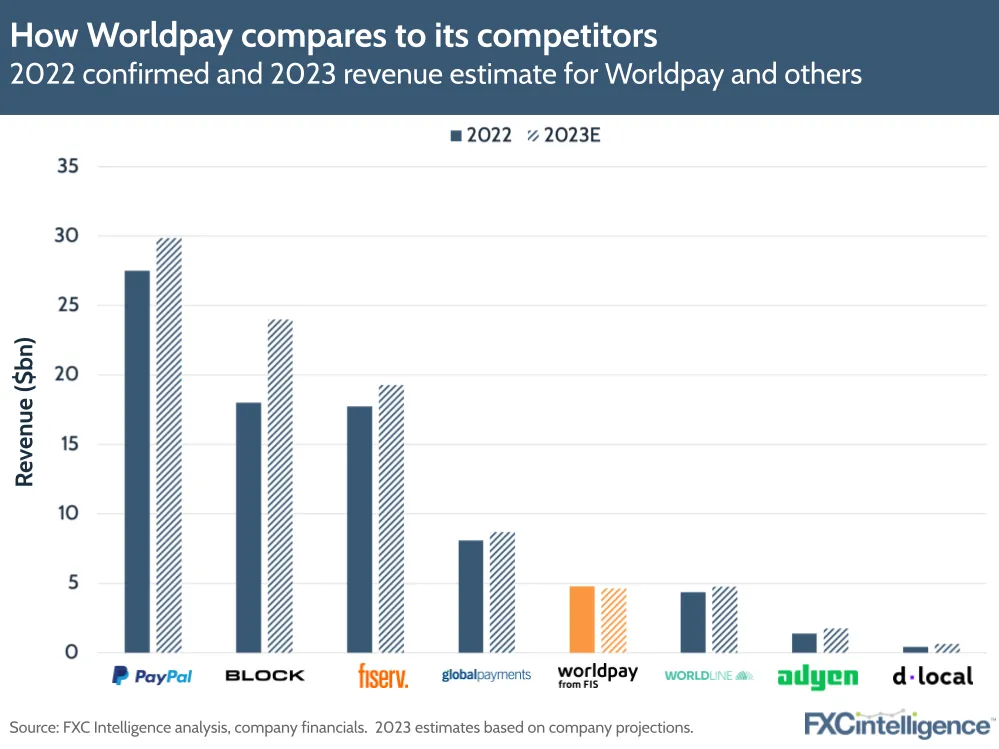 However, in terms of payment volume, Worldpay is a market leader and is reported to be the number one global acquirer by transactions. This presents a promising opportunity for GTCR to build upon.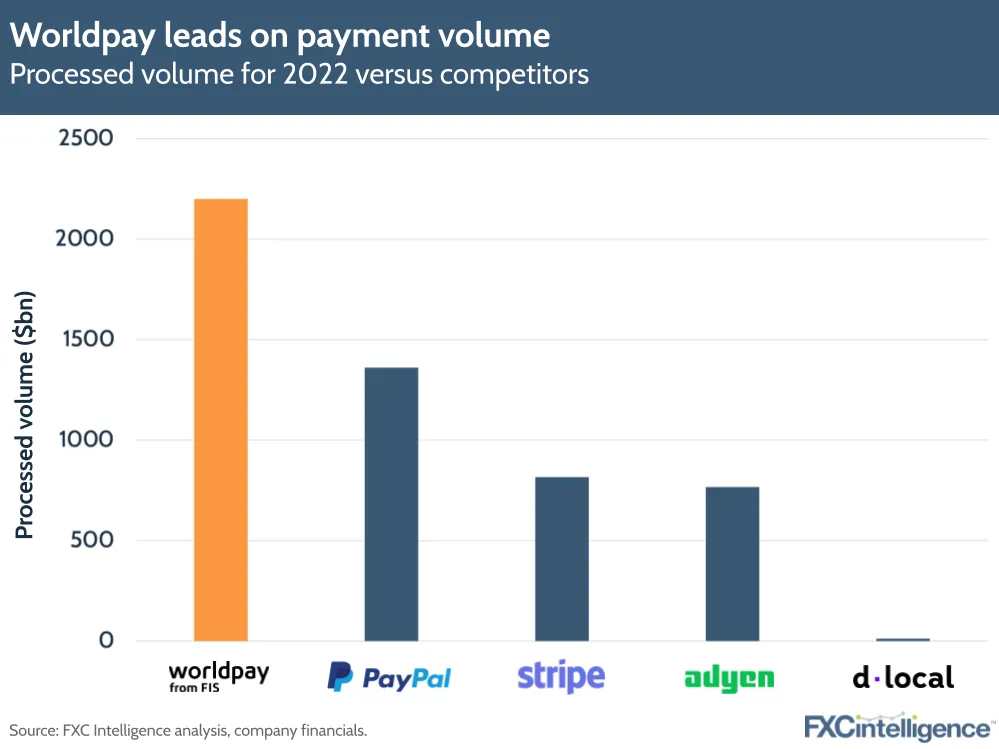 While its enterprise and SMB divisions are expected to contract in 2023, ecommerce is growing and currently accounts for around 30% of revenue. GTCR may therefore look to focus investment in this division and further reposition it as the core focus for Worldpay as it looks to rebuild the brand.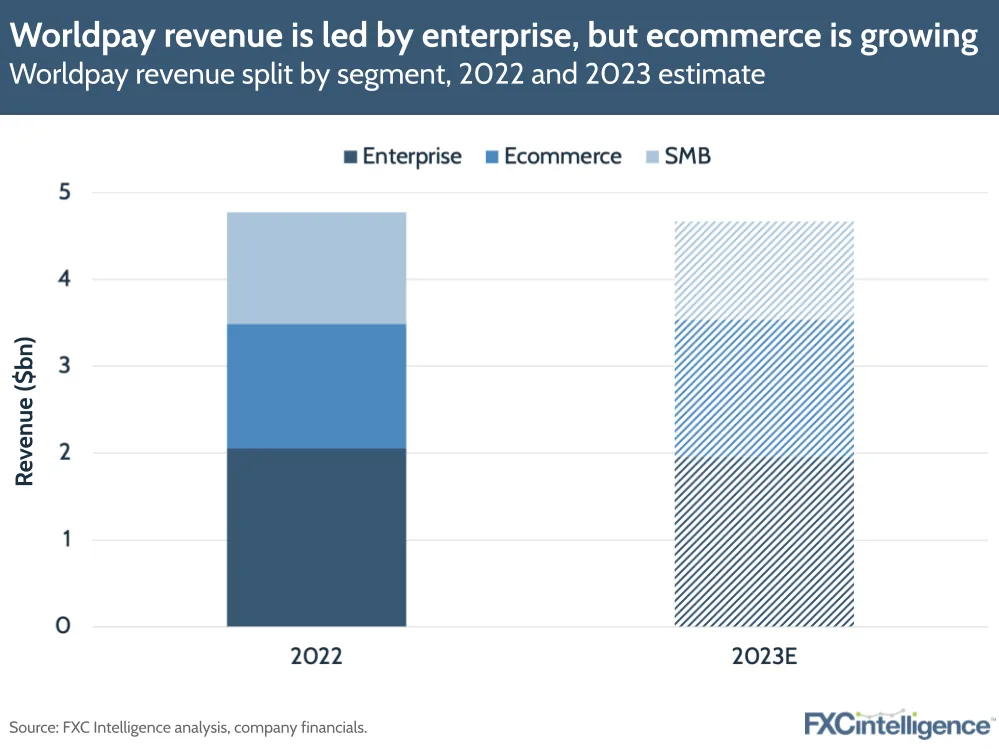 GTCR has committed to spending up to $1.25bn to "pursue inorganic growth opportunities", with FIS having the opportunity to make like-for-like investments. As a result, Worldpay is facing a transition to a standalone company with a fairly strong war chest.
Neither FIS nor GTCR has yet provided a clear sense of what the strategy will be going forward, however Drucker did say that he expected Worldpay to "create and define the future of merchant solutions".
GTCR Co-CEO and Managing Director Collin Roche also said that the company planned to build on Worldpay's "culture of innovation, invest in new capabilities and advance its leadership position across channels and geographies". The company has also stated that it will continue to focus on providing "commerce solutions to merchants of all sizes".
As a result, the additional investment from GTCR is likely to be used to expand Worldpay's reach into new verticals and markets via acquisitions, either through several targeted smaller companies or the acquisition of a single larger one.
What companies could be a suitable target of this remains to be seen, but the market is in a favourable position for companies with the capital to acquire. Emerging markets in particular are showing strong growth potential as a result of ongoing digitisation, meaning these in particular may be focuses for the standalone Worldpay.