The rise of digital remittances in 2021
Remittances flows are forecasted to increase by 6% in 2021, according to the World Bank, a swift turnaround from a difficult 2020. Although the whole market is expected to rebound, digital remittances made the headlines of the main providers' quarterly results throughout the whole year. Western Union reached over $1m revenue for its digital business alone by the end of the year, while Intermex and Ria reported high double-digits and three-digits growth across quarters. Remitly, a pure-digital player, expects revenue to grow by more than 70%.
Almost two years into the pandemic, consumers have become more acquainted with this remittance method and learnt to appreciate its convenience and, in some cases, lower costs and improved speed.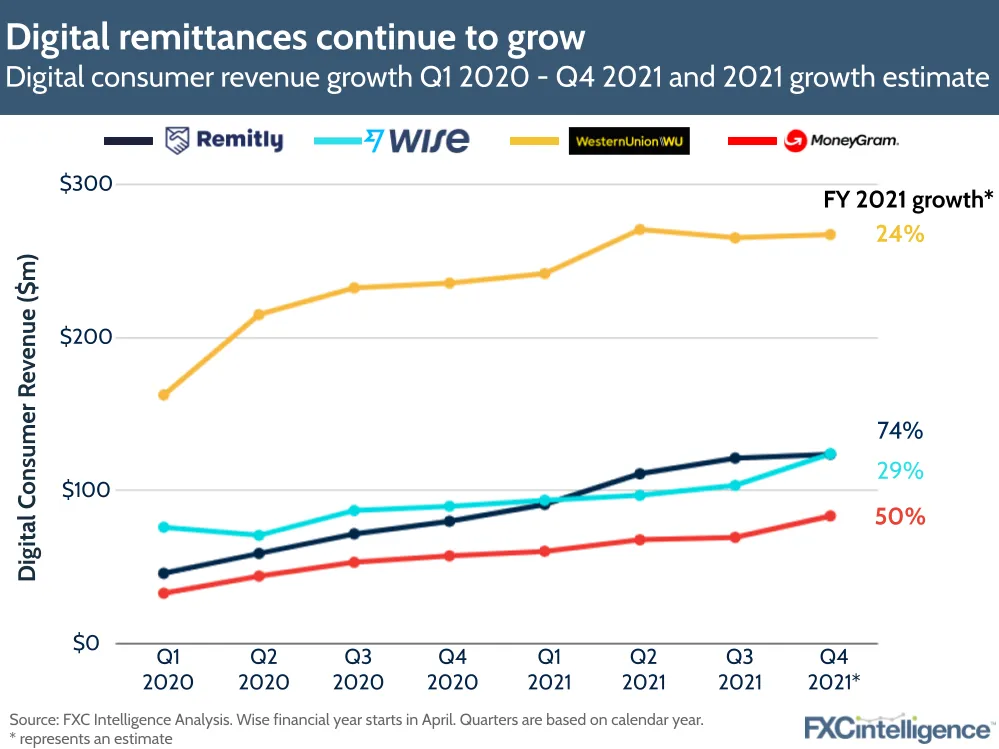 Key trends in digital remittances in 2021
The key highlights in the digital remittances market for 2021:
Digital players became public, re-shaping competition in the market
Wise and Remitly, two of the larger digital-first remittances players, established their position as incumbents in the industry by debuting in the public markets this year, in July and September respectively. While Wise went public on the London Stock Exchange last July, Remitly made its trading debut two months later in New York.
Digital remittances brought a new, stickier customer profile
Digital remittances have not been cannibalizing the incumbents' retail business, but are rather enlarging the customer base with new, younger demographics. In Q2 2021, 80% of the digital businesses' customers were new to the brand for Western Union and MoneyGram has similar numbers.
According to Alex Holmes, MoneyGram's CEO, the age demographics using retail versus the digital business are different, with Gen X and higher boomers still preferring walk-ins and with millennials favouring digital. Digital customers also have a higher lifetime value. Once registered and onboarded on the app, repeatability of transactions is easier, opening room for significant incremental margins.
While the focus of remittance companies is normally on the sender, Remitly's Matt Oppeneimer also stresses the importance of focusing on the recipients. Reaching them via their smartphones offers the opportunity to deepen the relationship and engage more with recipients and offer a better end-to-end customer experience.
Account-to-account remittances are a key growth area
Transfers sent directly to a bank account or mobile wallet digitally have been a particularly strong growth area for all players. For Ria, digital transfers to a bank account or mobile wallet currently represent almost 30% of the total Money Transfer segment's principal. According to Raj Agrawal, Western Union's CFO, this is also the fastest growing segment of their digital business.
Digital as part of a bigger omnichannel strategy
Although digital is a convenient way of sending and receiving money, not all customers are the same. Cash is still a critical component of remittances, and it will be a generational timeline before cash is truly a minority flow in the market. Providing a comprehensive omni-channel experience that allows customers to send and receive money in different methods is therefore a key success factor.
White labelling and partnerships
In 2021, expansion as digital cross-border payments enablers has been a recurrent theme for the incumbents. Providing other companies' access to their own proprietary money transfer networks is seen as the next path to growth.
As we move into 2022, we'd expect additional efforts to differentiate in the digital remittance space, be it additions of adjacent products, improving the speed of transactions or providing even better user experiences.