In our latest report in our Post-Earnings Call Series, Western Union CFO Raj Agrawal discusses the company's future plans and Q3 2021 earnings. Download it here.
Please note each submission request for a copy of the report will be reviewed by FXC Intelligence.
You will be sent the report within 2 working days if your request is accepted; it will not automatically download.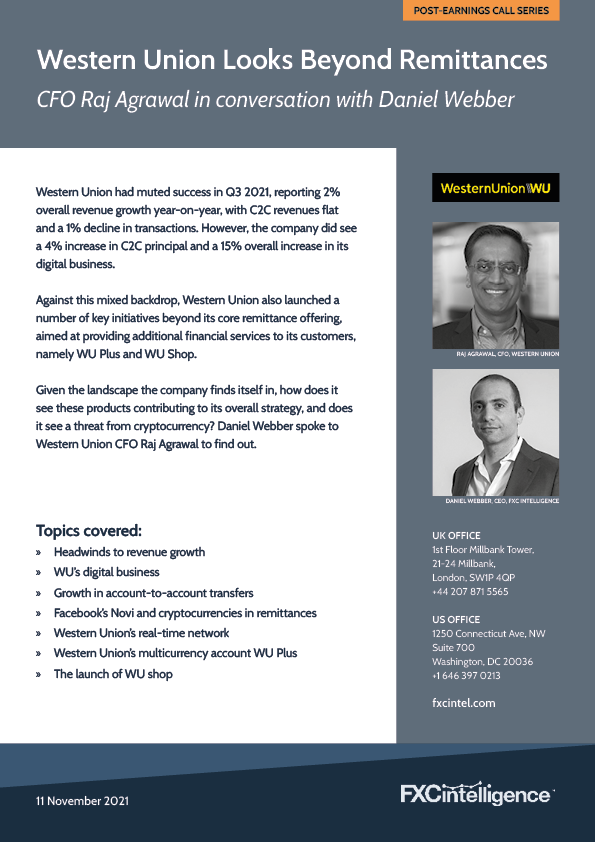 In 'Western Union Looks Beyond Remittances'
Western Union had muted success in Q3 2021, reporting 2% overall revenue growth year-on-year, with C2C revenues flat and a 1% decline in transactions. However, the company did see a 4% increase in C2C principal and a 15% overall increase in its digital business.
Against this mixed backdrop, Western Union also launched a number of key initiatives beyond its core remittance offering, aimed at providing additional financial services to its customers, namely WU Plus and WU Shop.
Given the landscape the company finds itself in, how does it see these products contributing to its overall strategy, and does it see a threat from cryptocurrency? Daniel Webber spoke to Western Union CFO Raj Agrawal to find out.
Topics covered:
Headwinds to revenue growth
WU's digital business
Growth in account-to-account transfers
Facebook's Novi and cryptocurrencies in remittances
Western Union's real-time network
Western Union's multicurrency account WU Plus
The launch of WU shop