For Q2 2021, MoneyGram has continued its strong run of results with an 18% year-on-year increase in overall revenue – 8% up on the pre-pandemic Q2 2019 – driven by record digital customer numbers. In our latest report download, I caught up with CEO Alex Holmes to dig deeper into MoneyGram's resurgence. Get your copy here.
Please note each submission request for a copy of the report will be reviewed by FXC Intelligence. 
You will be sent the report within 2 working days if your request is accepted; it will not automatically download.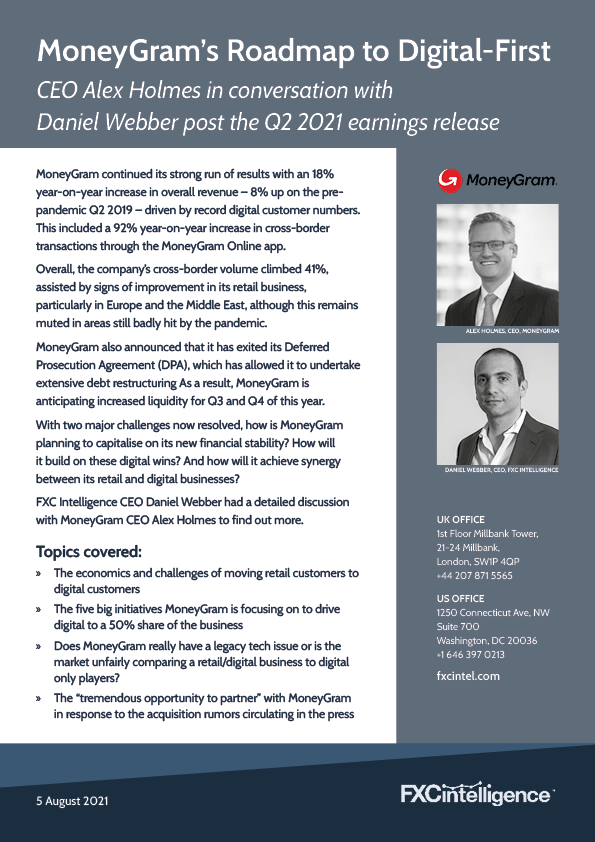 In Daniel Webber's conversation with CEO Alex Holmes on MoneyGram's Q2 2021 earnings
On the numbers:
MoneyGram broke a number of records this quarter, both for the overall business and the digital arm. We estimate total principal to have been around $10bn, a record amount. Overall, the company's cross-border volume climbed 41%, with a 20% increase in transactions producing a 20% increase in money transfer revenue. This was also assisted by signs of improvement in its retail business, particularly in Europe and the Middle East, although this remains muted in areas still badly hit by the pandemic.
MoneyGram's digital success included a 92% year-on-year increase in cross-border transactions through the MoneyGram Online app, with the brand now accounting for 29% of all transactions in its top 10 markets. The goal of 50% digital revenue by 2024 remains in sight.
What's next:
MoneyGram has had a busy quarter as it finally exited its Deferred Prosecution Agreement (DPA), which allowed it to totally restructure its capital base raising both new equity and cheaper debt. The strong tailwinds of the digital business are expected to met by headwinds in the retail business, at least while the pandemic remains, tempering some of the companies growth. In my conversation, with Alex, we specifically covered:
The economics and challenges of moving retail customers to digital customers
The five big initiatives MoneyGram is focusing on to drive digital to a 50% share of the business
Does MoneyGram really have a legacy tech issue or is the market unfairly comparing a retail/digital business to digital-only players?
What Alex's sees as a "tremendous opportunity to partner" with MoneyGram in response to the acquisition rumors circulating in the press
Overall, I came away from this conversation with a feeling of great energy and excitement from Alex – the business hasn't been in this good a position for a number years, but still the frustrations of the equity markets still giving large premiums to the digital-only players.