The rise of digital cross-border payments
Western Union and MoneyGram have invested heavily to develop their digital businesses. Digital growth has been one of the positive stories for both incumbents in recent years, but where do they stand compared to some of the leading fintechs?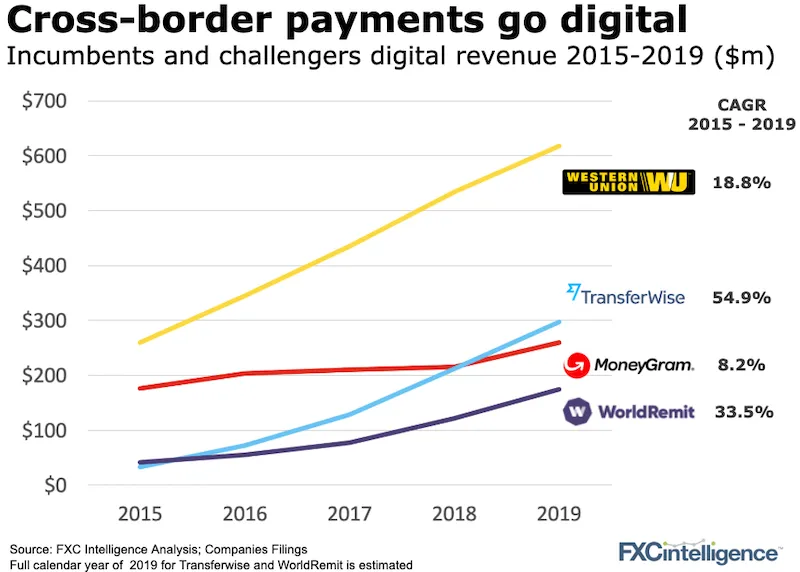 Digital payments in the chart above include any transaction that uses a digital method at either the send or receive side of the transaction. Very few of the larger digital players (think Remitly, Xoom, Ria) report their revenue, let alone digital revenue, meaning data on this topic is thin on the ground. 
Digital channels have helped the big incumbents reach new customer segments with little claimed cannibalisation of existing customers. MoneyGram, in a press release about the surge of digital revenue during the Christmas holidays, stated: "We view our digital business as a start-up powered by a leading brand. Our app is enabling us to reach a new customer segment".
Will brands alone be enough to win market share, especially when we could add another hundred digital fintechs to the chart above, all fighting for customers? And how much will price promotions be needed to continue to win market share?
What next for digital currencies
Two major groups help highlight the positives and negatives that lie ahead for digital currencies. 
Thumbs up for digital currencies
The Bank of International Settlements (BIS) released an extensive report on payments this week. The BIS reports that many central banks are researching the use of digital currencies, which they would control. China has gained plenty of attention for its work in this area.
The BIS does caution, though, that cash still remains a critical part of the economy. This may be due to consumers preferring to physically hold it, or because it is necessary to serve the large numbers of the unbanked or underbanked. Expect more analysis from the BIS in the space.
Thumbs down for digital currencies
News came out in the past few days that Facebook is "re-thinking" Libra. Most significantly due to the pressure (resistance) from regulators, Facebook is unlikely to create its own cryptocurrency. Instead, it now talks about a digital currency linked to existing fiat currencies (why Facebook needs to do this is unclear).
Values of bitcoin and Ripple seemed largely uninterested in the news. Perhaps the unlikelihood of a fully independent new digital currency was already baked into the price.