Analysing Western Union and Ria's 2019 Full Year Results
Western Union reported its 2019 annual results on 11 January. As the largest standalone money transfer player, the underlying trends of its business are relevant to everyone. That's our main focus today, told through a series of charts.
We also cover the annual results of Ria & XE.
Western Union isn't going anywhere
I mean literally going nowhere. Its underlying consumer money transfer business has seen no material overall growth for years. Although investors have taken a shine to Western Union over the past year, increasing its value by 50%, the stock fell more than 7% following Tuesday's results.
We peel away the layers to see what's going on.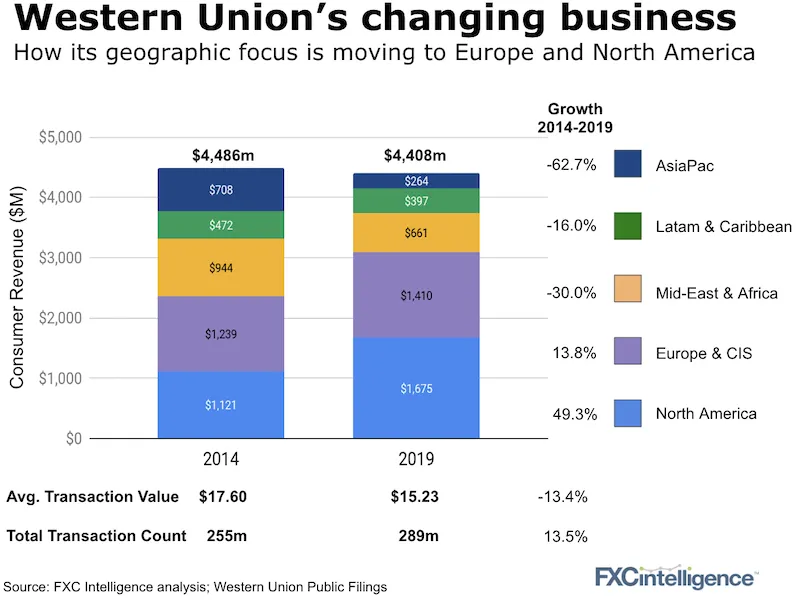 The biggest surprise is that two of the most competitive markets in the world, North America and Europe, are where Western Union has made most of its gains, not the emerging markets.
And its Asia Pacific business is shrinking fast (note that Western Union said it expects a limited impact of coronavirus in China – most is inbound business and accounts for only 2% overall).
As we start digging into these markets, we can see each region is facing its own headwinds.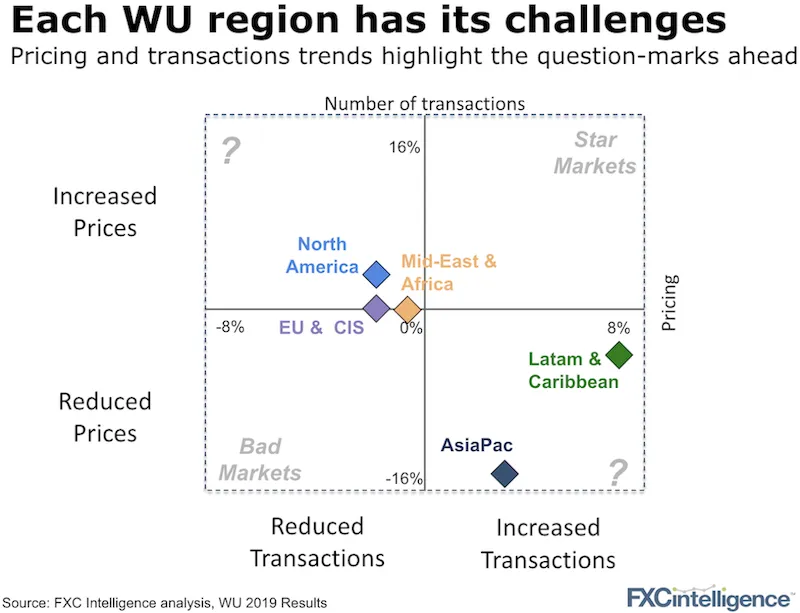 A whole range of factors explain the performance in each market, with white-label products being a big growth driver everywhere (TD Bank in North America, Sberbank, UK, French and Italian Post Office deals in Europe and STC Pay in Saudi Arabia).
Asia-Pacific is struggling as a region, requiring a lot of price promotion. Additionally, transaction numbers are significantly down in the region, skewed by the domestic Philippines business.
North America showed a stand-out performance though. With all the competition from Ria and MoneyGram (and the latter has been very aggressive on pricing), Western Union has managed to increase prices and has performed strongly on the US-Mexico corridor.
And even in light of the growing prominence of leading digital players such as Remitly, and PayPal's Xoom, when it comes to cash, Western Union is still king.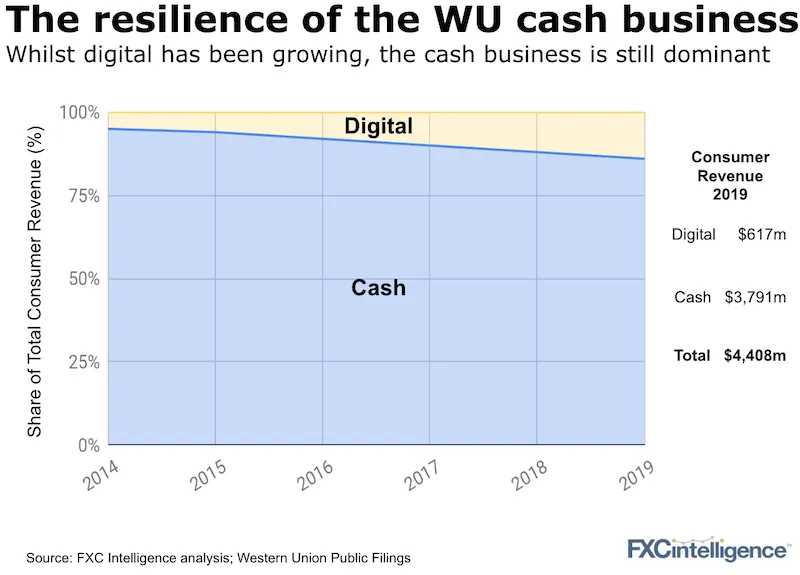 Western Union's dominance in the cash market remains impressive. Their stranglehold on many of the best cash pay-in/out locations helps defend this business.
And virtually every fintech is going after the customer who'll switch to digital. But how many business plans and venture capital proposals have you read for companies wanting to offer a better cash to cash money transfer service? My guess is none.
What's happening with Ria and XE?
Euronet, owner of Ria and XE, can normally be relied upon to deliver steady results, which the stock market loves. This week's release of Euronet's 2019 results provided a small shock in the slowdown that is apparent at both Ria and XE. The stock market took 8% off Euronet's value overnight.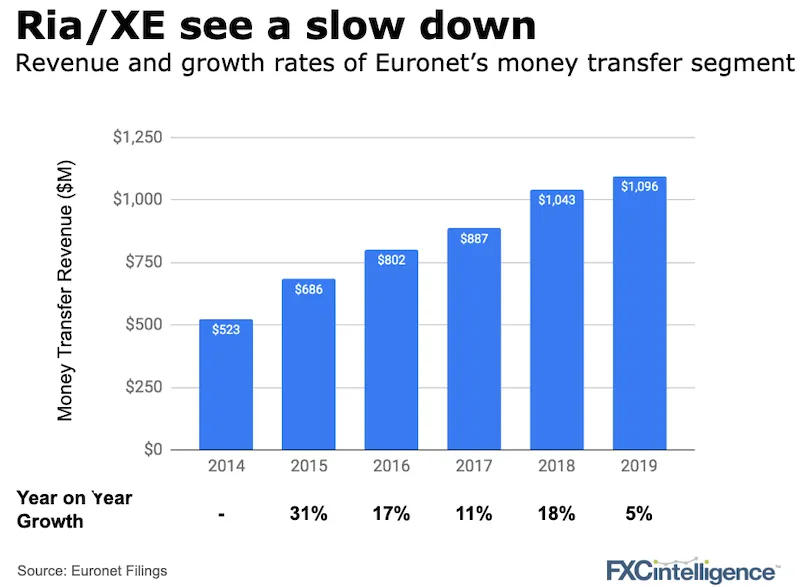 The main cause of Ria's slowdown is the softer domestic US money transfers (as at Western Union too). PayPal's Venmo and, to a lesser extent, Zelle, are responsible for this quickly acquiring market share.
Euronet remains bullish for 2020 though citing a number of new deals with Walmart, the Belgian and Austrian Post offices and Travelex cash locations in North America.
Stay tuned – we'll be analysing it all for you.