The 6 big cross-border payments trends for 2021
For our final article of the year, we look ahead to 2021 and lay out six predictions for the cross-border payments industry.
2020 has been a tough year for so many people in so many ways. Overall, the sector has shown much resilience in the face of many pressures, both economic and health-related. Here's how things will change in 2021.
1. Cash will still matter
This year, the press was awash with headlines about the decline of cash, as digital payments saw a significant surge as part of precautions against Covid-19. However, as this chart we featured back in October shows, in the remittance space, cash remained a key driver of money transfers, both digital and traditional.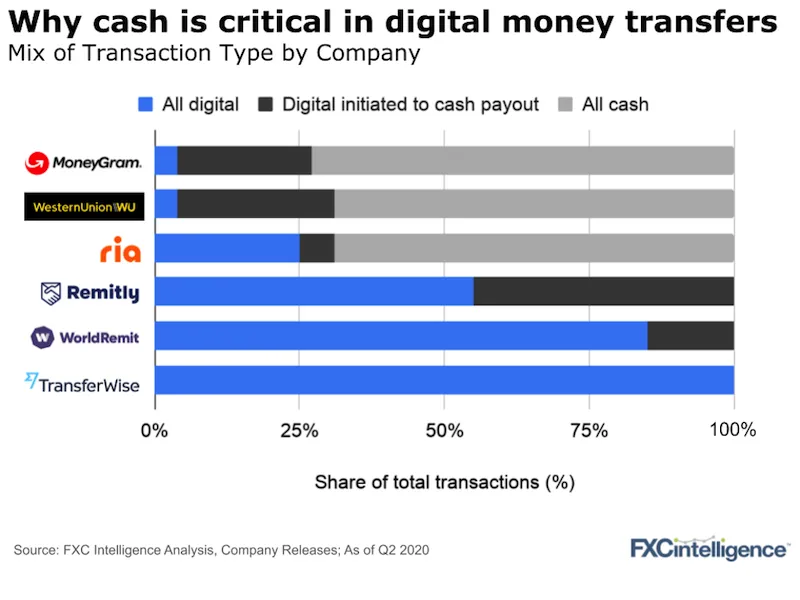 This will be no different in 2021. While digital is growing in remittances, cash is by no means dead. The complexity of large numbers of markets, as well as the number of unbanked people around the world, mean that cash will remain a vital presence for many years to come and we are looking at a generation time-scale for cash to disappear from remittances.
How do key players compare on pricing?
2. Mobile and wallets will grow
While cash is set to remain key, that doesn't mean that there won't be growth in the digital space – particularly in mobile and wallet-based products. In August, we highlighted the opportunity for mobile money products, particularly in emerging markets and among the unbanked.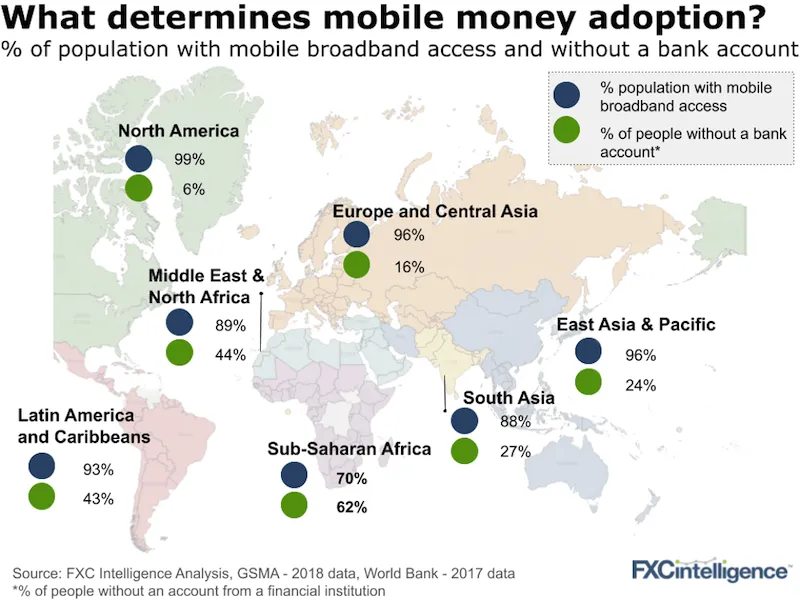 Mobile wallets is one of the fastest growing areas in fintech. Expect a lot more to come in 2021 across the board as more and more players add this capability.
Sign up to our newsletter to stay up to date on mobile trends
3. (A little) more consolidation
2020 was a quiet year for M&A in the cross-border payments sector with only three notable deals, the final one sneaking in before the end of the year.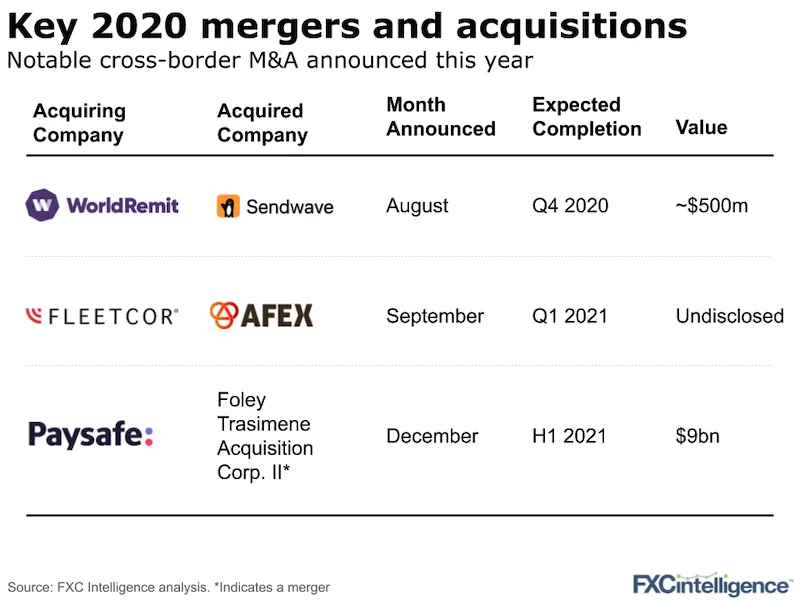 2021 may see some additional market consolidation as the stronger companies take advantage of the new environment and more companies seek scale.
However, don't expect this to translate into an increased pace of M&A. Year after year, a glut of M&A is forecast but never materialises as finding companies that can effectively join together is much harder than you may think. 
Who could lead the M&A charge next year?
4. Pricing will remain volatile
A key lesson from 2020 was that the market doesn't react in a uniform way when it comes to pricing. In fact, as this chart from October shows, different cross-border payment companies react in very different – and even opposing – ways to market shifts.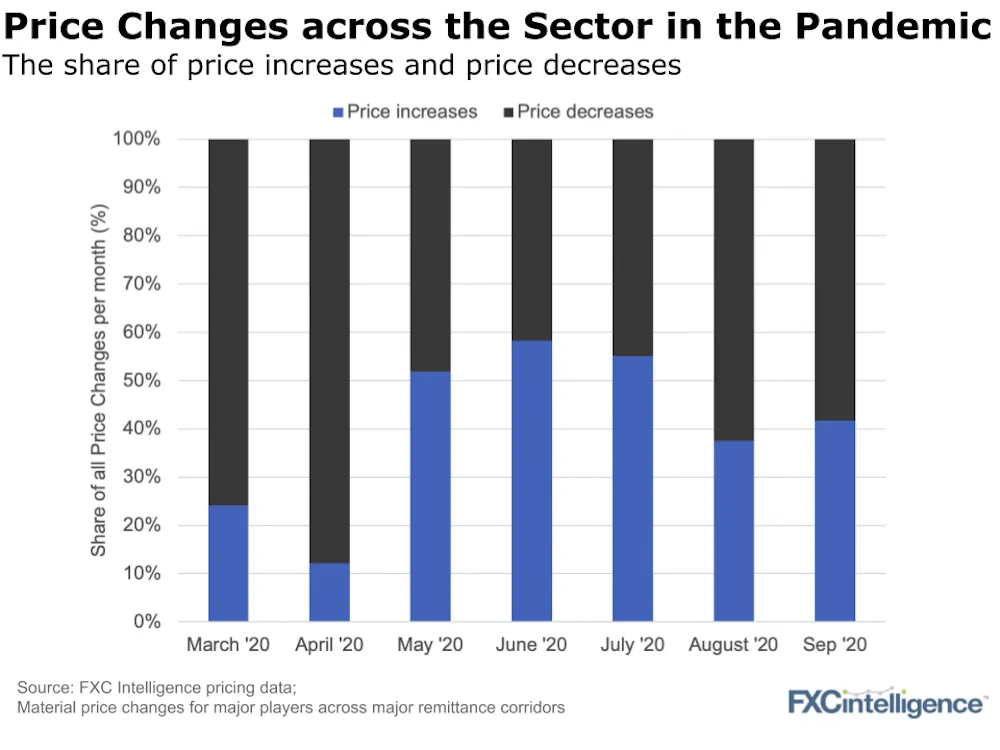 This phenomenon will continue in 2021, with pricing volatility remaining high not only due to differing reactions from different companies, but also further developments in the market as areas such as travel open up.
Get real-time updates on pricing across the industry
5. Cross-border e-commerce continues growth
Cross-border e-commerce has been on the rise for some time, but in 2020 it saw marked growth amid a general rise in online shopping in response to the pandemic. This culminated with the Black Friday weekend, which saw a dramatic rise in cross-border online shopping compared to previous years, particularly in certain markets.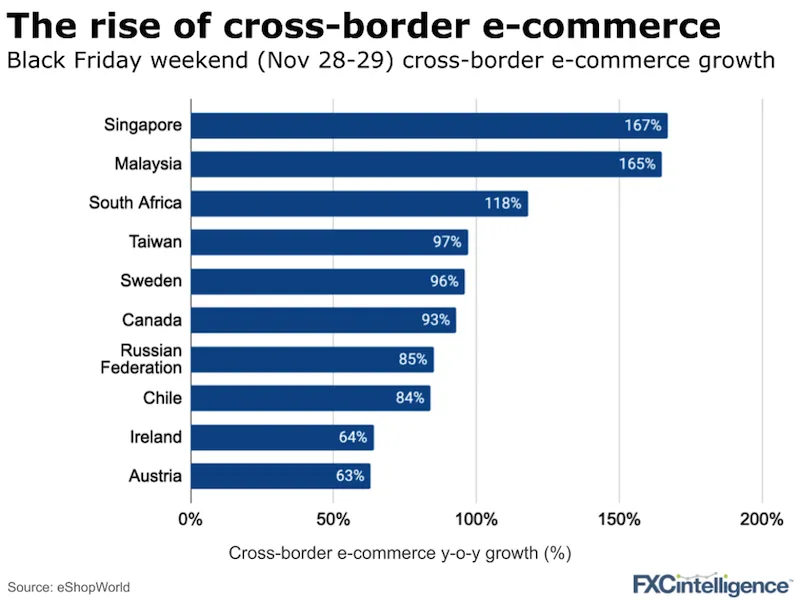 With travel once again reopening, it would be easy to think that this trend won't continue into 2021. But that won't be the case. Many consumers have embraced e-commerce for good, and cross-border purchases have become increasingly streamlined, indicating that their rate is only going to increase. The ongoing increase of digital-only products is also set to contribute to their continued growth. Expect card providers to respond to the opportunities this presents.
Optimise your cross-border e-commerce experience
6. More "X"-as-a-Service offerings ahead
Payments as a Service; Banking as a Service; Remittances as a Service. In 2020 we saw "X"-as-a-Service offerings gain considerable ground as a means of powering some of the biggest names in fintech.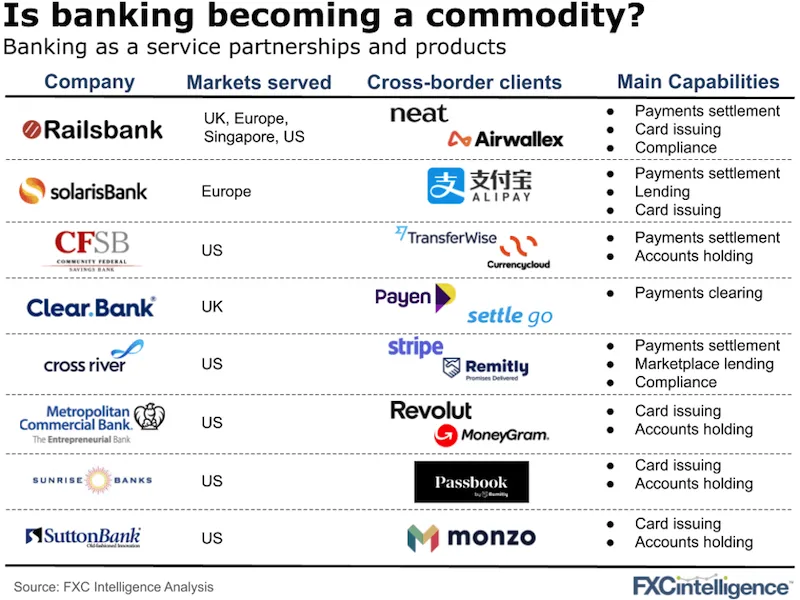 In 2021, this trend will not only continue, but expand to new corners of the payments space, with products likely to emerge catering to a wide variety of customers, mostly in B2B. The "X"-as-a-Service model fares particularly well where it can solve peripheral problems more cheaply than in-house – and there are many such areas in cross-border.
How will X-as-a-Service develop in cross-border?