Mobile money shapes cross-border payments' growth in Africa
This week, we take a different turn and look at making payments into emerging markets, in particular to Africa and to mobile money. We spoke with the CEOs of TerraPay, Thunes and MFS Africa, as well as Vodacom (MPesa).
Understanding the mobile opportunity
Cross-border payment companies are increasingly seeing emerging markets as an opportunity. This week, we look at the African market up close with a particular focus on mobile money. A little background first…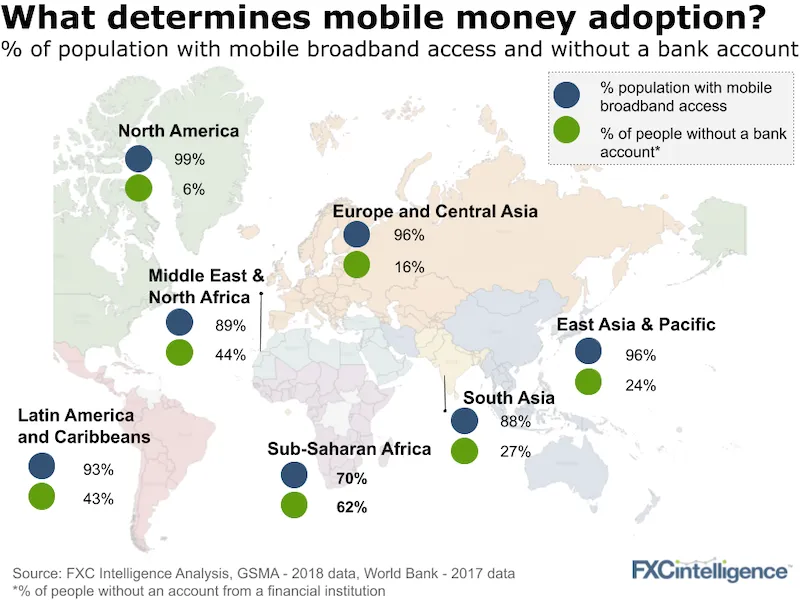 The penetration of mobile money and of wallets across low and middle-income countries can be explained broadly by two key factors:
The cost and accessibility of banking 
According to the World Bank Global Findex report, only 5% of people in high income countries don't have a bank account with a financial institution, as opposed to 76% in low income countries. The main reason for people in emerging countries not having a bank account is that they don't have enough money to open or use one. The cost of financial services may be non-negligible for them. Mobile money wallets have emerged as a cheap and fast alternative to bank accounts. 
The penetration of mobile internet and its cost
High mobile connectivity, smartphone take-up and the lower costs of mobile data help support mobile wallets growth. The limitations in mobile internet penetration and the high cost of data remain the most significant barriers to the growth potential of mobile money wallets in Africa. Although adoption of mobile money wallets is already quite high in some African countries, there are significant discrepancies within the continent that are due to the poor level of the infrastructures in some countries.
These market frictions and growing mobile penetration have helped open up significant opportunities for companies in the payments space. We turn to them next.
---
---
The cross-border payments opportunity 
The payments landscape in emerging economies, and especially in Africa, has typically been dominated by telcos and banks. Telcos, in key markets such as Kenya and Tanzania, have been very effective at driving mobile payments adoption. They currently own the most widespread mobile money wallets, which are valued by customers for their convenience and ease of use. 
We talked to Dare Okoudjou, CEO of MFS Africa; Peter de Caluwe, CEO of Thunes; Ambar Sur, CEO of TerraPay; and Epimack Mbeteni, Director M-Commerce of Vodacom (MPesa) Tanzania, to understand more about how they are helping open payments and mobile money in Africa and beyond.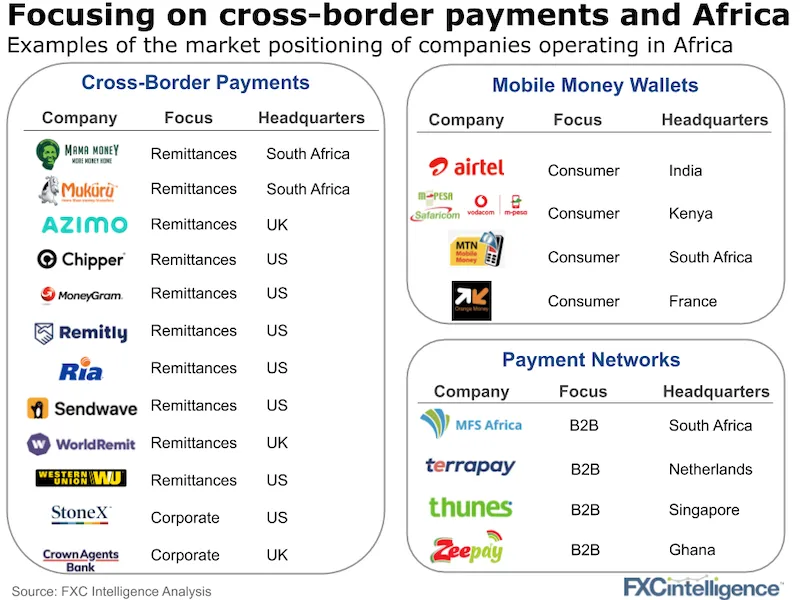 From our conversations with these industry leaders, three main takeaways emerged:
The need to develop interoperability
According to MPesa, there are huge opportunities in interoperability. At the moment, the use of mobile money and other mobile wallets is limited to a specific country or for payments between the users of the same wallet. Thunes, TerraPay and MFS Africa have built their own networks to connect different wallets and these wallets with financial institutions. Although processing different types of payments, these companies are building payment rails that connect payment companies, banks and consumers around the world. To get a sense of the growth, Thunes processed $6bn of payments in 2019 but is on track to process $12bn this year.
Remittances through mobile money wallets are complex, but possible
Mobile money wallets are mostly used for peer-to-peer and merchant payments but they are increasingly being used for remittances. The main reason is that processing remittances is costly and is highly regulated in the region. Direct connections with banks and partnerships between money transfer and mobile money companies is helping make remittances more accessible, especially remittances from Africa.
Different types of wallets across different emerging markets
While Africa is dominated by mobile money wallets developed by telcos, South East Asia and India have seen the emergence of digital wallets by independent players like GCash and Paytm, ecommerce players' wallets and supported by UPI for mobile banking. Independent startups such as Paga, based in Nigeria, are emerging too. All these wallets have the potential to accommodate international payments and increase the accessibility of the unbanked population to payment methods other than cash.
---
---
Payments into emerging markets and in particular into and within Africa is now seeing significant innovation and the opening up on better and faster rails. Companies like Thunes, TerraPay and MFS Africa are helping enable this growth but as payments friction remains high expect a lot more innovation to come.