INTL FCStone's emerging markets push
INTL FCStone, a leader in commodities trading and payments to emerging markets, reported quarterly results last week as well. Revenue for the company went up in every segment, including global payments.
We talked to Carsten Hils, Global Head of Global Payments, and Gregory Vincent, Head of FX Payments. INTL's typically serves banks and NGOs with spot FX transactions. We put INTL's annual payments flow at c.$17-20bn (with no double counting of covering flows).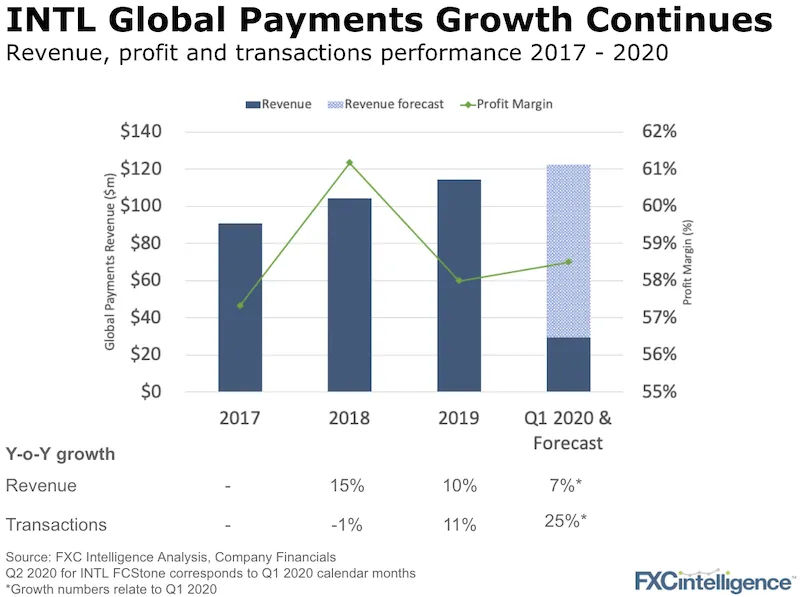 Here are our main takeaways from the conversation:
As a seasonal business, Q1 is normally the slowest for INTL. The high currency volatility in March and the lack of exposure to FX hedging helped the business counterbalance the negative effects of lower M&A activity and capital flows in January and February.
INTL is benefiting from the downturn. Banks in particular are looking for new ways to drive revenue into emerging markets by offering FX services (via INTL) as opposed to relying on just earning fees by sending the norm of dollar payments into these regions.
INTL just completed the acquisition of Giroxx, a German company specialised in foreign exchange transactions and hedging for SMEs in order to enter this segment of customers and activity. The service will have a digital focus, leveraging the Giroxx digital platform. INTL's overall balance sheet should help although we expect the company to remain conservative when it comes to extending SMEs credit.
As to what else the future will bring for INTL's Global Payment's division, the answer is geographic expansion across Europe, Brazil and the US, either organically or via acquisitions.
Picking up the pieces from EncoreFX
The administrators at EY have been busy in Canada working EncoreFX through its bankruptcy proceedings.
Some notable numbers from the bankruptcy:
EncoreFX had over 4,000 clients. As the crisis hit, 248 of them received margin calls totalling C$77m.
Encore had relied on zero margin credit to help grow the business with derivative liquidity provided by Goldman and Deutsche Bank.
Only one bid was received for the US division, three bids for the Canadian business and nothing as yet for the Australia and New Zealand arm.
Private Equity owned Global Reach Group announced today it will take the Canadian business out of bankruptcy. A purchase price of C$100,000, a small two-year earn-out and the re-hiring of around 70 people form the core of the deal.
The core asset of the US business are its licenses. The only bid received has been from a US public company and totals around $1.2m. Of this $1.2m, $1m is related to maintaining working capital and the licenses. 
The administrators will wish to continue to push through some swift deals to retain as much value in the EncoreFX assets as possible, however, regulatory involvement and Covid-19 will likely slow the affair.