Will Facebook's Libra crush Western Union and TransferWise?
It's been a big week all round for crypto. Facebook announced Libra its cryptocurrency blockchain project, squarely targeting the underbanked and remittances as its first use cases. Off the back of Facebook's project, Bitcoin has surged. And lacking coincidence, Ripple, another crypto player invested this week in MoneyGram. All that plus a look at crypto versus non-crypto FX pricing.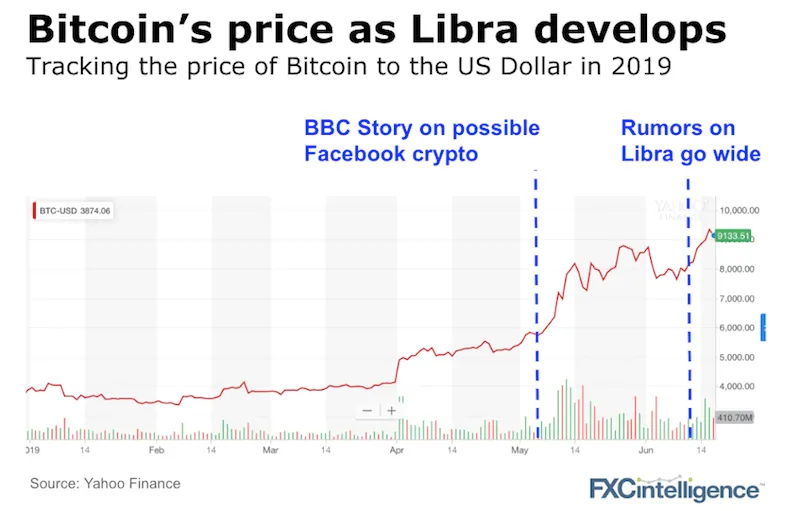 Bitcoin's recent rise has been virtually entirely driven by the momentum and possible mainstream adoption of crypto currencies in general. Are the winds of Facebook's Libra strong enough to pull Bitcoin back?
To Facebook's Libra and what it means for the cross-border sector…
Facebook's unique market position
Facebook stands in a unique position globally due to its reach, with over two billion consumers that use it every month, plus the roughly seven million advertisers and 90 million small businesses on its platform. That reach may uniquely underpin Libra's success, in part driven by such low potential customer acquisition costs (i.e. targeting its own users).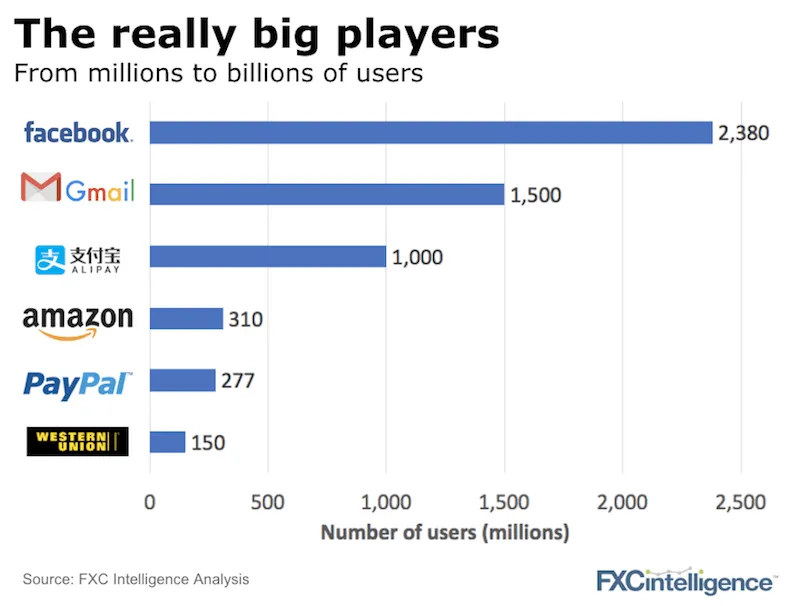 Is Facebook the right player to launch a new global currency and what are the chances of success?
Three positive observations
Facebook is taking a partnership, decentralised approach trying to bring in many players to an ecosystem that it itself does not control. The Founding Members included some big payment processors and Visa and Mastercard. Although there were no banks and no payment companies yet, the membership criteria would allow them to join.
Libra is backed up by fiat currency. It won't be pegged just to the USD but will work more like a peg to a weighted currency basket such as the Singapore dollar. This it hopes brings more stability but it is not clear if it is enough. Currency crises are common enough amongst 'stabilised currency arrangements'.
The several billion underbanked people worldwide have seen a slow uptick in their ability to access more financial services. If Libra (and Calibra, Facebook's wallet) works, it will help this.
Five open questions
Is Libra really needed? Previous attempts by Facebook to run money have failed. The link between sharing photos on social media and sending money has not proved concrete and there are the well-documented trust issues Facebook needs to resolve. No cryptocurrency yet has created enough utility or solved for issues such as lack of volatility and low-cost digital money transfers are pretty widely available.
Is cost or speed improved? Whilst exchanges such as Coinbase advertise "free international money transfers", the transaction costs to convert fiat to crypto and back again remain far above the numerous low cost and fast existing fintech money transfer options that Libra seeks to better (see chart below).
Does Libra solve for the c.80% of remittances that are cash based? In some of the key cash receiver markets like India, regulation is not currently open to crypto and is unlikely to make an exception just for Libra.
Is the founding membership diverse enough? Whilst the founding members of the Libra Association has some well known names, it is hardly diverse and looks very much like a San Francisco tech club but based in stereotypically neutral Switzerland. Facebook knows it would not be trusted to run Libra alone or get buy-in from other major companies without giving them some control but will this be enough?
What will the competitive response be of players such as Apple, Google and Amazon? It is unlikely they will just let Facebook "control" or even shape a new global currency. There are only so many Uber rides, Spotify subscriptions and Booking.com holidays the current usage of Libra can buy.
How did the shareholders of the big payment companies respond to the news?
Western Union dropped a few percentage points, PayPal by 1% and Apple, Amazon and Google all rose in value.
At this point then, the PR noise is still outweighing the market impact as so much is still uncertain in how Libra will develop. This is very much the beginning. Stay tuned.
The high costs of converting crypto to fiat currencies
Will Libra change the world? Right now, the costs of having to transfer one currency to another via a crypto currency (such as with market leader Coinbase) remain high compared to the market.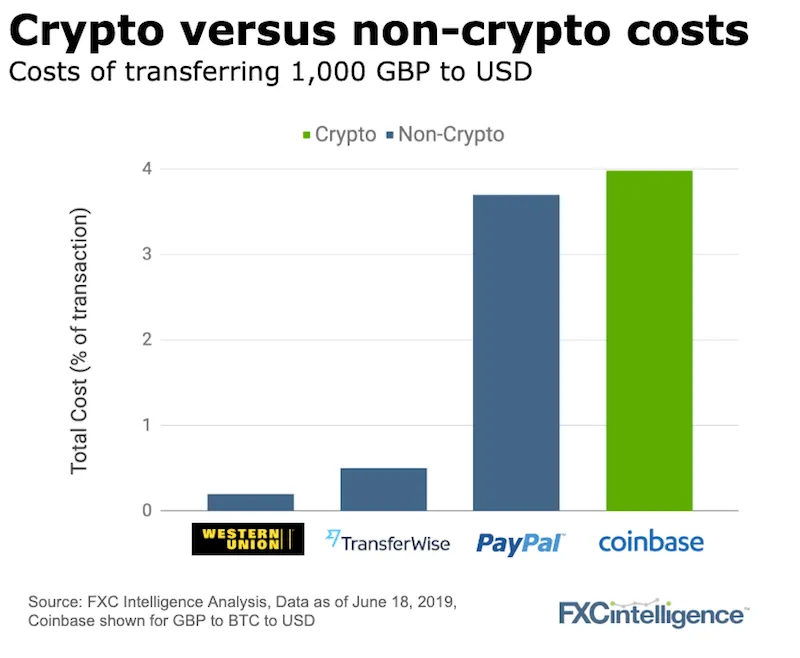 MoneyGram's new best friend, Ripple
Ripple has been looking to push adoption of its products, especially xRapid, its cryptocurrency powered offering. Tapping into MoneyGram at its current low equity value looks to make a lot of sense. MoneyGram's share price more than doubled from around $1.45 before the deal was announced to get close to the $4.10 purchase price before falling back to just under $3 as of today.
MoneyGram has an estimated FX flow of c.$35bn in line with competitors such as Ria and Finablr. MoneyGram also serves plenty of the developing market corridors that Ripple is strongest in.
With Facebook's Libra announcement and more and more blockchain offerings (JP Morgan, Visa), this deal is a welcome boost for Ripple.
Do you have all the pricing data you need?
Need the data via API? Contact us to get ahead.