Analysing WU, MGI and Euronet 2018 numbers and Finablr to IPO
The big three public companies all reported 2018 full year results this past week, with wide-ranging performances.
Top performing is Ria (owned by Euronet). Year over year growth was 16% which compares favourably to Western Union at 3% and MoneyGram which declined 11% (but did stabilise in Q4).
As a core indicator of competitive pressures globally (from both digital and offline competition), we've looked at how overall pricing has changed in 2018.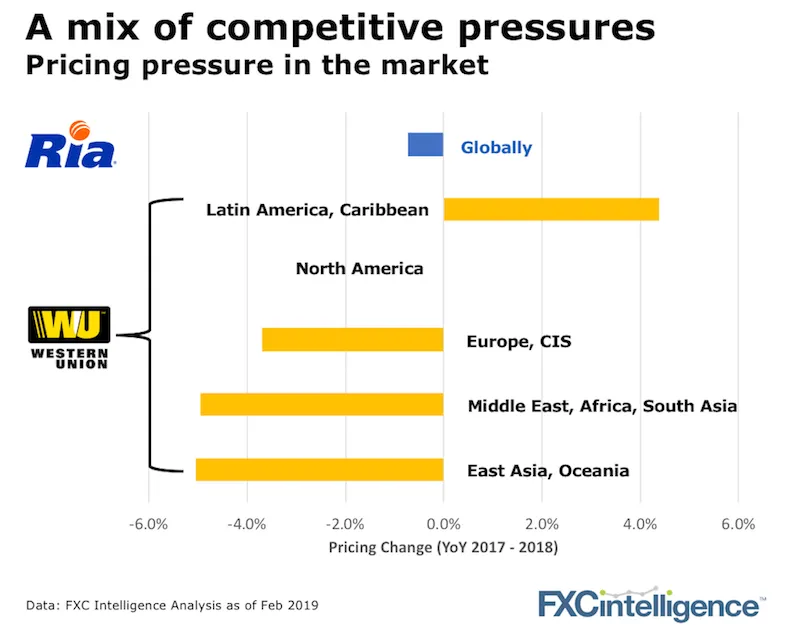 Pricing pressure remains, but not nearly as much as you'd think. The market of opportunity appears to be Latin America, where Western Union was even able to raise prices. We've seen more and more players focusing on LatAm too.
Some other takeaways from the results:
Payout capability to digital wallets will only increase in importance. Credit to MoneyGram, which has started their partnership with Ant Financial and the 700 million Alipay wallet holders. Expect to see a lot more wallet partnerships over the next year.
Western Union, Ria and MoneyGram are major digital players, with c.$1bn in digital revenue between them. Their growth rates in digital are in line with the venture-backed players in the space. You can't ignore them.
Western Union Business Solutions, the subject of an expected sale in late 2018, has been slowly turning itself around, with results for 2018 showing a halt to the division's declining revenue. Margins nearly doubled but still remain low at c.6%.
The next big IPO – Finablr
News out of Dubai this week from the owner of newly-formed payments conglomerate Finablr is that the company plans to seek an IPO in London in March.
Finablr's core was UAE Exchange until it bought Travelex for a reported $1.14bn in 2015. Since then, it has grown both organically, by developing its own brands such as Unimoni, and by investing in startups such as Swych.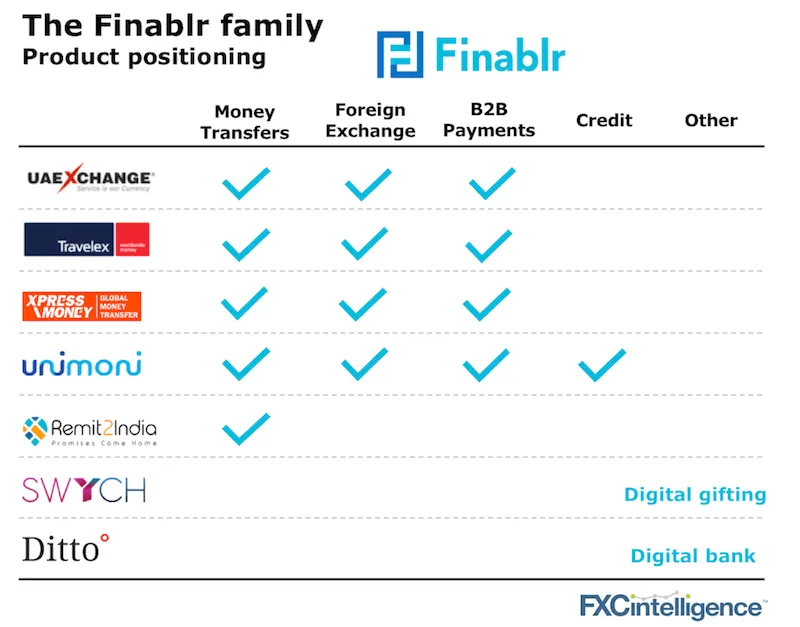 This is not the first time an IPO for the group has been mooted. With the company signing a 10 year lease in December for over 11,000 sq ft of London offices in a new tower development in Old Street, however, this may now be the time.
Finablr has held its financials close to its chest to date. FX flows are understood to be around $100bn but no operating financials have been publicly shared. A public markets listing will shed some light and add a new comparable to the three public giants we cover above.
A good response from investors to the listing will be good news for the sector.