Remittance players see growth rate decline in Q2 2022
Leading remittance players once again saw slowing growth across their consumer money transfer revenues in Q2 2022. Euronet, Remitly and Intermex all reported increased revenues, while MoneyGram and Western Union saw YoY declines due to headwinds such as inflation and the Russia/Ukraine war.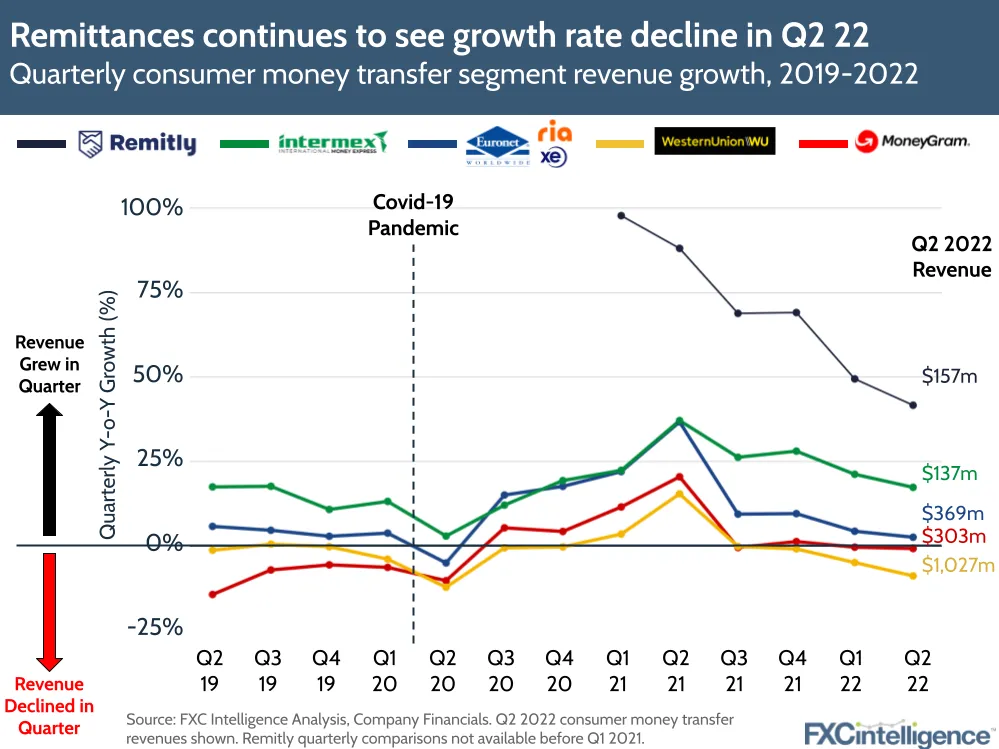 Some YoY successes in Q2 2022, but headwinds continue to impact the sector across the board
MoneyGram also blamed retail softness (particularly at Walmart) for its 0.8% decline in total money transfer revenues. Having said this, total money transfer transactions grew 5% YoY and hit an all-time high during the quarter.
Euronet, which owns remittance players Ria and Xe, only saw 3% growth across its money transfer segment (compared to 37% growth seen in Q2 21), which the company put down to inflationary pressure. It did say that it was working to grow money transfer partnerships, having launched 20 correspondent relationships in 18 countries.
Intermex saw revenue increase 17% to $137m (lower than 37% in Q2 21). The company has ramped up its agents and number of customers worldwide, driving 106.6% growth in digital transactions, but continues to put its faith in retail, as I discussed with CEO Bob Lisy.
Meanwhile, digital-focused Remitly saw revenues up 42% YoY, but also reported its highest net losses since going public. New and repeat business continues to push growth for Remitly, but it is seeing less than half the growth it saw in Q2 21 (88%). Remitly CEO Matt Oppenheimer discussed his plans to expand into new markets in a recent chat.
Moneygram and Euronet both expect inflation to put pressure on revenues this year, while Remitly and Intermex don't believe inflation will cause a dramatic change in send amounts. We've delved more into the potential impacts of the economic downturn in a separate report for this newsletter.
Despite some remittance players seeing YoY successes, slowing growth across the board shows the continued impact that various headwinds are having on the sector. We'll be tracking the situation as the year progresses.