Euronet revenue rises in Q2 22 but money transfers sluggish
Euronet has seen rising revenues in Q2 2022, driven by a return to travel and the expansion of its digital payments network. However, its Money Transfer segment, which includes XE and Ria, faced significant headwinds.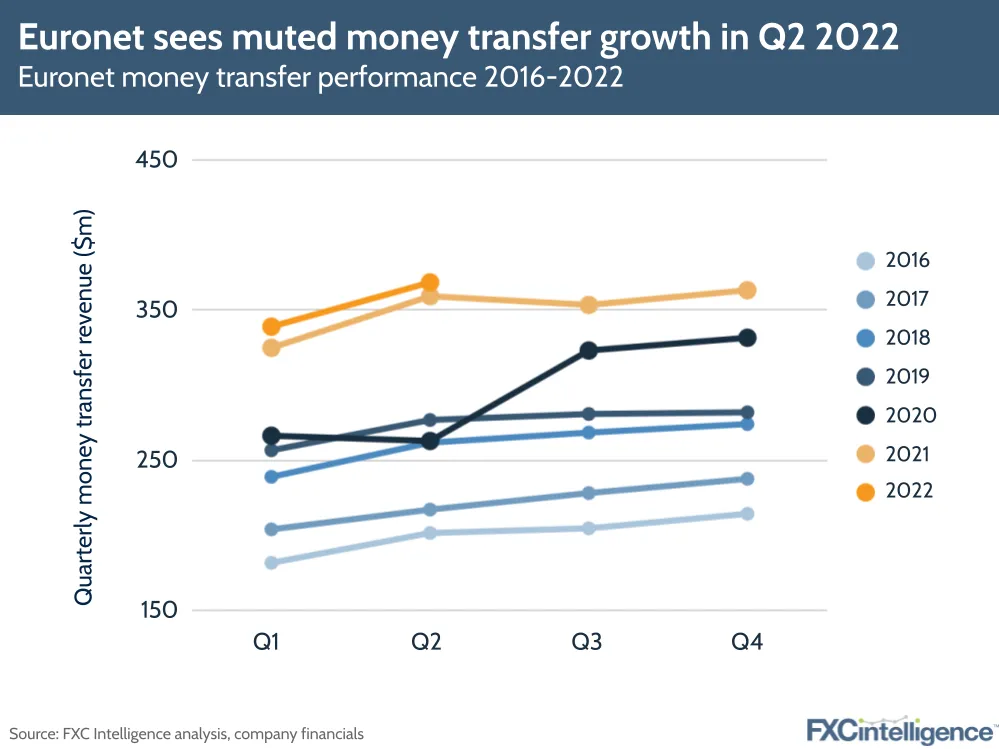 Euronet Q2 22 earnings key takeaways
Euronet saw an 18% YoY increase in revenues to $843.3m, with revenue and EBITDA seeing double-digit growth for the fourth consecutive quarter. However, its Electronic Funds Transfer segment was the primary driver, seeing 119% growth, while the Money Transfer segment only grew 3%.
Money transfer revenues did, however, see growth in some regions. US-outbound transactions grew 10%; international money transfers grew 11% and lifting Covid restrictions in APAC contributed to a 9% increase in transactions to 37.3 million.
Digital also continues to see outsized growth in money transfer, with direct-to-consumer digital transactions increasing 37%. Bank account deposits now represent 32% of Ria's outbound volume.
However, the company did see declines in its US domestic business, and also began to see drops in average send amounts, which indicates that inflation may be causing issues for the segment. Despite this, it anticipates improved growth in the next few quarters.
Closures in Russia, Belarus and Tajikistan in Q1 saw its location count decline, although the company reports that the revenue impact is "nominal".
Similar to last quarter, adjusted EBITDA for the money transfer segment declined due to continued investments in physical and digital network expansion, as well as R&D and marketing.
Euronet also gave an update on Dandelion, its cross-border payment platform for finance players. It is now providing Dandelion to US-based Atlantic Community Bankers Bank, which would allow it to facilitate cross-border payments for more than 400 financial institutions in its network.
Euronet anticipates that its Q3 2022 adjusted EBITDA will be in the range of approximately $210m-$220m. Moving forward, the company expects inflation to put pressure on its money transfer segment but remains confident in growth due to the success of Dandelion, as well as its REN digital payments platform, which was recently introduced to Indonesia to modernise digital payments.