HSBC vs TransferWise: Banks are taking on payments fintechs
HSBC has caught the headlines in recent weeks with the launch of its Global Money Account, a product designed to rival TransferWise's Borderless Account. Meanwhile, Santander's app-based PagoFX has expanded its service to the highly competitive India corridor. But they are not alone in challenging fintechs in the global payments space.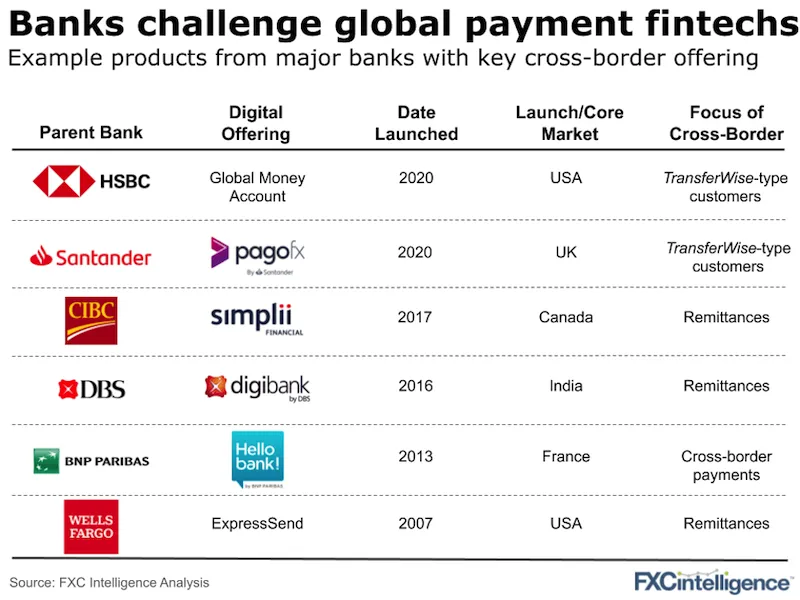 Sign up to our weekly newsletter, the most read publication in the global payments sector
In the last few years, growing numbers of banks have launched standalone digital offerings with features and branding to compete with fintechs in cross-border.
Taking a lightweight, mobile-first approach, these are typically characterised by innovative features and lower overheads, and are often focused on younger consumers, in particular millennials. Seeing the appeal these have had, banks have entered the space, promising to pair the innovation of a fintech with the security and trust of a long-established financial institution.
For some players, cross-border payments is the key product feature to focus on. India-based digibank and Canada's Simplii Financial, for example, both offer zero-fee remittances as part of their package of current account features. Meanwhile, Hello Bank, which operates banking products that include current accounts in five European countries, offers free worldwide payments to its French customers.
For others cross-border forms the central feature of the offering, such as Santander's PagoFX, HSBC's Global Money Account or Wells Fargo's ExpressSend, all of which are specifically design to appeal to consumers with remittance or cross-border payment needs.
HSBC's Global Money Account is a mobile-based service enabling customers to hold, manage and send funds in real-time without fees, while Santander's PagoFX similarly allows customers to send money abroad to a select number of countries.
However, the standalone digital offerings of established banks are not always a success. JPMorgan Chase's hybrid digital bank Finn closed in 2019 just a year after launching, while NatWest's offering Bó lasted just six months, as the bank chose to focus instead on its SME-targeted digital bank Mettle.