Is TransferWise becoming an incumbent?
TransferWise announced its year to March 2020 annual results yesterday. As one of the most valued fintechs in Europe, with a $5bn valuation, TransferWise reported another strong financial year with 70% revenue growth.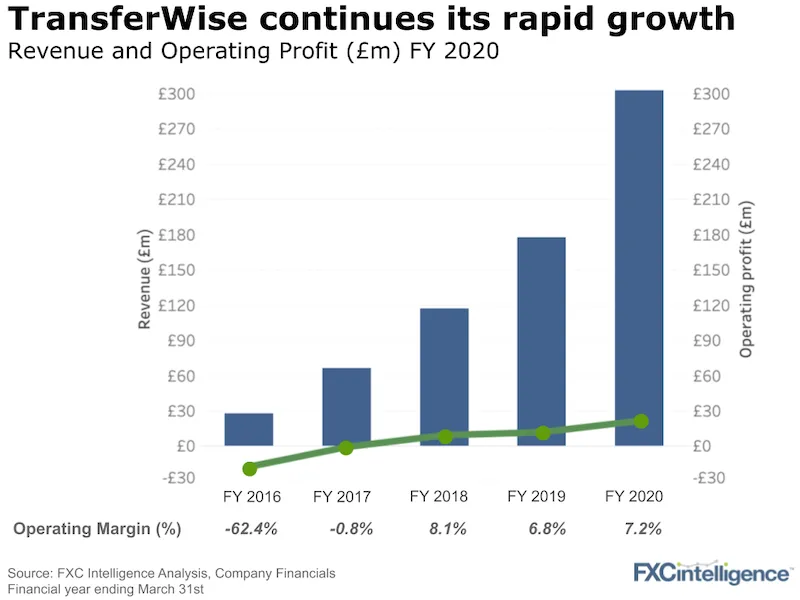 Our main takeaways:
TransferWise transferred £67bn in the year to March 2020, of which £42bn was cross-border (a 55% increase from the £27bn of flows the year before). The company's borderless (multi-currency) account, which is now live in five currencies including US dollars and euros, helped drive this.

TransferWise continued to deliver a profit but its operating margins remain low compared the leading incumbents in the space. Cambridge Global Payments runs at over 50% operating margin and players such as Currencies Direct or OFX are north of 25%. All of these players have less revenue to work with than TransferWise does too.

This means that while revenue jumped 70%, TransferWise has only been able to slightly improve its operating efficiency. Some of this is related to continued investment. Yet, there doesn't appear to be a path to a much higher operating margin unless pricing goes up significantly. Amazon justified a model of rising market share and minimal profitability for many years. Can TransferWise do the same?
That takes us to the big question – is an IPO on the cards for TransferWise? We hold back on our full view for now but, each year, its annual reports look more and more professional and its quarterly reporting blog posts more detailed. Stay tuned.