2021's big global payments product launches
Some of the biggest names across the global payments sector are planning big product launches in 2021. Whilst many remain under-wraps, a few have already been announced…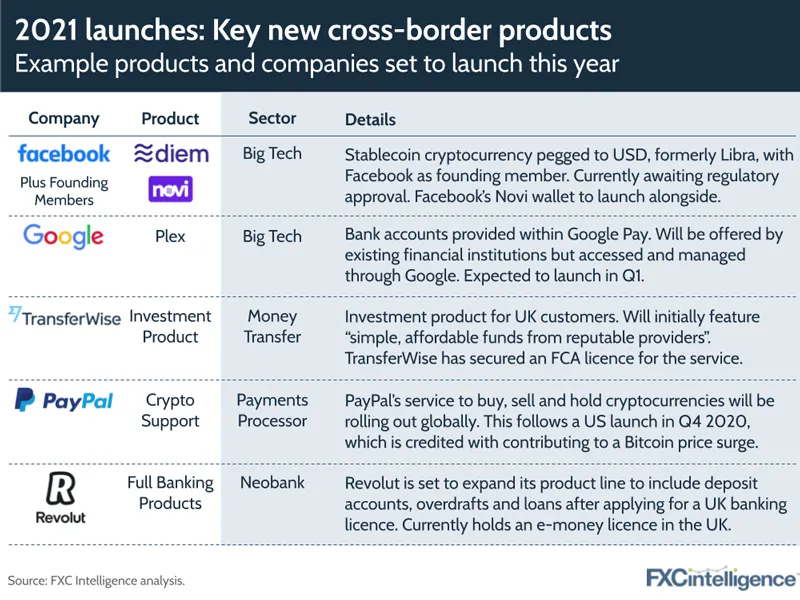 Diem, the long-awaited cryptocurrency with Facebook as a founding member and its Novi product providing its digital wallet, is finally set to appear – and soon. It was reported to receive a limited launch in January including several remittance corridors, but with the month already half over this could yet be pushed back. However, when it does arise, the focus will be on how it fits into the increasingly diverse payments space – and what regulators make of it.
Google's own launch, meanwhile, highlights the trend towards embedded finance. It draws banking into its Google Pay service through partnerships with existing financial providers such as Citi. Combined with Open Banking, it could significantly impact how consumers use bank services. TransferWise, meanwhile, has made it clear that it has no intentions to be a bank (unless it has to be such as with a restricted license in Australia). But does want to get into investments to offer a return to those who hold funds with it. Expect more details later in the year.
For PayPal, however, a key focus continues to be on crypto, with its US-only cryptocurrency buying service set to be released globally. Could it push the price of Bitcoin further in the process (as PayPal buys more Bitcoin to be able to satisfy demand for its customers)?
Finally, Revolut is joining other fellow neobanks in gaining a full UK banking licence, so expect a host of traditional banking products to follow.
We'll be digging into these launches – and many others – over the course of the year.
Sign up to our newsletter to stay up to date on industry developments