In our latest report in our Post-Earnings Call Series, Payoneer CEO Scott Galit discusses the company's impressive Q3 2021 earnings and plans for future growth. Download it here.
Please note each submission request for a copy of the report will be reviewed by FXC Intelligence.  
You will be sent the report within 2 working days if your request is accepted; it will not automatically download.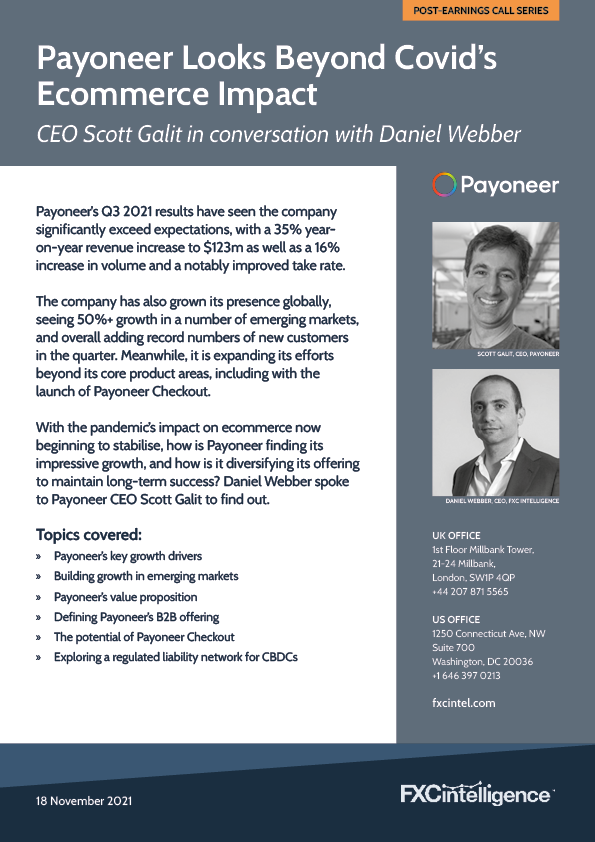 In 'Payoneer Looks Beyond Covid's Ecommerce Impact'
Payoneer's Q3 2021 results have seen the company significantly exceed expectations, with a 35% year-on-year revenue increase to $123m as well as a 16% increase in volume and a notably improved take rate.
The company has also grown its presence globally, seeing 50%+ growth in a number of emerging markets, and overall adding record numbers of new customers in the quarter. Meanwhile, it is expanding its efforts beyond its core product areas, including with the launch of Payoneer Checkout.
With the pandemic's impact on ecommerce now beginning to stabilise, how is Payoneer finding its impressive growth, and how is it diversifying its offering to maintain long-term success? Daniel Webber spoke to Payoneer CEO Scott Galit to find out.
Topics covered:
Payoneer's key growth drivers
Building growth in emerging markets
Payoneer's value proposition
Defining Payoneer's B2B offering
The potential of Payoneer Checkout
Exploring a regulated liability network for CBDCs