Flywire sees continued growth amid tailwinds: CEO Mike Massaro on Q3 2022 results
Flywire's Q3 2022 earnings once again saw the company post strong results. In the latest in our Post-Earnings Call Series, we discussed the company's newest numbers and strategy with CEO Mike Massaro.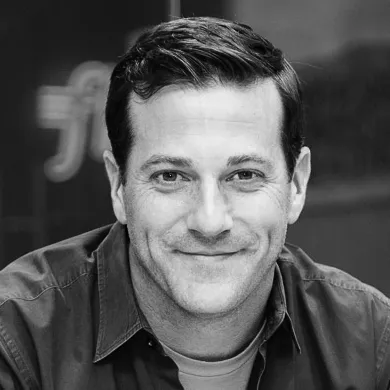 Education, healthcare, travel and B2B-focused Flywire has announced another strong quarter, seeing 40% year-on-year revenue growth to $95.2m in Q3 2022, while total payment volume has climbed 43% to $7bn over the same period.
The company also added more than 145 new clients in the quarter, bringing its total to over 3,000 for the first time. This includes over 2,000 global education institutions and more than 80 healthcare systems, including four of the US top 10. The company is also making gains in its smaller travel and B2B segments, with its number of travel clients, who are mainly large travel operators and accommodation providers, passing 500.
Flywire sees strong tailwinds in all four sectors that it anticipates driving further growth. In education, it cited the ongoing growth in international students, particularly in the US, while in healthcare it pointed to the ongoing prioritisation of digital-friendly payment options. The strong return of travel, particularly in the luxury segment of the market, is also bringing benefits to the company, as is the accelerated need for digitisation and automation among B2B finance departments.
The results saw the company tighten its FY revenue projections to $285.4m-$288.7m, which had been raised to $283m-$295m in Q2, and adjusted EBITDA margin to $14m-$16m (previously $13m-$17m).
However, with vast total addressable markets in all four of its segments, how does Flywire plan to continue its growth as it looks to 2023? I caught up with CEO Mike Massaro to find out.
Topics covered:
Drivers of Flywire's record growth in Q3 22
Daniel Webber: Mike, a record quarter, despite Q3 being your best seasonal quarter. Take us through what's driving that.
Mike Massaro:
Happy to. Obviously the education business and the travel business were both call outs in our call, although we had good stories in client adds across all industries.
For us, the resilience of the business was a big call out for the quarter. We've always said we have been proud of how we handled the pandemic and now you've got lots of different macro headwinds that are giving people trouble, our business is very well distributed across that.
We spoke quite positively about where we think we'll finish the year, increasing guidance on the revenue side and EBITDA. We're feeling very good about our prospects in 2023 because the business model of signing clients then having that client launch really drives revenue in subsequent years.
Figure 1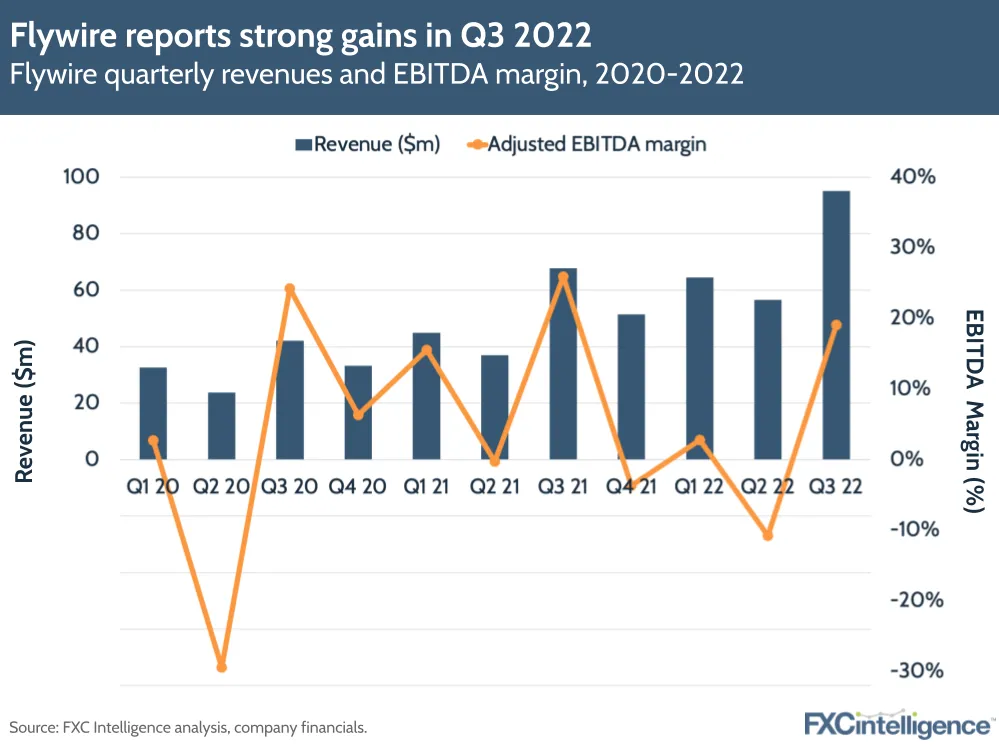 Daniel Webber: You have shared some very good net revenue retention numbers. What's so important about such a strong net revenue retention number and what does it tell people about the underlying business?
Mike Massaro:
It's the first metric in our growth equation. When everyone asks us how we build up growth and how we get confident in growth, it really starts with net revenue retention (NRR).
At the IPO, it was a three-year average of 123%. That even included a flat 100% year that was due to the pandemic. We always told everybody that we thought as we got through that pandemic and the world had this rolling recovery, that we'd see that number go back to a similar average.
Rob [Orgel, Flywire COO] called out an education NRR number on the call that was quite strong, around 130%. It's a really good indicator that our clients are choosing to do more with us. Not only deploy more software, but open up more payment volume to us.
When you have that first lever of growth – that existing client net revenue growth – you can then layer on new client signs and additional levers of growth. Maybe the inorganic deals we did with WPM and cohort, all of those are things that get to get layered on top of that NRR number.
It's really awesome to be able to start every year with that strong baked-in growth number to the existing client base that the NRR gives us.
Daniel Webber: For your typical clients in education, does it grow because they grow or does it grow because of what you do for them?
Mike Massaro:
It's really a combination; that's the benefit of both. A client, you get the full-year effect of that client going live, but you start in one area of their business.
For an educational institution campus, it could be the undergrad program, undergrad school. For a hospital, it may be a certain geographic region or a certain EHR system, which is the back-end patient record system. You may start with one implementation, with one set of systems, they may have multiple.
All of those are different ways in which we can really expand our position and grow. You can get more volume, you can get more software deployed, you can get the footprint increase. So all of those are really drivers for NRR.
Responding to the return of travel
Daniel Webber: Travel is bouncing back, and you have subsets: operators, destination management, accommodation. There are different trends, but what are you seeing that is resonating with your product in the travel section?
Mike Massaro:
There's a few things we called out on the call. One, and it's not just us, but you're hearing airlines and others talk about an extended peak or a broadening of the travel season. That's probably a bit due to the pent-up demand, part of that's due to different traveler groups in different parts of the world finally getting the chance to travel.
At the same time, probably part of it's due to more flexibility in people's schedules, with more hybrid or flexible work arrangements giving people time to travel in parts of the year that maybe they weren't normally doing.
All those trends that you've heard from other travel companies related to the ongoing growth and travel, it's consistent with us. We saw really great traction in Europe in the last quarter that continued through parts of Q3, and then we also mentioned the opening of other parts of the world that really hadn't had a chance to have that rolling recovery yet.
Even on the trip I made to Singapore, I mentioned I'd flown through Japan but because of the travel restrictions, didn't get a chance to actually stop and meet clients and our team in Japan.
Now that Japan is open again, you're seeing really strong tourism numbers come out there. It's a big winter ski season. It's often a big spring travel season, tourist season in Japan. So you're seeing more markets open up and I think you're seeing more people, more flight capacity, more people willing to travel and experience the world.
That's the broad trend. If you look across the-sub sectors in general, we did also mention that it's a very large total addressable market, nearly $600bn or so. The part that's really important to understand there is we keep diving deeper into sub-sectors. So whether it's certain types of tours or certain tours in different parts of the world, every time our team identifies a sector that resonates and our solution works for, it really allows us to keep peeling that total addressable market off and keep going after it.
I even called out some of the great marketing campaigns we're doing where we're able to digitally target these sub-sectors of travel in a really great way, really helping fuel additional pipelines. We not only feel good about the signs in travel, but feel good about the macro trends. With certain parts of the world opening up, I think it's going to make for a great 2023.
Daniel Webber: How do the needs of travel vary to your other industries? Is catering to it building out additional capabilities?
Mike Massaro:
There are a few things that add in. Obviously the core component is payment experiences and delivering these great checkout experiences that allow someone to pay a large invoice. There's also this cross-border, cross-currency invoice capability that we offer travel clients. If someone's going ahead and invoicing a set of payers from around the world, we have a whole set of functionality that really helps in relation to that.
It's really enhancements to those core components that we think are great. If you think even just simple additions, and this is about us tailoring the software for the industries, think of these as platform components. But when we go to travel customers, we're talking about the flexibility, for instance, to preconfigure what the deposit is.
Some of these luxury tours, you could owe 20% down on a given trip and then you may have two or three installments, all leading up until your final trip starts.
All of that can be configured at an invoice level. Settings can be set across all invoices for an operator or they could really be configured separately. If someone needs more flexible payment terms or oftentimes if people are traveling in a group setting, you may want to split up the travel cost.
One family's going with five people, another family's going on the same trip with four, how do you look at that overall cost and then split it up so that you may have double invoices going out all for the same trip? That understanding of the industries, the problems our clients are trying to solve and then making sure those features are built into the product.
On top of that, it's really about making sure we have the corridors and the payment methods and the currencies to really provide a great experience for travelers coming from all over the world. That's really where the focus is.
We also think there's quite a number of really interesting future problems inside travel where there isn't a lot of software helping out with things like the way commission payments flow, for instance. You may have a travel agent or someone helping you with a tour and that tour agency and the travel agent oftentimes have a commission relationship. Most of that is really manual and offline.
We see a lot of future opportunities for more software helping drive value in travel, but we're really centered on payment experiences right now in the invoicing capability.
Figure 2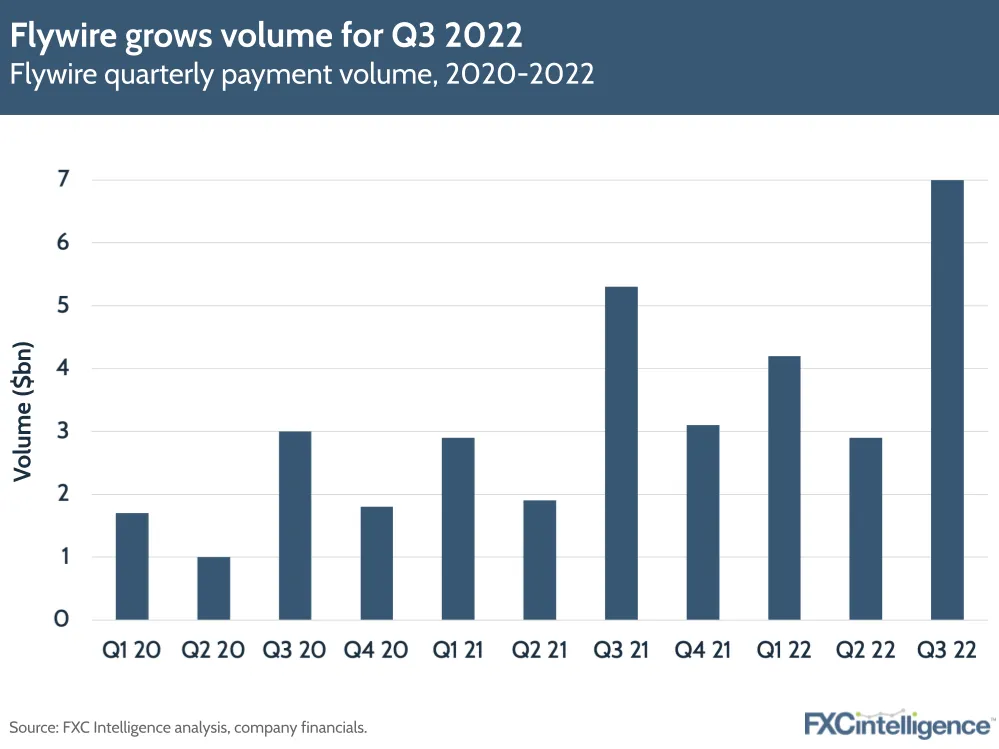 Emerging trends in education
Daniel Webber: Let's talk briefly about education. Are there any new trends that you see emerging in education with respect to what you guys are doing in this space?
Mike Massaro:
If you look at education broadly, we think there's a lot of opportunity that exists there. We mentioned our land and expand strategy, which is a more US-centric approach. Then a geographic expansion of our education business, obviously a core tenant of which is the WPM deal we did in the UK.
We mentioned quite a bit of success that's happening there, and that was the plan we expected, which was that we would get customers educated on the integrated offering and then we would be clearly delivering an integrated solution that we thought was best-in-class.
All of those are really core tenets of not only this year's plan, but also the plan for next year as well. We feel good about where we're at and we're just going to keep investing in our education team and investing in the capabilities for education.
Key healthcare takeaways
Daniel Webber: What would you pull out from the healthcare side of the business for the last quarter?
Mike Massaro:
We feel good about some of the signs. We mentioned we're lapping a customer loss from last Q4. So we're excited to see 2023 start to return to improved growth percentages once we lap that full-year effect of that client loss.
We also called out the strong pipeline that we really think we have to continue to add value to. That and the EHRs, the Cerners and the Epics. Really just investing in those integrated solutions, which our clients really expect us to do, so that we're delivering really great integrated solutions into the systems that they expect us to work well with.
Building a space in the evolving B2B market
Daniel Webber: Let's talk about B2B, which is evolving and has many people playing in the space. How are you carving out your part of that giant market?
Mike Massaro:
We highlighted a big win for the quarter, BDI, which is in the insurance sector. That should give people an idea of the broad go-to-market.
Even though we talk to B2B and that's the term that the industry understands broadly around the opportunity, you're seeing signs of our focus within that. Go back to the last couple of quarters, we talked about technology companies; import, export-related companies; service related companies; insurance.
Hopefully people are seeing that when we say B2B, we're doing exactly what we've done before, which is diving deep into the sector of businesses, identifying consistent pain points that we think we can solve once with software and enhance with the network capability. Then we really put our efforts on finding more and more of those clients that fit that profile in that sub-sector.
That's what we've done now in education, as we've done in healthcare, as we've done in travel, and what we're doing in the B2B segment. We're really excited about the product innovation. The team is still ramping. Obviously both travel and B2B are getting quite a significant scaling of investment when it comes to headcount and focus inside the company to really ensure that we put them in a great position to succeed and we couldn't be more excited about it.
Rob jokingly said on the call, he doesn't know of a CFO who gets credit for paying bills faster, but every CFO gets credit for collecting bills, collecting money and collecting cash faster and better. We think especially in this macro climate, we're focused on the right area – helping people get paid, making it easier for their customers to pay them – so we think that's a positive trend and one you can only see if you're on the accounts-receivable side of the transaction.
Figure 3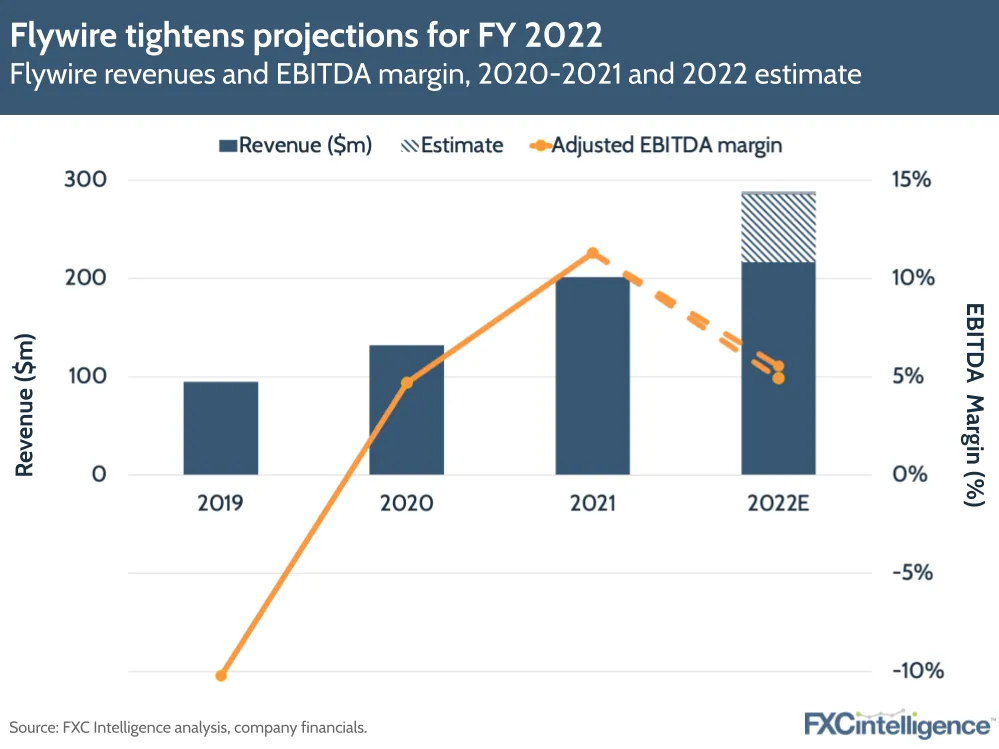 Framing Flywire's competition
Daniel Webber: How are you thinking about competition in the market?
Mike Massaro:
We see competition at the vertical level. We rarely see someone that competes with us across these industries. It's going to vary by sector, it's going to vary even by geography, by sector in some instances.
In B2B and in travel, you'll see mostly local acquirers and a lot of manual processing. Pick a local acquirer, pick your bank, try and string it all together is really part of that.
When you get into healthcare, you see a lot of print and legacy print-type of vendors that are trying to bring to life the first or second version of e-billing at a hospital. You see a lot of that that you end up replacing.
Then in education, you see either incumbent software providers or FX-related players. I know the Western Union spinoff quite well. That went over to a private equity firm and they're going through a series of closings and such. Occasionally you'll see a player like that. But most of those are in the US and not really around the world for us in education.
And legacy providers, sometimes just a local card wire, which again is only solving part of the problem, or a ton of manual process. It's some combination of that for competition.
Daniel Webber: There's many things you would say sets you apart from your competitors: the reach, the network, the software on top of the payments capability. Is there anything else you would add to it?
Mike Massaro:
It's also track record. As people look, especially in uncertain times, to try and find someone to work with or to solve a problem, just looking at our client base, over 3,000-strong across these industries, it's a really great asset that we have.
To point to brand-name clients that we're adding, in the education sector, we mentioned Columbia University replacing a long-time incumbent with the Flywire solution.
Those client references and the track record we have within these industries are key. After my trip to Singapore, I made it to Switzerland for a travel conference where I met with a whole series of our travel clients. It was amazing to see clients talking to prospects or other clients and our team all in the mix and the relationships we build, the references we're getting within these sectors to new business. It ties to our people, but that track record of proven value, proven ROI and multiple successful clients talking about us in a sector really does help drive a big part of our differentiation.
The macroeconomic environment
Daniel Webber: Let's talk about the macroeconomic environment for a moment. How are you thinking about it and how is it impacting your segments?
Mike Massaro:
Inflation obviously impacts our people and that obviously continues to be a challenge as people ask: how do I make ends meet? And they look at their compensation, you get that aspect that impacts the business. But in general, our clients are in relatively defensive sectors and have a bit of pricing power.
If you just think of healthcare and luxury travel and even B2B payments or education, if there are price increases that are happening at our client level, obviously that will in some way flow through to us as we're often making money on some percentage of the payment volume. You'll see a lift in that regard if prices go up within our clients, those are not price changes we're controlling but that are inherent to the industries if they choose to do so.
In that regard, it could actually see payment volumes increase, it could see revenues subsequently increase. It's really not a headwind for us other than on the people-side and making sure that the inflationary costs that impact our people are maintained and that we retain our talent and hire great new talent.
Flymates: Maintaining a good workplace
Daniel Webber: Let's talk about your workforce: Flymates. What do you do to make Flywire a good place to work?
Mike Massaro:
Obviously this didn't start when we went public. For 10-plus years we have been focusing on culture and the team that we hire. Our team's been through a lot together and we really value all aspects of talent that we have.
When you think of the Flymates, there's a lot of personal bonds there. There are people that love to be part of a global business. They love to be part of a place that has 40 different nationalities all inside it, 30 languages spoken.
I think we do a good job as an executive team making ourselves approachable. I talk to a lot of peers and often when I help our team recruit, one of the things that gets really obvious is people are shocked that they're sometimes even speaking to the CEO of the company. Or I still make it a point to send a personal note to every new hire that's in the company, and much of the executive team and the people managers here do that.
Those things do matter, especially when people have options, and I think they're inherent and authentic in our culture. It's a hard and difficult time to change that and to start caring about people when you don't want them to leave if you haven't always cared about them. It comes across as a bit inauthentic to care about them when they could leave. It's much easier for us to maintain that culture than it is for someone else to insert a culture. It doesn't often come across as authentic if you're really treating people that way.
The other part for us is we were very smart in how we saw these macro conditions start to play out. We've made comments in the last two earnings calls about being careful and pacing new hiring, even though this is a growth year and investment year.
That's a really important part. You're seeing a lot of tech and social media companies have run past the hiring mark pretty significantly and are having to do pretty sizable cuts as their businesses are growing. That could be a big culture hit for a lot of companies if they end up in that type of situation.
So we're really comfortable that we've been so diligent in the hiring and recognising that we had to pace ourselves. That's a positive too, and I think Flymates appreciate that.
Daniel Webber: Mike, thank you for your time.
Mike Massaro:
Thank you.
The information provided in this report is for informational purposes only, and does not constitute an offer or solicitation to sell shares or securities. None of the information presented is intended to form the basis for any investment decision, and no specific recommendations are intended. Accordingly, this work and its contents do not constitute investment advice or counsel or solicitation for investment in any security. This report and its contents should not form the basis of, or be relied on in any connection with, any contract or commitment whatsoever. FXC Group Inc. and subsidiaries including FXC Intelligence Ltd expressly disclaims any and all responsibility for any direct or consequential loss or damage of any kind whatsoever arising directly or indirectly from: (i) reliance on any information contained in this report, (ii) any error, omission or inaccuracy in any such information or (iii) any action resulting there from. This report and the data included in this report may not be used for any commercial purpose, used for comparisons by any business in the money transfer or payments space or distributed or sold to any other third parties without the expressed written permission or license granted directly by FXC Intelligence Ltd.