Convera's vertical shift: Plans for a B2B payments leader following the WUBS acquisition
Having completed the final closing of its acquisition of Western Union Business Solutions, B2B payments player Convera is now ready for its next phase of growth. CEO Patrick Gauthier and CCO Jennifer Parker share their insights into the company's future plans.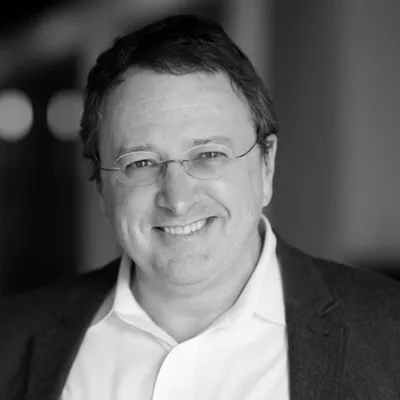 The result of the acquisition of Western Union Business Solutions (WUBS) by private equity players Goldfinch Partners and The Baupost Group, Convera is now one of the biggest non-bank B2B payments players in the world.
Crucially, it is now in a position to fully leverage its position and grow in what remains a highly fragmented market, after completing the final part of the acquisition of WUBS – its European business. This marks the end of a two-year process that began in 2021 when Goldfinch and Baupost announced they would be acquiring WUBS for $910m.
Since then, Convera has grown by around 50% and now caters to over 30,000 customers, with over $500m in revenue annually in 2022. However, with the acquisition now complete, the company is poised to begin its next phase of development as a standalone player, targeting a doubling of payment volumes within the next five years, as well as an expansion of its payment rails.
To find out what's in store, and learn more about Convera's future strategy and plans, I caught up with CEO Patrick Gautheir and Chief Commercial Officer Jennifer Parker.
Topics covered:
Transitioning from WUBS to Convera
Daniel Webber:
Congratulations on completing a very difficult but exciting transaction. How are you thinking about what comes next for Convera?
Patrick Gauthier:
Thanks for having us, and you're right, we've been very hard at work for almost the last two years. I think it was 22 months, four weeks and three days from the signature of the agreement to the last regulatory approval and therefore the close of the transaction.
We're obviously very excited to be one company with a very clear focus on helping our customers with our mission. Our mission remains the same, but now we have a singular focus on that, and it's to make cross-border payments simple enough for our customers that they can focus on growing their business with confidence.
The keywords here are simple and confidence, because cross-border, as you well know, is complicated inherently, and we live in a rather increasingly chaotic world. Confidence really matters, because it's the way we can make it easier for our customers to make the decisions that they need to make to grow their business. And it's trickier when the world is chaotic.
As we say internally, we're going from transition to transformation. Let me start with this first: Convera is a good business. In 2023, we're going to see record revenue. Since the acquisition, the business has grown close to 50%.
Through all of the transition work, the regulatory approval of all the systems we had to disconnect, rebuild, etc., we still grew the business by close to 50%. I'm very proud of the team for having been able to do that. And now we're going to start to move into all the things that we can do to really raise the bar in how we serve our customers.
Practically, we're starting to invest quite massively in technology. Additionally, we're really dialling up our marketing but also really changing the way we do our marketing, with the notion of how we create content for our clients and conversations around global payments, because that's a way in which we add value by just sharing knowledge.
We're also really pivoting in the way we engage with our customers. We're restructuring our sales organisation from a geographically oriented organisation to a segment-oriented conversation.
Jennifer Parker:
As we think about the business, this foundation that we have, Convera has this huge global footprint. We serve over 200 countries and territories. We're offering solutions in over 140 currencies, with people on the ground across the world. And it really gives us a great starting point as we think about transformation and taking it to the next level.
We are global in our strategy and local in our execution, but we've really decided to level up the go-to-market organisation by transforming the business to be more of a vertical-based business to meet the unique needs in these segments that we are serving.
When you think about the needs of a university or a student in the education sector, that's going to be very different to the needs of companies focused on global trade, for instance. We believe that by segmenting or verticalizing our business, we'll be able to support customers in a more specialised way – one where we can better understand the unique needs that exist in the markets of these sectors, as well as the unique needs of these clients from a product standpoint.
We will be able to capture their insights to really align to these needs. We'll offer subject matter expertise in the industries and be able to support them through their strategic goals as they pay attention to the market dynamics, as they continue to evolve in this very unpredictable economy that we're in right now.
As we think about transformation of the go-to-market organisation, we have a strong foundation, but we also have an opportunity – there's a lot of runway ahead of us. The strategy that I've developed in the past, with some really strong organisations that I've run, has really been around strategic selling.
It's around building relationships with clients. It's really about share of wallet and how can we, as a business, align to these things to really understand the growth goals for their organisation and make sure our go-to-market is tapping into that and bringing that forward.
As we're transforming, we really are really focused on getting away from a tactical type execution model into this more comprehensive value proposition and strategic selling. We believe that when we take all this and package it with our investment on the technology side, this will really allow us to effectively scale and grow the business, hopefully in the immediate future.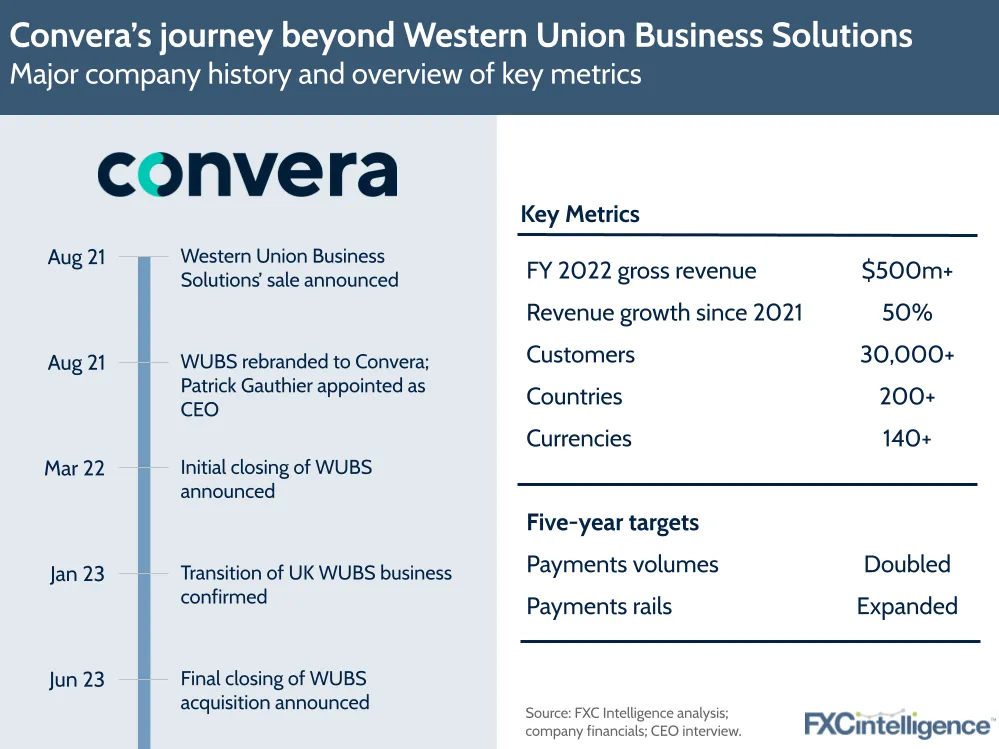 B2B payments and drivers of change at Convera
Daniel Webber:
What is driving your efforts to change the business, rather than simply maintain it as it was when you bought it from Western Union?
Jennifer Parker:
For me, we consciously start with the client and there's the ever-evolving, changing needs of the client. So we have to be nimble enough and be in a position where as they need to evolve their business models and evolve the way that they look at their markets, we have to be able to evolve with them to meet them where they are.
Fundamentally, customers are customers, whether you think about the consumer space or the corporate space. At the end of the day, they really want easy-to-use products and services. They want companies that are easy to do business with and they want great service when things are good and when things aren't good. When you can really organise the business around those foundational things, that will allow you to really meet them where they need to be.
So first and foremost, it's absolutely their changing needs. Then the other thing is that it is a great business, but being in a position where we really want to grow it, we see that it's ripe for opportunities.
When we think about the current portfolio and the strength we have, we know that we're known with our clients to be a predictable partner. We're known to be very transparent in how we serve them. We're known to have great client service. So when that is your foundation, you have this runway ahead of you to just continue to get better. We're ripe for opportunity and there's a lot of opportunity ahead of us.
Patrick Gauthier:
Very early on, when I started looking at Convera, for me it was quite obvious that we needed to make this transformation. That's because yes, the business is doing well and certainly a geographical organisation emphasises being close in proximity to your customers.
However, the world is chaotic and it's changing. The clients that we work with, think of it like our sweet spot is companies in $10m to $10bn, who tend to be underserved by big financial institutions.
Those companies are going through a massive transformation of how they work. They are big enough to have aspirations to go global, to go cross-border, and they're small enough that they're underserved by the traditional players.
We have the largest coverage, the largest network available to those clients, so we really can help them build the right set of solutions to grow their business. For the smaller ones, usually it's fairly straightforward solutions: spots and forwards. For larger clients, we can do very sophisticated approaches that help them really manage the risks associated with FX in their business.
The world is changing and there's less stability. Two years ago the interest rate was zero, everything was hunky-dory. We have entered into a period of inflation, of interest rates that are going in different directions around the world. The differential is all over the map, certainly of geopolitical exposures, of rapid shifts of commerce corridors.
Those are the macro changes. There's also micro changes. There's an acceleration through the availability of solutions in the cloud. There's an acceleration of the sophistication of the tools that our clients can use, things that just five years ago were only a part of what large companies did.
Vertical focus and the impact of AI on Convera's business practices
Daniel Webber:
Can you give me an example of the tools that are emerging now?
Patrick Gauthier:
The emergence of practical AI solutions. Everybody right now is enamoured with ChatGPT: it's the latest shiny object. But underneath the surface, if you think of the progress that has been made by various AI-based tools, it's formidable.
We have migrated our technology stack. One of the reasons we did that, aside from the fact that having one supplier is easier than 19, is it gives us access to voice-to-text, which is useful for regulators, traceability, etc. It gives us access to sentiment analysis. It gives us access to a bunch of automation as we integrate voice into our application. Those types of capabilities, which under the surface often have AI engines, were at the very cusp just five years ago.
This is but one of many examples of how I see the transformation of the infrastructure of those companies. You've got macro changes, you've got micro changes. In my book, when there's a lot of change like this, you have to be really attentive to the language of your customers and to really understand their needs.
Their needs are not a feature. Their needs are something having to do with how their business is evolving. 18 months ago, for instance, I met with one of our clients who is in the import, export of tropical fruits in North America. And I was asking how we can help him and his answer was straightforward: he said, "Patrick, I have lots of problems right now securing enough logistics, and it's not as if my products can stay on the shelf for long".
So when we give them the assurance and the simplicity that payments can happen, it's one thing they can take off their mind, that they don't have to worry about, but more importantly, because of the agility we've given them, they can really adapt and jump onto opportunities to secure the right logistics to transport their goods. That's how we help our customers grow.
By organising by verticals, you are much better at talking in the language of your customers, much better at understanding these underlying requirements that they have and, as a consequence, delivering solutions.
A big part of how we're going to deliver solutions, aside from our own investment and so on, is the way in which we work with partners. Across all the businesses that I've built, I've always put a heavy emphasis on partnering, because either, A, we can build better solutions for our clients – just as we did recently with Temenos, or as you will shortly see in announcements related to AWS – or B, we can deliver better solutions.
For instance, the agreement we announced recently with GTreasury to provide a better solution in the area of cashflow management for our common clients. I'm a big believer in the importance of building the right partnerships with the right partners in order to better serve the clients. That's another reason to go by verticals, because the partners are the right ones in education and NGOs and legal and B2B, and in fact they're very different.
Convera's future financial goals
Daniel Webber:
What are the next financial goals that you're targeting?
Patrick Gauthier:
We have a plan to double the size of this business, and we're executing on that plan.
What is driving this? The truth is the chaos that has come out post-pandemic, whether it's what's happening in Europe or the issues with supply chains or inflation, interest rates, etc., that level of uncertainty has clearly been a driver for business, no doubt about that.
The other aspect has been that our teams have actually just been working hard because in many ways, now that we are masters of our destiny, it creates an incentive. I'm really impressed by just how hard our folks have been working because, let's face it, we have not really transformed anything to date.
We have been essentially transitioning out to create Convera, but we've not really materially introduced new tech or new tools, etc. But what we have is people who've really latched on to some of the core tenets of our culture, which are customer-centricity, holding ourselves to a high bar and moving fast. We don't allow bureaucracy to stand in the way and we still have much, much to do to get better.
However, what I see in the organisation is this spark now that we're masters of our own destiny. We have a great future ahead and that has definitely driven people to excel, and it's been quite obvious in the accomplishments over the last two years.
Positioning Convera post WUBS
Daniel Webber:
How are you thinking about positioning Convera now? Is it a bank alternative, a fintech or a payment company?
Patrick Gauthier:
We're a fintech and we serve the needs of companies that grow their business globally. Fintech is a bit of a shorthand to describe the importance of having a good tech platform. A modern platform allows you to scale better, it allows you to understand your business better, because it's better instrumented. This allows you to continuously improve, because you can A/B test everything you do, etc.
Having said that, notwithstanding the fact that I'm an engineer and a geek, I really, really pay attention to not making building tech the finality of what we do. It's only a means to an end.
In the end, it is the satisfaction of customer needs. That is very, very core to my management philosophy, to the management philosophy of the leadership of this company, and it's actually very embedded in the culture of Convera. There's a culture of customer centricity that is very strong.
Daniel Webber:
Is there anything else that you want to cover?
Patrick Gauthier:
We're going to come out with 'Are You Ready For 2024?', which will be released late October at Money20/20, to explore the themes that are emerging, a fragmenting world and the rebuilding of different global supply chains, continued inflation and so on.
With some of the key things that are surfacing, our customers, of course, are worried. The top things for CFOs of our customers are of course things such as interest rates and inflation levels, but right behind are themes related to cashflow.
50% of our clients are saying managing cashflow is more complex today than it used to be, and geopolitical risks, the global uncertainty and how you navigate that and make good decisions as a leader, are certainly more complex today. Those are key themes that you will see in the 'Are You Ready For 2024?' report.
Jennifer Parker:
I would add just one thing on the topic of being a fintech. Like any good fintech, we're also modernising our marketing approach. We're leveraging good digital marketing channels as well as going to market with an even more compelling value proposition, offering insights that we feel will help our customers as they face the current challenging environment.
But through my experience, what I've noticed here at Convera is we have a best-in-class market insights team that prepares strong thought leadership content, like what was just mentioned, but with a rigour and a regular production that you can see on our social sites, on our website.
So through Money20/20, and just out in the market, you'll continue to see more and more of that, whether it's intraday content on currency news or some of our B2B payments reports that have been published. Lots of great information out there for clients around thought leadership that really can help them as they think about the challenges they face day-to-day.
Daniel Webber:
Patrick, Jennifer, thank you both.
Patrick Gauthier and Jennifer Parker:
Thank you.
The information provided in this report is for informational purposes only, and does not constitute an offer or solicitation to sell shares or securities. None of the information presented is intended to form the basis for any investment decision, and no specific recommendations are intended. Accordingly, this work and its contents do not constitute investment advice or counsel or solicitation for investment in any security. This report and its contents should not form the basis of, or be relied on in any connection with, any contract or commitment whatsoever. FXC Group Inc. and subsidiaries including FXC Intelligence Ltd expressly disclaims any and all responsibility for any direct or consequential loss or damage of any kind whatsoever arising directly or indirectly from: (i) reliance on any information contained in this report, (ii) any error, omission or inaccuracy in any such information or (iii) any action resulting there from. This report and the data included in this report may not be used for any commercial purpose, used for comparisons by any business in the money transfer or payments space or distributed or sold to any other third parties without the expressed written permission or license granted directly by FXC Intelligence Ltd.