Consumer behaviour is increasingly shifting towards the convenience of mobile applications for remittance, and companies need to keep up by providing a seamless and intuitive user experience. But are they measuring up?
In a new report series, we're benchmarking a group of the leading money transfer providers, focusing solely on how their mobile applications compare. The first is focusing on the registration and transfer process – download it below.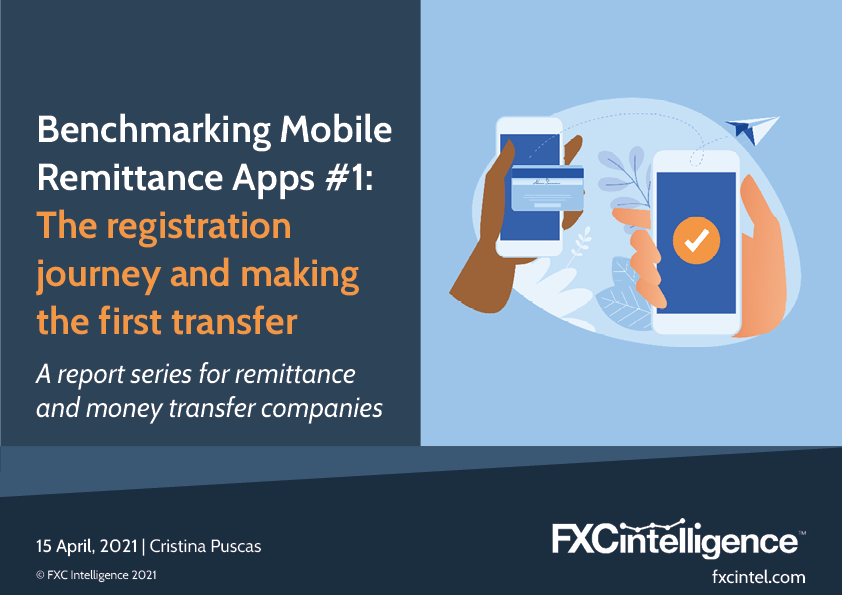 Please note each submission request for a copy of the report will be reviewed by FXC Intelligence.
You will be sent the report within 2 working days if your request is accepted; it will not automatically download.
In Benchmarking Mobile Remittance Apps #1: The Registration Journey and Making the First Transfer
The overall goal of the report series is to compare different aspects of the process of remitting money abroad – the signup process, the transfer process and other features such as paying-in and paying-out capabilities, customer services features and costs. In this initial report, topics covered include:
How long does it take to register and make a transfer through remittance apps?
How many clicks?
What information is required to sign up and transfer money with a remittance provider? Sender KYC and recipient information.
Are users able to verify the fees and FX rates pre-signup?
Companies covered in this report are:
Moneygram
Ria
Western Union
Wise
WorldRemit
Xoom
Future reports will cover:
Report #2: Costs and payment features
Report #3: UX features
Our goal for these reports is that the data can be used across the industry as benchmarks for performance.