Ripple in hot water over SEC suit
Just before the winter holidays, Ripple found itself under the scrutiny of the SEC, which filed a suit focusing on sales of XRP as unregistered securities. The suit further highlighted that founder Chris Larsen and his wife sold over 1.7bn XRP to public investors, netting around $450m, while CEO Brad Garlinghouse sold over 321m XRP, generating $150m.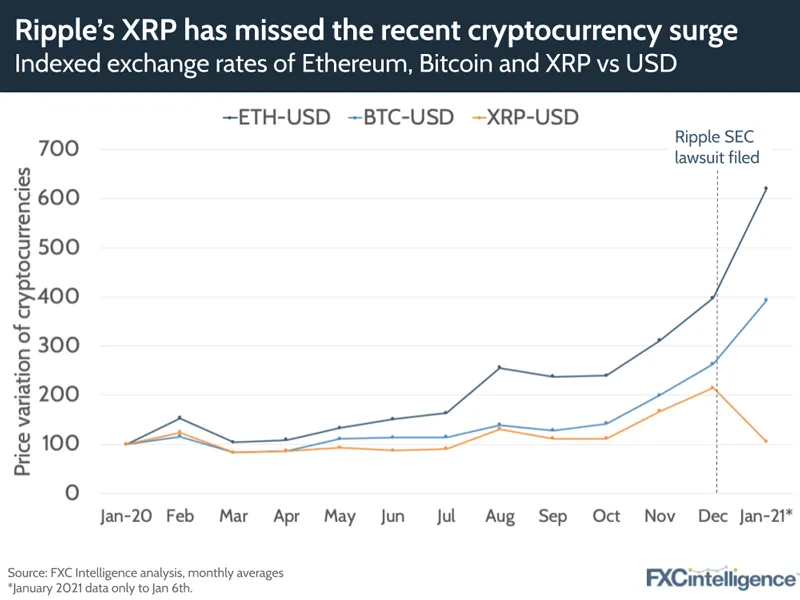 The regulator's main concern lies with the distribution of XRP. It argues that XRP has been operated as a 'security' and, unlike other cryptocurrencies, XRP's supply and distribution was centrally controlled in its early days. To this day, more than half of XRP is owned by Ripple. Investors are also given little access to information held by the company as Ripple does not currently follow SEC standards. Ripple, however, claims that the XRP is a cryptocurrency, not a security, and so should not be subject to SEC regulation.
The SEC filing alone could be very damaging to Ripple. Some of the key players have already made public statements to distance themselves from the troubled company and prevent any potential scrutiny. MoneyGram's press release emphasised that its agreement with the embattled company is solely limited to Ripple's FX blockchain trading platform (ODL) for the purchase and sale of four currencies. It also highlighted that the company is not dependent on Ripple, as MoneyGram continues to utilise other traditional FX trading partners.
Bank of America, Santander, Standard Chartered and many others have previously publicised partnerships with Ripple but have yet to make any public comments on the matter. Note as well that another US regulator, the OCC, opened the route to banks using stablecoins this week.
Perhaps the clearest indication is the market's own view on XRP. Whilst Bitcoin and Ethereum (the number two cryptocurrency by market cap) have soared over the past month, XRP has gone in the opposite direction. The suit is unlikely to pass quickly, which may simply make Ripple (and XRP) too hot to handle for many of the household names associated with it.
Sign up to our newsletter to stay up to date on industry developments