Remittances sees stabilising growth in Q4 21
While Covid-19 cases may be beginning to rise again, and the Russia-Ukraine war is disrupting remittance flow norms, Q4 2021 saw growth in the consumer money transfer segment begin to stabilise after a tumultuous few quarters.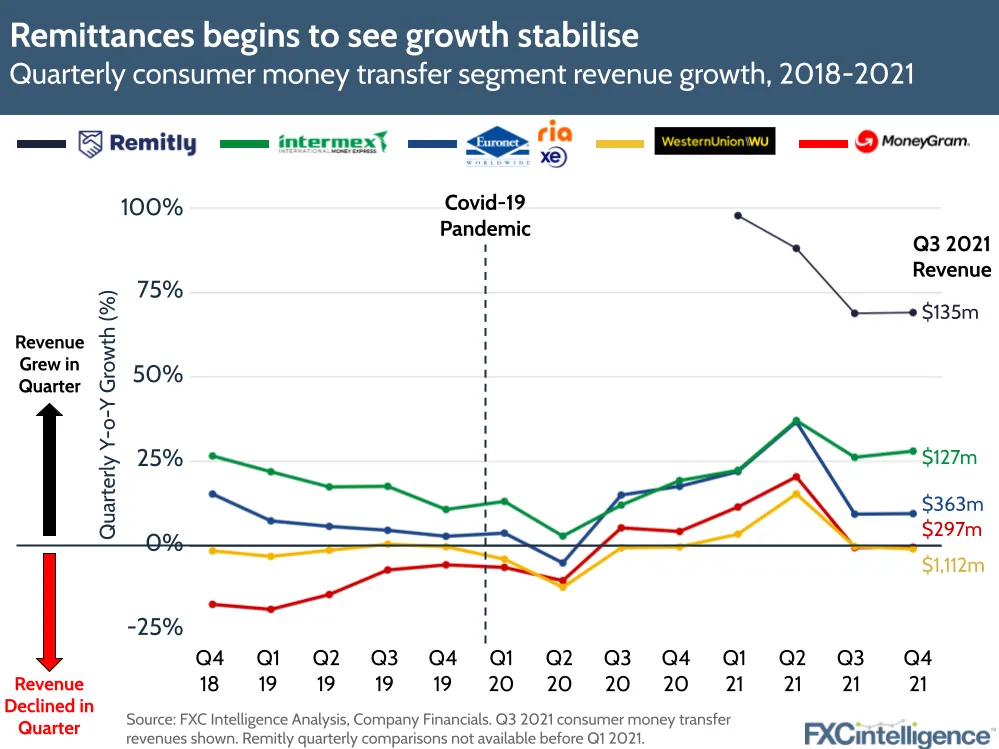 For MoneyGram, we expect its path to soon change, with its impending acquisition by Madison Dearborn Partners likely to now close with no other bidders appearing in the 30 day go-shop period that ended this past week. MoneyGram's ongoing digital push saw it counter-balance declining cash retail and produce flat year-on-year growth for Q4 – a slight improvement on Q3 when it saw a -1% drop.
By contrast, Western Union saw a -1% year-on-year drop, compared to a -0.2% dip in Q3, although with a new CEO now at the helm we are likely to see fresh moves from the company in the coming quarters. Again, growing digital balanced declining cash retail.
Euronet's money transfer segment, which includes XE and Ria, slightly improved on Q3 with growth of 10%, boosted by the company's ongoing focus on its platform offering. Meanwhile, new entry Remitly continues to see the most growth, at 69%, as it continues to expand its business globally. Retail player Intermex also recorded continued strong growth.