Inside Payoneer's SPAC deal
Recently, following considerable rumours and speculation, Payoneer announced that it was going public with serial SPAC investor Betsy Cohen, via her latest SPAC – FTAC Olympus Acquisition Corp. We caught up with Payoneer CEO Scott Galit.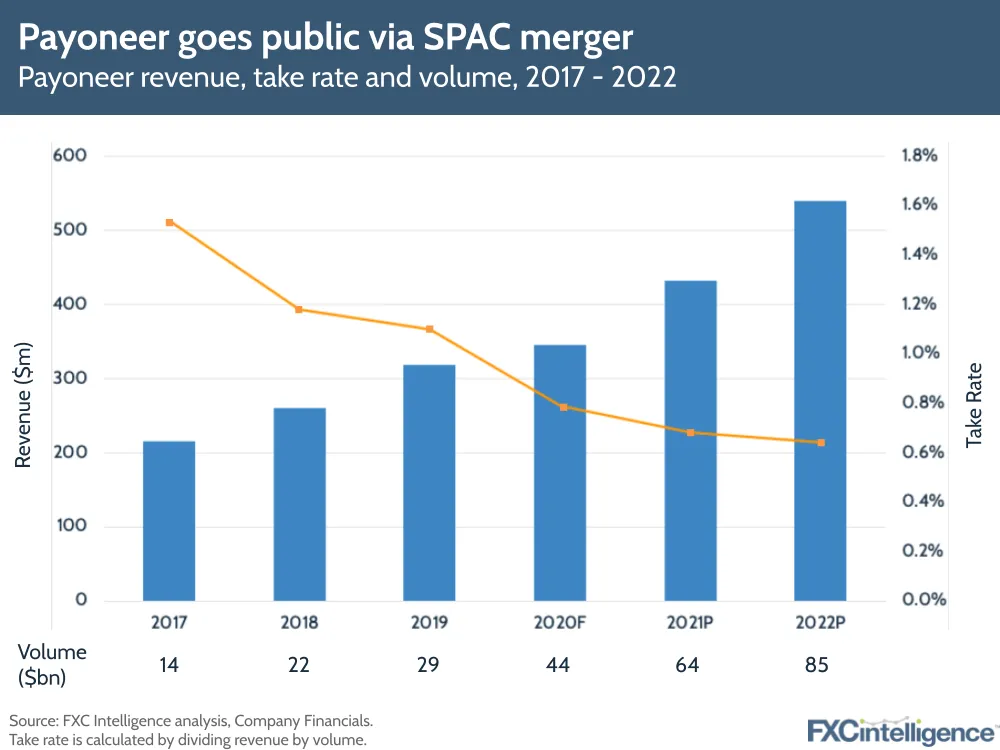 We'll be diving into the SPAC deal in more detail in my Forbes column later this month, including a conversation with Betsy. Some initial takeaways from talking with Scott:
Payoneer is about as pure a cross-border ecommerce play as you'll get
If you want to track cross-border ecommerce, Payoneer will be the closest public company proxy for this. The initial valuation of Payoneer is in line with the likes of the leading payment processors – FIS, Fiserv and Global Payments (c.7x 2021 revenue). But Payoneer will be looking to blend as much of PayPal, Adyen and Shopify and other ecommerce players as it can – they all trade at 30-50x revenue.

Payoneer has moved its focus to larger customers
In 2017, Payoneer was essentially a self-serve SMB platform focusing on smaller marketplace sellers and freelancers. Smaller volumes, higher take rates (revenue earned on processed volume). Since then, the business has really changed, reflected in the reduction in take rates (as well as stiff competition in some markets).

Payoneer has built local market teams and started relationship selling, which has enabled it to bring on bigger customers. Which just shows bigger corporates buy from humans, not websites (which is why even the likes of TransferWise and Revolut are building people-based B2B sales teams).

Bank payments up, cards down
While Payoneer's card offering has become a smaller part of its business, bank payments have become increasingly significant, providing increased profit margins despite lower take rate. However, the cards offering is beginning to grow again, so that may change in the future.

Expect more acquisitions to help fuel growth
Following the successful acquisition of Optile in 2019, Scott anticipates further M&A activity following with its public markets currency. Such acquisitions will, he says, supplement the core organic growth around marketplaces ecosystems and potentially add new products too.
Sign up to our newsletter to stay up to date on industry developments