Inside Payoneer's acquisition of optile
This week, Payoneer announced the acquisition of optile. Whereas Payoneer focuses on the payout side, optile has built a platform to support large merchants' receipt of funds (payment acceptance). Optile provides integration to the leading PSPs and a platform to control the checkout experience.
With global digital commerce sales worth an estimated $3.5tn in 2019, and with an expected annual growth of nearly 14% through 2023, this is a very attractive market segment, with many fast growing countries within it (see our analysis here).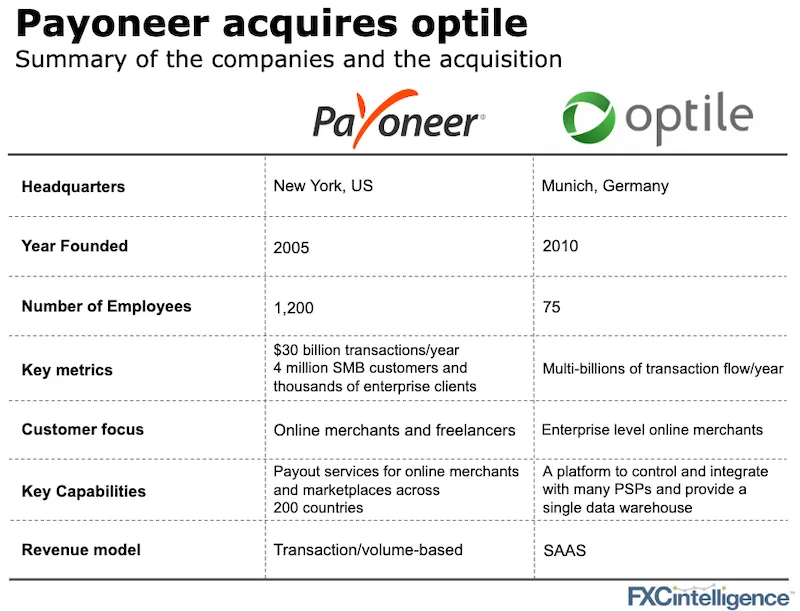 Our main observation on the deal is that Payoneer did not buy another version of itself just to build scale. It went to buy new capabilities instead. 
What makes optile and Payoneer a complementary deal?
Global reach, local knowledge.
While optile's operations are only focused on Europe, Payoneer has a global presence, including in the US, Asia and Tel Aviv. Optile, especially, will gain access to Payoneer's substantial customer base.
Increased capability to manage payments. 
According to Scott Galit, the thesis behind the deal was to expand their offering of services to merchants selling online. The focus is less on cross-border alone, but moves to all types of payments, with optile very focused on the checkout experience.
Medium-term strategy.
In the medium term, Payoneer will likely be able to sell optile's products in a white-label fashion, while maintaining focus on the payout sector. This means clients will be able to achieve a greater degree of integration in their payment systems.
The platform play (yes that word again)
Over the coming years, tokenisation, which is a core capability of optile, is expected to be one of the big wins. Tokenisation allows a single checkout experience in a multi-party journey e.g. buying a flight online and then buying the rental car and hotel without having to input new payment methods on each merchant's site
What's next for Payoneer?
The company is currently working off a unicorn valuation of $1.5bn and we'd expect to see additional funds raised (privately or eventually via IPO) and more capability-led acquisitions. 
What's happening at Airwallex in Hong Kong
Several articles were published this past week in Hong Kong surrounding an alleged fraudulent client of Airwallex that has processed c.$18m through their platform. Airwallex's banks were issued with a letter of no consent ("no consent" letters are issued by regulators in Hong Kong to banks when they have possible concerns over a bank or client of a bank).
We spoke to Airwallex and they shed some more light on the matter: "Recently, two former clients of Airwallex allegedly defrauded a Uruguayan company, Ciklus, for a total of $18m. Unbeknownst to Airwallex, these two former clients used their Airwallex accounts to receive and pay out the funds from Ciklus. Airwallex conducted proper KYC (Know Your Customer) procedures and due diligence of these two companies in accordance with the law, and were not involved in nor aware of the fraud. 
"Ever since we were informed of the fraud, we have been cooperating and assisting the police in their investigation of the matter, and are in frequent discussions with the police regarding the lifting of the letter of no-consent."