FIS spins off Worldpay amid weak guidance
The current results season is seeing efforts by activist investors bear fruit, with several companies announcing responses to shareholder discontent. And in payments, few are making bigger steps than FIS, which this week announced it was spinning off its Merchant Solutions business Worldpay amid relatively soft results.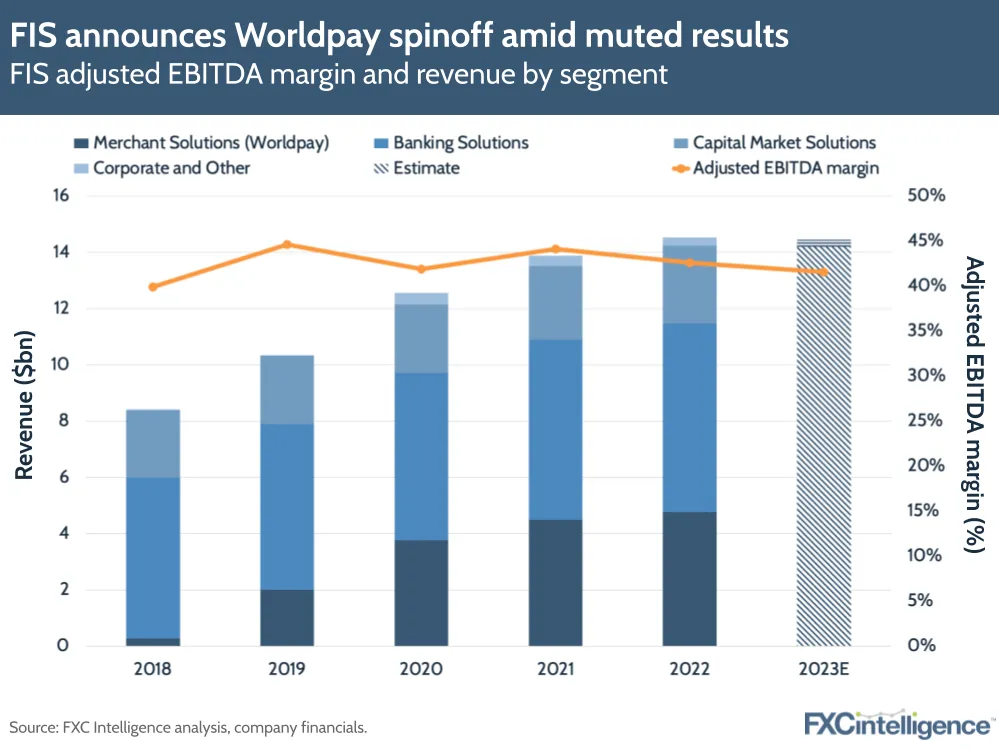 FIS only closed its acquisition of Worldpay in July 2019, in a deal worth $35bn – around $6bn shy of FIS's current market cap – making this a surprising move that has prompted negative reactions from shareholders. FIS argues the move will enable greater efficiency, strategic focus and growth potential for both companies. We'll be taking a deep dive into the proposed spin-off of Worldpay and how it will sit in the market as a standalone company next week, but for now here are the highlights from the rest of FIS's Q4 and FY 22 results:
FIS saw Q4 22 revenue grow 1% to $3.7bn, while FY revenue increased 5% to $14.5bn.
The company's Banking and Capital Market segments both saw YoY growth of 5%, aided by key client wins in the former and strong new sales in the latter. However, inflation did hit margins in banking.
Merchant Solutions also saw increased volumes that drove 6% revenue growth for the segment, which FIS attributed to ongoing strength in ecommerce and pandemic recovery.
However, Corporate and Other saw a 21% contraction in revenue as the company divested and saw client attrition in non-strategic businesses.
FIS also gave an update on its enterprise transformation programme Future Forward, which in November had seen a target of $500m cash savings by year-end 2024. The company now expects to exceed this by year-end 2023 and has updated its 2024 target net savings to $1.25bn, prior to the impact of the spin-off.
Looking to 2023, FIS now expects to see FY revenue of $14.2bn-$14.45bn.