dLocal sees growth in emerging markets in Q3 2022
Uruguay-based payments company dLocal has maintained its growth run in Q3 2022, reporting revenue growth of 63% YoY, to $112m, and a 51% increase in total payment volume to $2.7bn. This gave the company a take rate of 4.09%, 30 bps higher than in Q3 2021 and still higher than many of its competitors, as we discussed in an earlier piece.
However, a report from short seller Muddy Waters this week raised concerns about the company's earnings, causing dLocal's stock to fall by 50% on 16 November. The hedge fund took issue with dLocal's reported total payment volumes and take rates, alleging that its FX gains were roughly double – if not close to triple – what they should be, and claiming that this had therefore skewed its revenue and take rates upwards.
dLocal responded to the report in a statement, saying it contained "numerous inaccurate statements, groundless claims and speculation".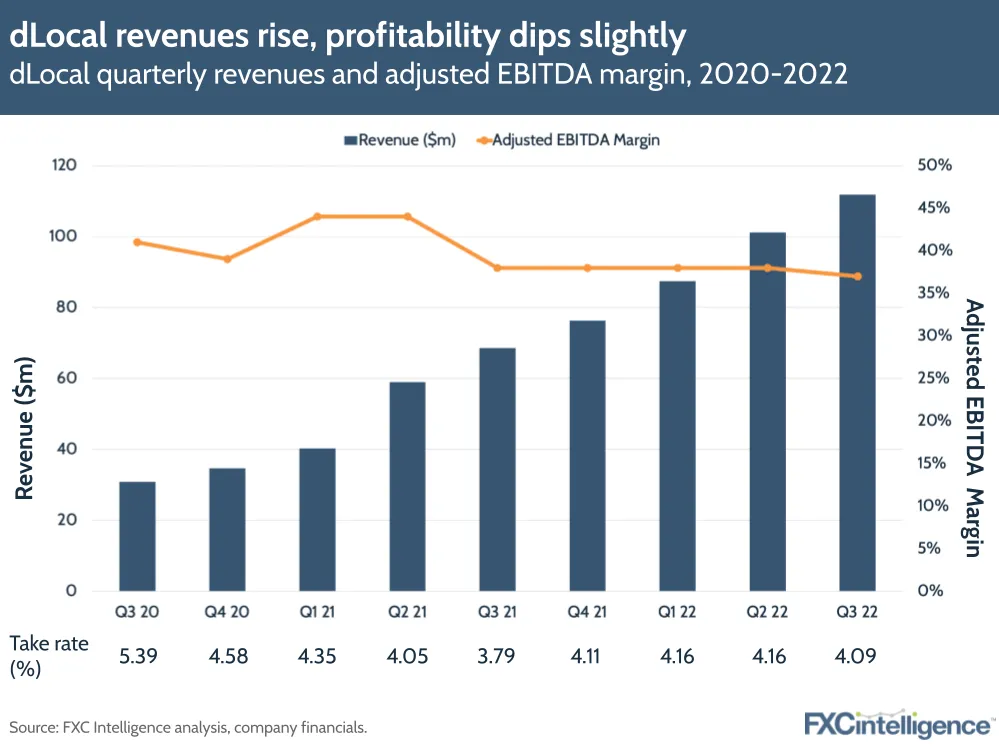 dLocal continues to grow across emerging markets outside Latin America. Revenues from Africa and Asia increased by four times YoY to reach $25m, surpassing $21m recorded for these combined regions across the whole of FY21.
Meanwhile, dLocal saw a 39% revenue increase in its core market of Latin America. Excluding Argentina – which has seen recent restrictions imposed on imports from its central bank – this figure would have been 43%. The company is now present in Nicaragua and Saudi Arabia, bringing the total number of countries it operates in to 39.
The company's diversification strategy is continuing to create resilience, with no country accounting for more than 20% of total revenues. However, its top 10 merchants are clearly still crucial for growth, accounting for 53% of total revenue ($59m).
Once again, much of dLocal's growth is coming from existing customers, with net revenue retention rate (calculated from dollar revenues earned from existing merchants) reaching 152%. This figure was due to low churn; merchants growth in emerging markets; and bringing merchants new payment methods and access to more countries. Revenue from existing merchants increased by $35.1m to $104.1m in Q3.
dLocal remains steady on profitability, with adjusted EBITDA up 58% to $42m, and this was reflected in an adjusted EBITDA margin of 37%. Net profit was $32m, up 64%, but the company did note increased losses this quarter ($2.5m) due to higher interest rates and hedging costs. It also noted a 26% increase to operating costs, partially driven by increasing its headcount 34% to 712 employees.