dLocal grows merchant revenues in Q2 22
Uruguayan payment processor dLocal is reaping the benefits of expansion, reporting revenue growth of 72%, to $101.2m, in Q2 22. Even after increasing its headcount by 48%, the company maintained its EBITDA margin at 38% – lower than 44% in Q2 21 – while growing revenues from existing and new customers across its target markets of Latin America, Africa and Asia.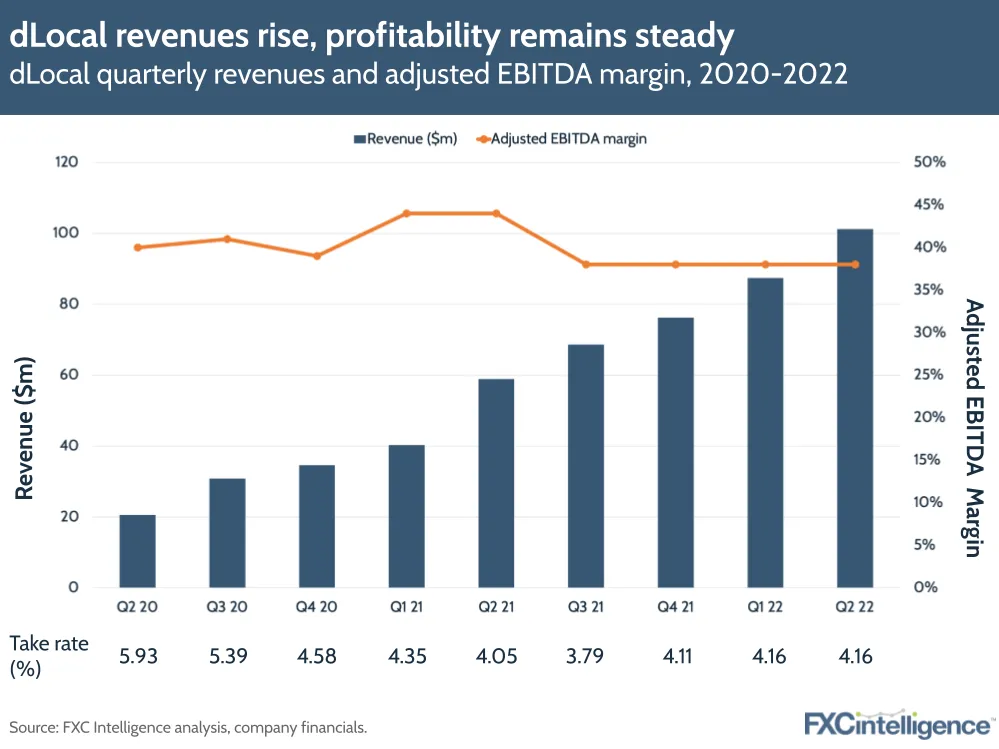 Key takeaways from dLocal's Q2 22 results:
Total payment volume (TPV) rose 67% to $2.4bn in the quarter. Key drivers were continued growth of merchants across verticals, particularly on-demand commerce, on-demand delivery, travel, software-as-a-service and advertising.
Adjusted EBITDA was up by 47% year-over-year (YoY), and dLocal maintained a stable adjusted EBITDA margin at 38% for the fourth quarter in a row. Profit after taxes and adjusting for inflation was $30.7m, rising 73% compared to last year.
Notably, the adjustment for inflation was substantially higher in Q2 22 ($472,000) compared to 7,000 in Q2 21, a potential sign of the economic downturn.
The bulk of dLocal's revenues is still from existing merchants, which accounted for $92.5m of revenue (up $33.5m YoY), while new merchants provided $8.7m. The company's net revenue retention rate was 157%.
Latin America remains the key region for dLocal, accounting for 87% of total revenues and growing 63% compared to Q2 21. However, Asia and Africa increased its share from 9% to 13% compared to last year, and the region saw revenues rise by 155%.
Moving forward, dLocal is continuing its strategy of cross-selling to its Latin American customers to expand into new markets. It now operates in 37 countries, 22 of which are outside Latin America, and nine of its top ten merchants (in TPV terms) are processing payments in Africa and Asia.
Also during the quarter, the company improved features for pay-ins/pay-outs while continuing to run pilots for new solutions such as dLocal Go – its online payment processing platform for SMEs.