Cross-border payments offering for banks
We already have "TransferWise for Banks". Now, we have "Payoneer for Banks" – the newly launched platform play for banks. And players such as Western Union and Cambridge have been at this for a while too.
We talked to Eyal Moldovan, Payoneer's General Manager, to understand more about cross-border payments as a service and to see where they fit into the ecosystem.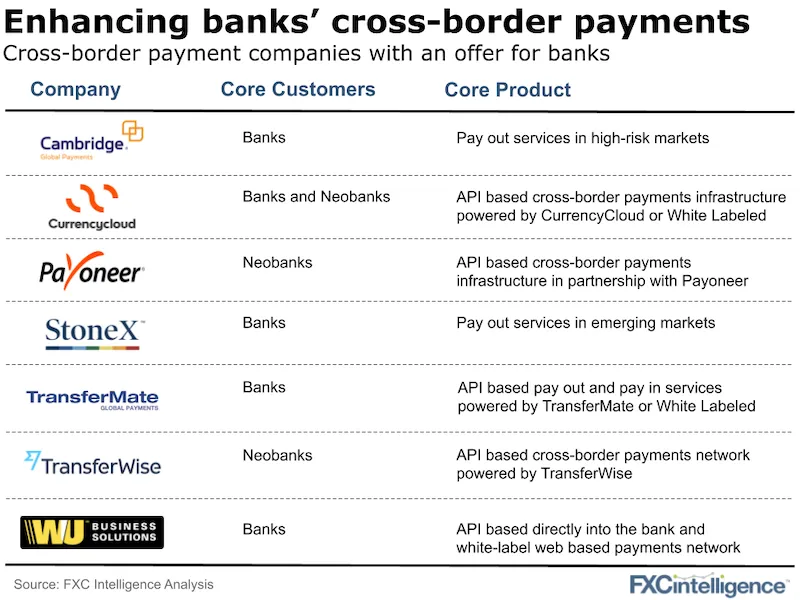 If there is one common theme above, it is that each of these players has invested in building their own set of rails, direct banking relationships and bank accounts across the globe. Offering their platform to one of the largest segments of the markets – the banks – seems to make sense.
Some thoughts:
The new digital banks are the low hanging fruit
Neobanks, the fastest growing segment in banking, are increasingly looking to plug in other companies' product into their offer while they seek to achieve scale and add customers.

Most digital banks' primary focus is on user experience. Leveraging someone else's rails (and product) behind the scenes offers a quick route to market for most players out there.

Plus, the additional flows are always good for the payments company offering the service. More market share = more pricing leverage.

Most banks no longer want the costs of a global presence
Similar to the mobile wallet facilitators we talked about above, using a cross-border company's payment rails can give banks much faster access to local payment networks.

Banks can avoid setting up both local market operations and correspondent banking relationships and can potentially circumvent the SWIFT network, which can be slower and more expensive than direct relationships (although SWIFT just announced today that it is working on a new instant payment strategy).

The nuances of a white-label partnership
The players above approach the market very differently when it comes to branding and pricing. TransferWise and Payoneer very much want the customer to know they are powering the product and, for TransferWise, the pricing is the same as their own-branded product (with some exceptions on pay-in costs).

Payoneer is focusing on promoting its ecosystem, where the bank has access to Payoneer's vast network of customers. Other players are happy to work behind the scenes and simply move the money.
Whilst signing up neobanks has been relatively straightforward, it remains to be seen if "X for Banks" offerings such as those of TransferWise and Payoneer can attract the bigger incumbent banks. To date, these understandably conservative groups have tended to use the unbranded white-label products of the other providers listed above – if they need these services at all.