Circle's plans to be the digital go-to for the dollar (and other currencies too)
Recently I caught up with Jeremy Allaire, CEO of Circle, the company behind leading stablecoin USDC. The digital currency is key to MoneyGram's crypto remittance service, and is being used in a growing number of other partnerships, including with Mastercard and Plaid, but Jeremy has bolder plans on the horizon.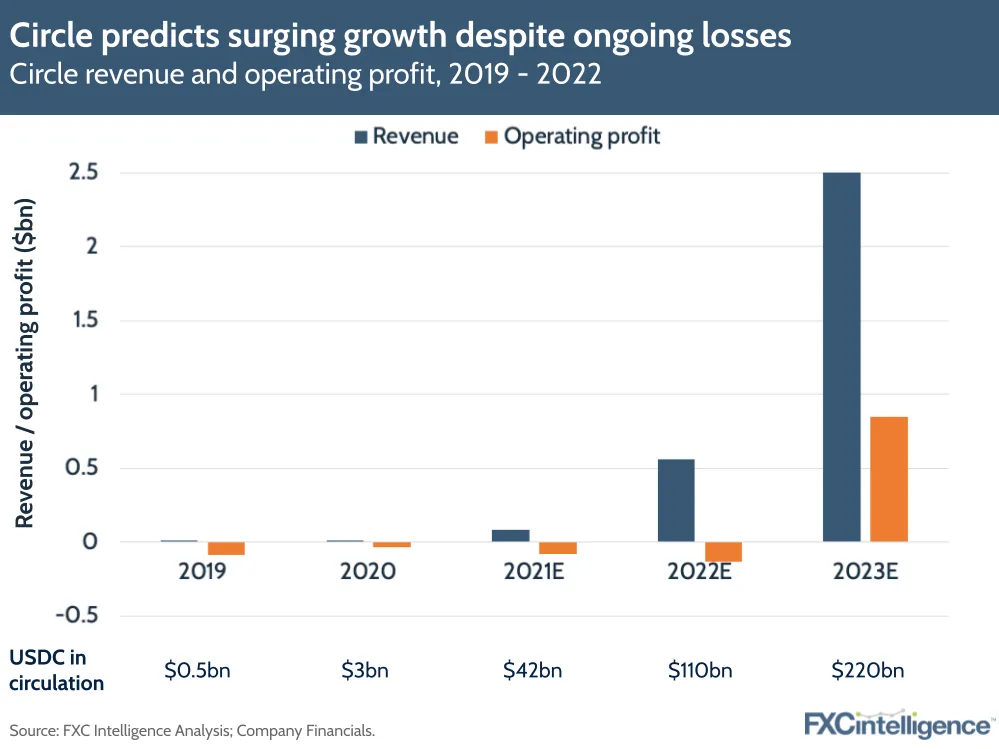 You can read my full conversation with Jeremy in Forbes, but here are some of the key takeaways:
Circle has seen the amount of USDC in circulation grow significantly over the past few years, and expects significant further growth this year. This is likely to have contributed to its revised valuation in its pending SPAC merger, which grew from $4.5bn in July 2021 to $9bn today.
Jeremy sees USDC as a protocol for representing fiat currency online, and believes the concept of a cross-border payment will ultimately become outdated as digital currencies become the dominant way to move money.
At present, USDC is mostly used by companies operating primarily in the crypto space who want to avoid having to be regularly converting money to and from fiat currencies. However, he is keen to widen use to companies beyond that space.
Circle's recently launched Circle Account is designed to serve as a digital currency equivalent of a business bank account, making it easier for businesses to hold and use crypto. This has been launched into a relatively sparse market and initially focused on crypto-enabled businesses.
Jeremy also sees considerable potential in ecommerce, aided by the launch of more recent blockchains that are better suited to the kinds of high-volume, low-value payments retail requires.
Looking forward, he sees considerable potential in the programmability of digital currencies enabling innovation in the disbursement of payments.
Circle wants to be the default digital protocol for the US dollar as well as other currencies such as the Euro. They are currently further ahead than many of the government-backed central bank digital currencies (CBDCs), but this could change. Just yesterday, the White House unveiled its position on digital currencies. The title, "Responsible Development of Digital Assets", should give you a sense of the tone but it also pushed for urgency in researching a US CBDC.
What is clear is that we are still very, very early in the development of the digital asset sector, especially outside of consumer investing in crypto. How mainstream businesses choose to utilise digital currencies, likely driven by consumer demand but regulated by governments, will determine much of the next phase.
Read my full conversation with Jeremy Allaire, CEO of Circle