B2B is the hottest growth segment across the cross-border space
The last year or so has seen many publicly traded companies struggle to achieve the growth rates that once wowed investors, however within cross-border payments there have still been some very strong performances. A review of growth rates across the industry's three main areas – consumer remittances and money transfers; payment processors; and B2B payments – shows that B2B payments is consistently growing at a stronger rate.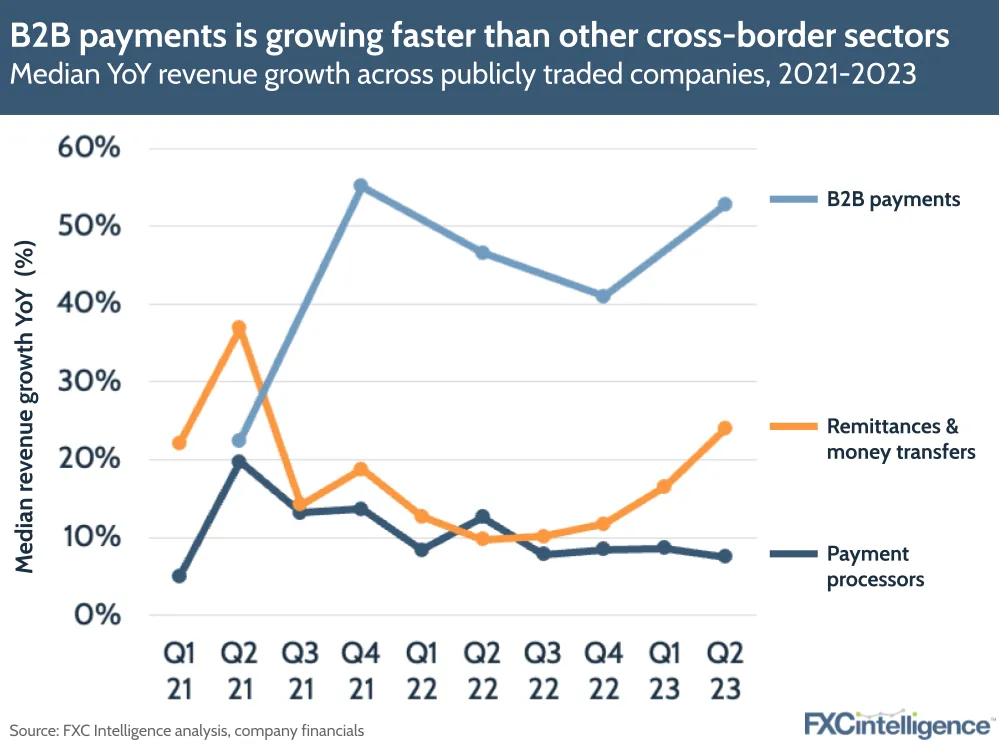 Building on our recent state of the industry reports looking at the performance of publicly traded companies in B2B payments, remittances and payment processing, we looked at the median year-on-year growth rates for publicly traded companies in each area. This showed that B2B payments, where most companies report half-yearly, is growing at a significantly faster rate than either remittances or payment processors. B2B payments, which includes Alpha, Corpay, Flywire and Equals, has a median that currently sits at 53% and has not fallen below 40% since H1 2021.
By contrast, remittances currently has a median of 24%, its strongest rate since Q2 2021, but has spent much of the past two years with a median growth rate of around 10-15%. Payment processors, however, have seen the slowest median growth – it currently sits at 8% and has not passed 15% since Q2 2021.
Similar results are also reflected in the means for each sector, although these numbers are distorted by a small number of high-growth companies that went public recently. Here, B2B payments has a current mean of 56% and has not seen it drop below 33%, while remittances has a current mean of 23% but saw it jump from below 10% in early 2020 to around 15% in Q3 2020 with the public entry of Wise and then to above 30% in Q1 2021 with the IPO of Remitly. Payment processors, meanwhile, has a current mean of 16% but saw this rise to a high of 52% during the pandemic due to peaks in dLocal's performance.
The current growth rates of B2B payments is reflective of the relative level of maturity of the market. The industry remains considerably more fragmented than either consumer cross-border payments or payments processing, with no one player owning more than 1% of the market and most new customers still coming from banks rather than moving between different players. Some companies also increased priority on B2B to offset consumer weakness during the pandemic.
How long the industry continues to see this rate of growth remains to be seen, but current projections indicate that B2B's growth is by no means slowing.