Analysing PayPal's international payments
PayPal released its quarterly results this past week. Revenue rose 20% in Q1 2020, driven by a 22% rise in Total Payments Value (TPV). Shelter-in-place restrictions around the world have been favouring the rise of digital purchases and money transfers, and PayPal is no exception to this trend.
But where is PayPal's cross-border business headed?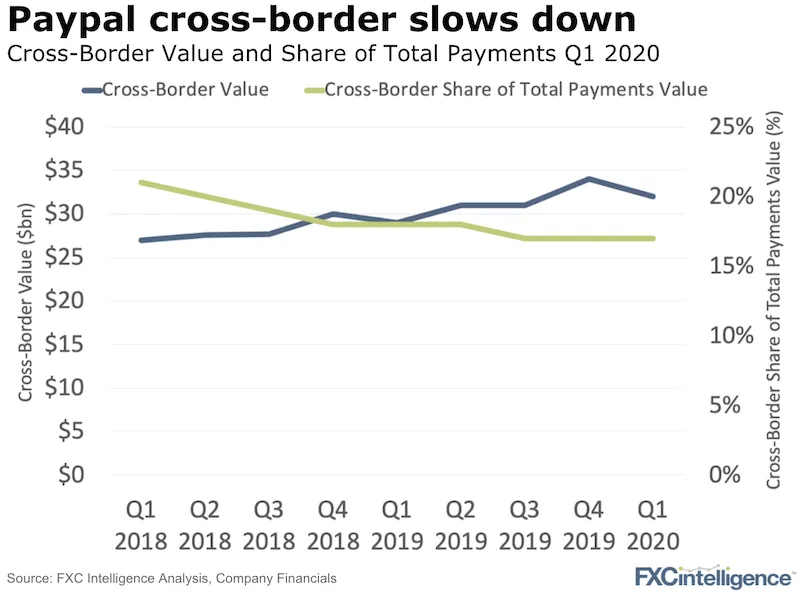 The main takeaways:
Cross-border payments rose 10% year-on-year, but declined 6% compared to Q4 2019. Since February, cross-border e-commerce has been hit by Covid-19, with lower activity in China and Europe.
Cross-border's share of TPV will likely decrease in the coming quarters as Venmo continues to surge. Venmo's TPV increased 48% for the quarter, with January and March being over 50%. Despite the lockdown, the use cases for the P2P payments app changed, boosting revenue in the US domestic market.
Revenue shifted across sectors. The travel and events segment mirrored the 80-90% decline observed at Mastercard and Visa, accompanied by an increase in consumer goods categories. The negative effect on PayPal's volume, though, was more contained. Travel only accounts for a single digit share of their total flow, as opposed to significant share for Mastercard and Visa.
Xoom's new active users rose 400% during the quarter, some of the highest growth we've seen across the board in digital remittances.
In the earnings call, PayPal forecasted 15% revenue growth for Q2 2020. How will cross-border perform? The answer is still uncertain, and as PayPal's CFO pointed out, it is going to depend on "the extent to which behavioural changes associated with social distancing measures continue".