Western Union and MoneyGram Q1 2020 Analysis
Until mid-March, the first quarter of 2020 was ticking along quite nicely for both MoneyGram and Western Union. MoneyGram was even tracking at 6% year-on-year growth.
For the full quarter, both companies reported a drop in revenue in their core money transfer businesses on account of Covid-19, pulled down by very challenging end-of-quarter numbers, which have continued into April.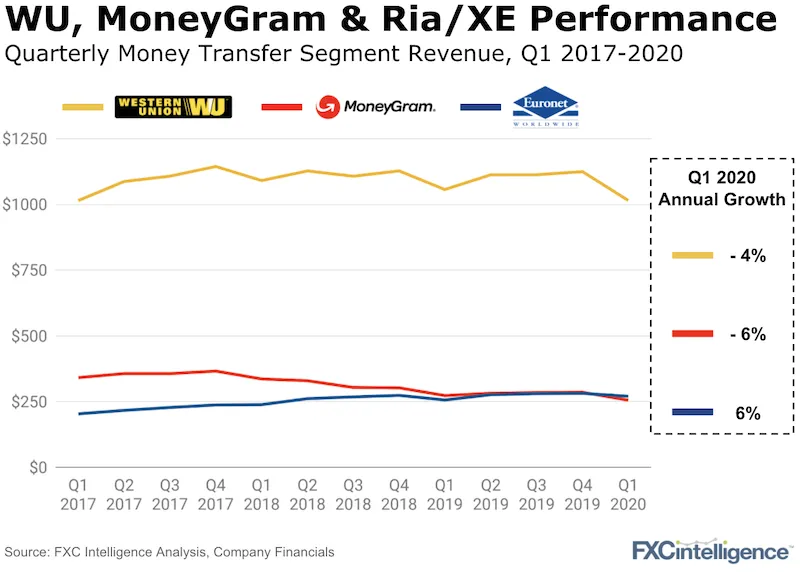 Remittances remain an essential service for many consumers around the world, even with the overall declines in the market. New customers acquisition via digital is supporting revenue at Western Union and MoneyGram, which reported 13% and 17% digital growth respectively. Not bad, but a long way behind the growth of digital only players such as Remitly, which reported a 40% jump in transactions value and 100% customer growth from February to March. 
It's clear though that the digital growth was not enough to prevent a decline in the companies' performance driven by the Covid-19 crisis. 
Western Union – faring slightly better than expected… but only for now
Consumer-to-consumer revenue dropped as much as 30% in the final weeks of March, when the effect of Covid-19 became stronger in APAC, Europe and North America and was 21% down in April. Lockdowns in place around the world in fact shuttered Western Union's highest margin products, agent-based cash-to-cash transactions. Although 60% of Western Union's cost base is variable, a continuation of this level of decline through Q2 will be very painful.
White-label products, and especially the Sberbank and Saudi telecom partnerships, were key growth drivers in the quarter. Within digital, the cross-border segment's revenue grew 23%.
The Business Solutions revenue rose 3%, helped by the strong performance of foreign exchange hedging and the currency volatility seen in March. We'd expect that trend to reverse for Q2.
MoneyGram – digital a highlight
After a positive start to the year, money transfer transactions fell by 18% after mid-March, and the decline was especially strong in the international segment (down 27% year-on-year). April continued the trend with transactions volumes down 19%.
On the plus side, transactions in the US outbound segment returned to growth thanks, in part, to the Walmart deal, which reported a better than forecasted performance. Another positive: over 70% of new digital customers are new to MoneyGram (not from the conversion of their own cash based customers). 
But MoneyGram is in cash preservation mode. It burned through $16m in cash during the period leaving it with $131m left. Will MoneyGram's revenue withstand the World Bank's projected 20% reduction in remittances through the rest of the year, or Citi's less pessimistic 14% reduction in their worst case? Can MoneyGram renegotiate the $55m deferred prosecution fine? Tough times ahead.
The negative news from both companies is unlikely to be over yet. As Western Union's CFO Rajesh Agrawal puts it: "The second quarter is likely to be the lowest quarter for us from a revenue and a profit margin standpoint".
And neither company wishes to provide any guidance on the future, especially telling for Western Union. But, to be fair, this is how most of us feel now too.