2023 cross-border payments predictions
This year starts in an economic environment quite different from that of 12 months ago, with challenges that could not have been predicted back in January 2022. However, with the industry in flux, there is significant potential for the year ahead. Here are our predictions for the cross-border payments industry in 2023.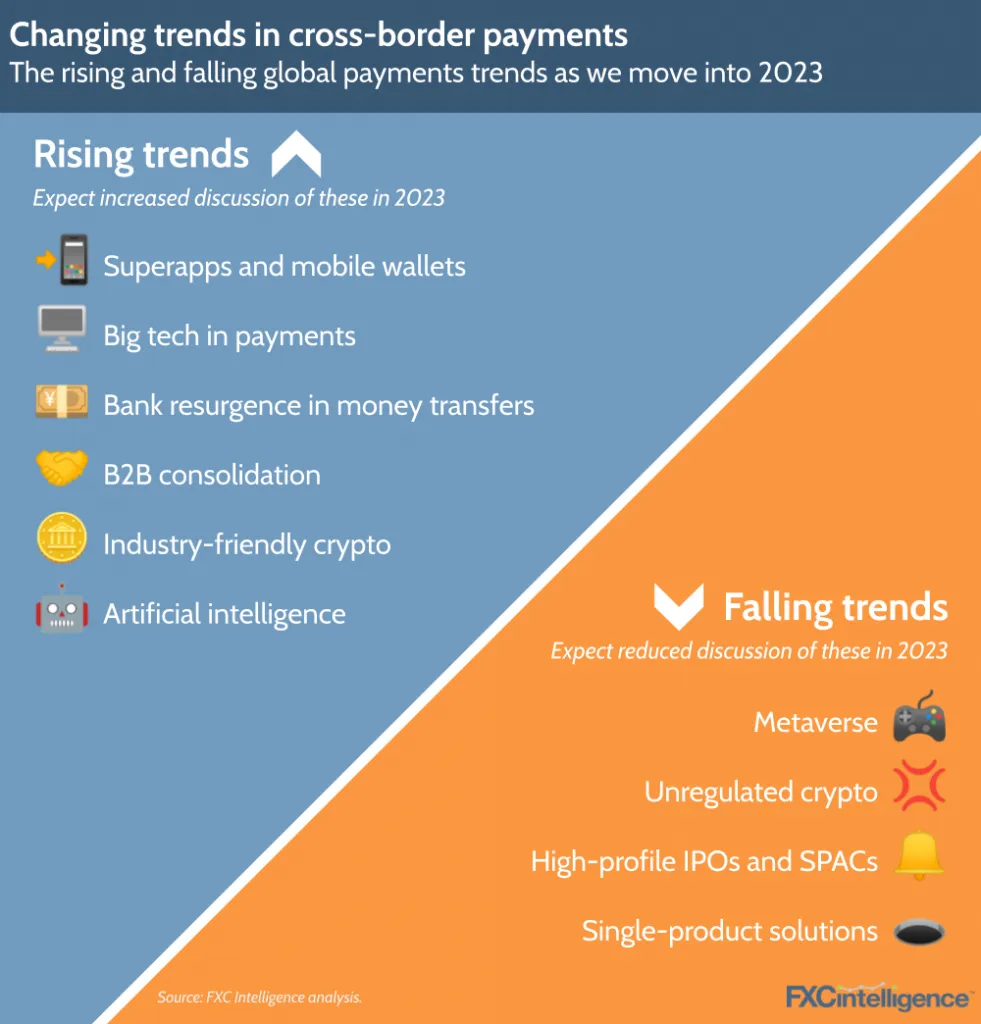 Superapps become the new battleground
Superapps were already becoming a hot topic in 2022, but in 2023 they are going to see an ever-greater focus as companies look to diversify their revenue streams amid a tougher economic climate. PayPal, Revolut and others have already made considerable inroads in this area, but expect to see other established players build out their services too. Not everyone can win in the superapp battle, but many will try (including Twitter…see below).
Mobile wallets see growing adoption
Related to the superapp segment is the growing adoption of mobile wallets. We've already seen many remittance players broaden their payouts to include mobile wallets, and they are increasingly being developed and adopted beyond their traditional markets, including for business payments. In 2023, expect to see more mobile wallets payouts being offered by more providers, as well as more products from mobile wallet players.
Tech gets deeper into payments
The rise of both superapps and mobile wallets will also see tech companies increasingly enter the payment space, as they look to boost profits amid a stock market downturn. Twitter is likely to be a key entrant here, and we are set to see Apple add to its already strong payments offering, but we may also see announcements from other major tech companies too.
Banking starts stemming its money transfers leak
Meanwhile, after years of losing cross-border payments customers to money transfer operators, we may see banking begin to fight back this year, with more competitive money transfer products and a stronger marketing presence. Remittance and money transfer players will have their own moves too, particularly when it comes to strengthening the share and breadth of digital transfers, so we can expect competition in the space to be strong in 2023.
Market consolidation in B2B payments and beyond
On the B2B payments side, while we're unlikely to see a return to the 2021 IPO spree, the ongoing spate of acquisitions is set to continue in 2023, as key players continue to bid for dominance while others attempt to grow their presence in the market. B2B payments remains a very large and fragmented market, particularly when compared to consumer payments. While there are players who are growing their market share, the space would require significant consolidation before any company became close to dominant globally.
Crypto gets a rebrand
The more outlandish potential crypto payment applications will be consigned to history in 2023 as the industry licks its wounds from a gruelling 2022. However, there remains considerable interest from serious players, including Visa, MoneyGram and PayPal, and the underlying technology still has benefits. As a result, we can expect to see the more serious end of crypto get something of a rebrand, focusing on results and trust, as the technology finds a more sustainable place in the wider industry.
AI becomes the next buzzword
2023 will see mentions of the metaverse in payments conferences and think pieces drop significantly, but artificial intelligence (AI) will replace it. While there are certainly highly beneficial applications for AI, including around compliance and risk, the growing use of it in other industries is likely to see it being discussed for uses far beyond this in payments – with varying levels of practical impact.