FXC Intelligence's Daniel Webber spoke to Raj Agrawal, CFO of Western Union, about the company's Q1 2021 earnings results and its plans for the future.
Please note each submission request for a copy of the report will be reviewed by FXC Intelligence. 
You will be sent the report within 2 working days if your request is accepted; it will not automatically download.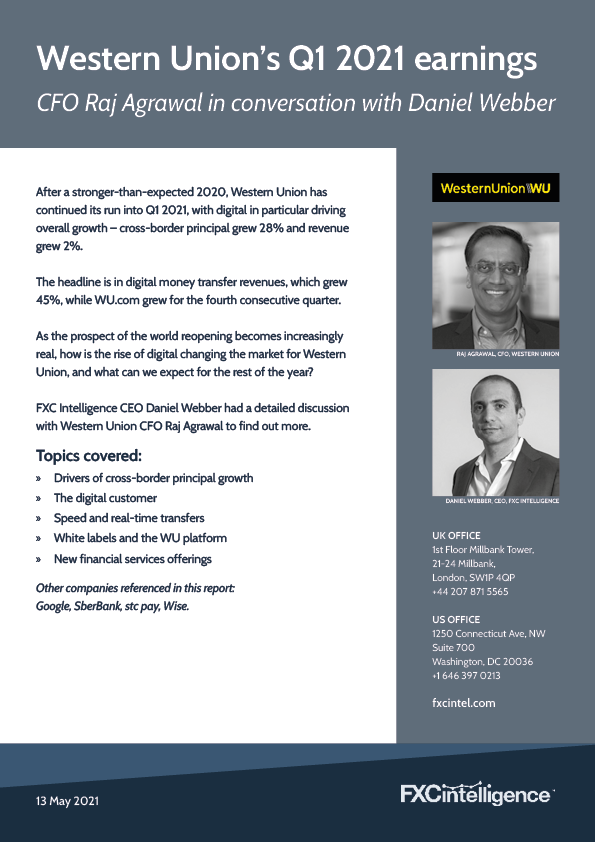 In Daniel Webber's conversation with Raj Agrawal on Western Union's Q1 2021 results
After a stronger-than-expected 2020, Western Union has continued its run into Q1 2021, with digital in particular driving overall growth – cross-border principal grew 28% and revenue grew 2%.
The headline is in digital money transfer revenues, which grew 45%, while WU.com grew for the fourth consecutive quarter.
But as the prospect of the world reopening becomes increasingly real, how is the rise of digital changing the market for Western Union, and what can we expect for the rest of the year?
Topics covered:
Drivers of cross-border principal growth
The digital customer
Speed and real-time transfers
White labels and the WU platform
New financial services offerings