Twitter's Money Transmitter Licenses: The start of Elon Musk's payments journey?
Eight months on from Elon Musk's acquisition of Twitter, the platform has gained its first Money Transmitter Licenses in the US. But with eroding trust and a changing market, are payments on the social media platform viable?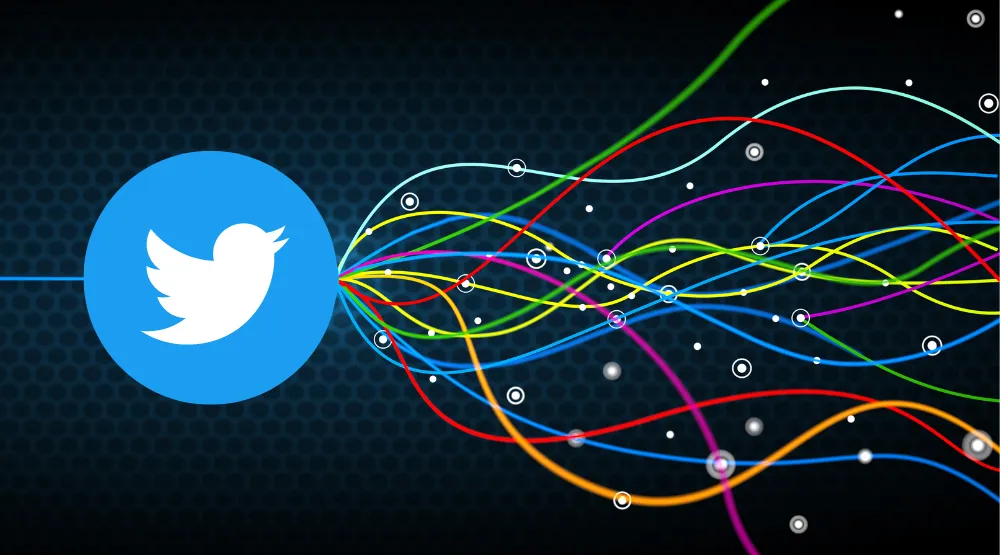 While Twitter has been drawing attention for recent restrictions to features for non-subscribers, as well as the launch of Instagram's rival product Threads, another major development has also occurred for Twitter: the receipt of its first US Money Transmitter Licenses.
Over the course of the last two weeks, Twitter has been awarded licences for four separate states – Arizona, Michigan, Missouri and New Hampshire – bringing it a key step forward to being able to deliver a payments plan first set out by Elon Musk in 2022.
We first explored the payments potential of Twitter in an exhaustive report when Musk took over the company late last year, however since then the company has made a number of moves that have eroded the trust of some users and created renewed demand for alternatives to the platform.
With this in mind, how has the payments opportunity evolved for Twitter's Elon Musk, and how might the acquisition of Money Transmitter Licenses influence the company's plans?
Topics covered:
Twitter's Money Transmitter Licenses so far
At the time of writing, Twitter has gained a total of four separate Money Transmitter Licenses for US states in Arizona, Michigan, Missouri and New Hampshire. This follows reports in January that the company had begun applying for regulatory licences in the US under the leadership of Esther Crawford, then Director of Product Management at Twitter.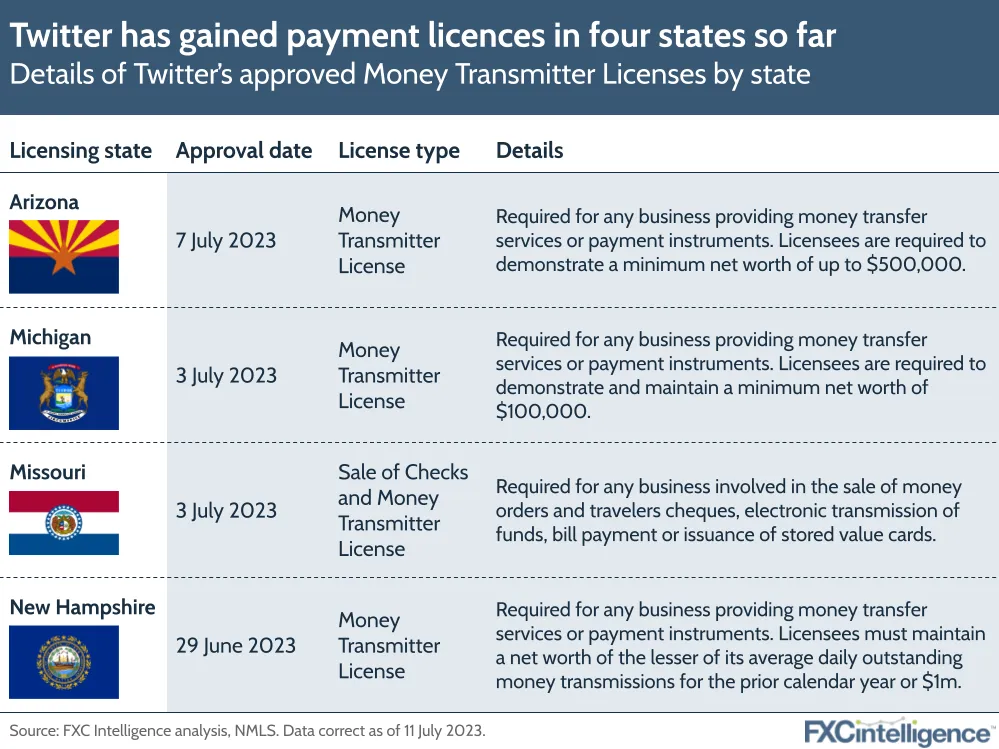 In order to operate fully across the US, Twitter will need to secure a Money Transmitter License in every state except for Montana, although there the company will still need to register. This means that it still has 46 licences to secure – a process that may take years to fully complete.
The process also requires significant outlay from Twitter. While the cost of applying for the licences themselves is relatively low, the company will also need to cover the cost of bonds in every state it operates in. Designed to provide a financial safety net for customers in the event of a business failure, the precise amounts of these bonds is at the discretion of each state Commissioner, but across all states is likely to set Twitter back between around $10m to $37m.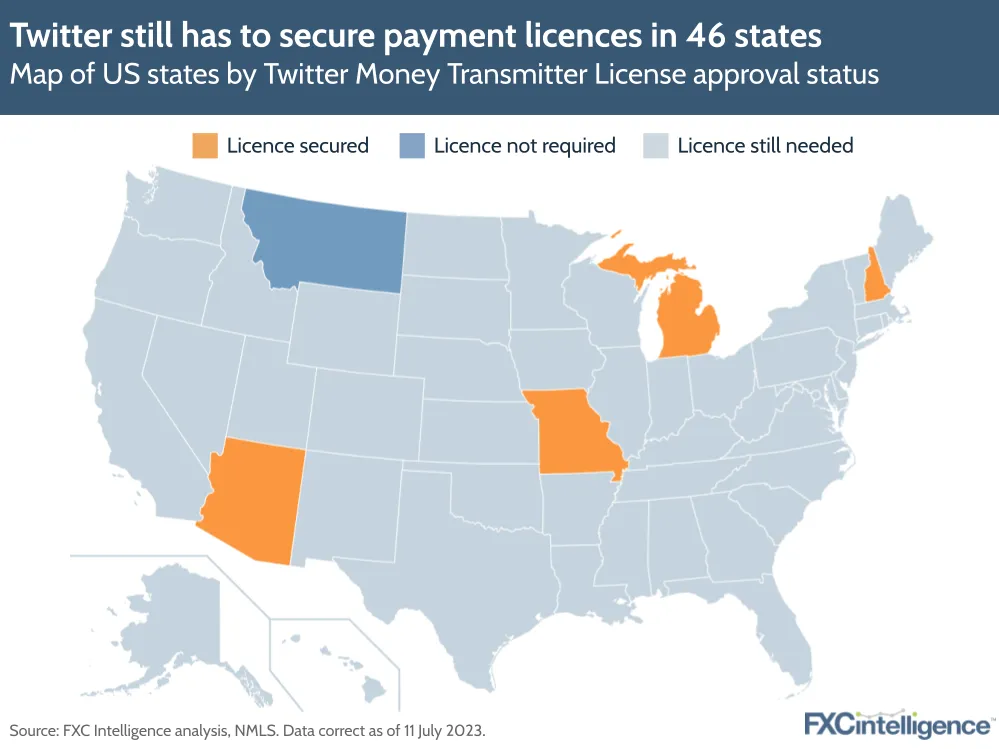 Under Musk, Twitter appears to be initially focusing its payments plan on the US. We have found no evidence that the company has applied or received payments licences in any non-US jurisdictions, although it is possible that it has begun work in this area.
Focusing on the US initially does enable Twitter to focus on its home market, where historically fragmented payments infrastructure has created relatively unique opportunities for both domestic and cross-border payments. However, there are a number of challenges to this approach.
Firstly, while likely to be the single biggest source of users, US-based Twitter users are only 17% of all monetizable daily active users (mDAU), and as of Q2 22 (the last publicly available data) totalled 41.5 million. This makes for a very small base from which to draw customers, particularly for a business with overheads in the millions.
Secondly, while the US does have a challenging payments environment, this is changing, with multiple established players already doing effective domestic P2P payments, such as CashApp, Venmo and Zelle. The launch of FedNow this month is also set to create competition in the market and reduce the uniqueness of Twitter's potential offering.
Finally, while Twitter may be looking to trial payments in the US before expanding to other markets, it will find that the payments landscape in the US is very different than that in its HQ country. While most of its customers are beyond the US – it has an under-utilised, non-US mDAU of 237.8 million as of Q2 22 – the payments expectations and norms they have may be quite different from their US users, potentially requiring a different product offering to compete.
Payments are still in demand on Twitter
Despite these challenges, evidence suggests that there are still significant use cases for both domestic and cross-border payments on Twitter. Our previous report found that Twitter currently sees payments across a wide range of use-cases, in particular charitable donations; tips to creators and influencers; payments for goods and services and subscriptions to individual creators.
Analysis of the volume of links to some of the most common platforms to make such payments indicates that for the most part the demand for such services remains relatively unchanged. The number of publicly visible user profiles with links to GoFundMe, Ko-Fi and CashApp increased between 31 October 2022 and 30 June 2023, although the number of PayPal links went down.
However, the picture has changed when looking at the difference between 31 October 2022 and 10 July 2023. This is likely because between 30 June and 10 July 2023, two things happened: Twitter began severely restricting the number of tweets non-paying users could see and Instagram launched its Twitter rival Threads.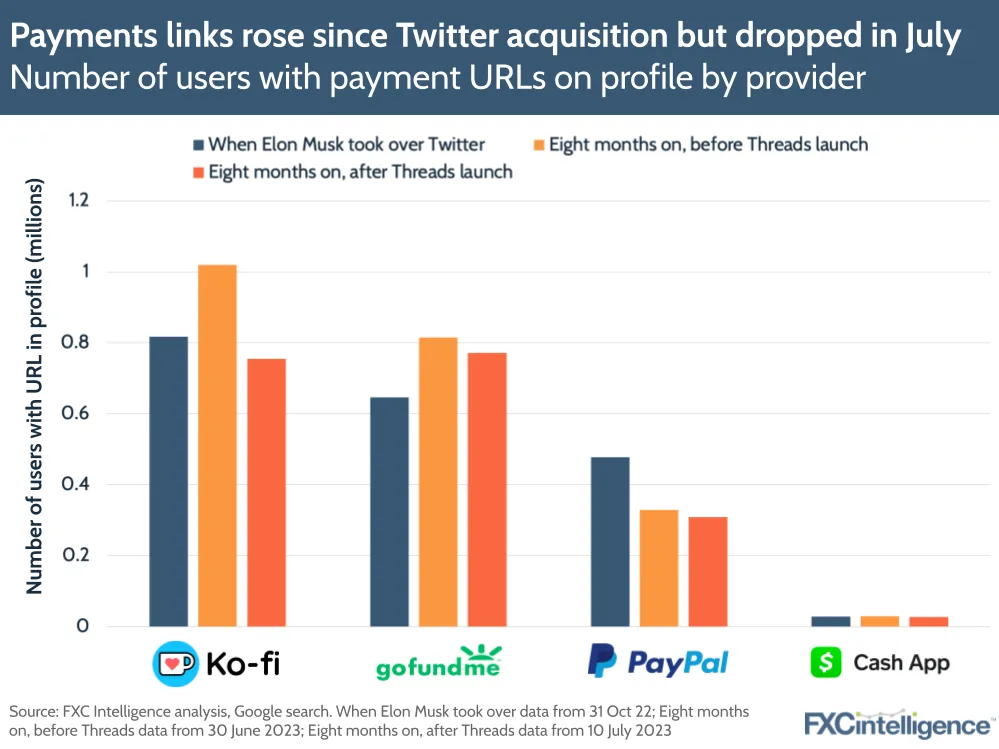 The combined restriction of functionality and the launch of a major competitor appears to have prompted a significant drop in users with links to major payment providers in their profile. However, the number of publicly viewable profiles overall actually rose between 30 June and 10 July 2023. This may be because users were creating additional profiles to circumvent the restrictions of view limits while engaged users were closing their profiles and moving to the new platform.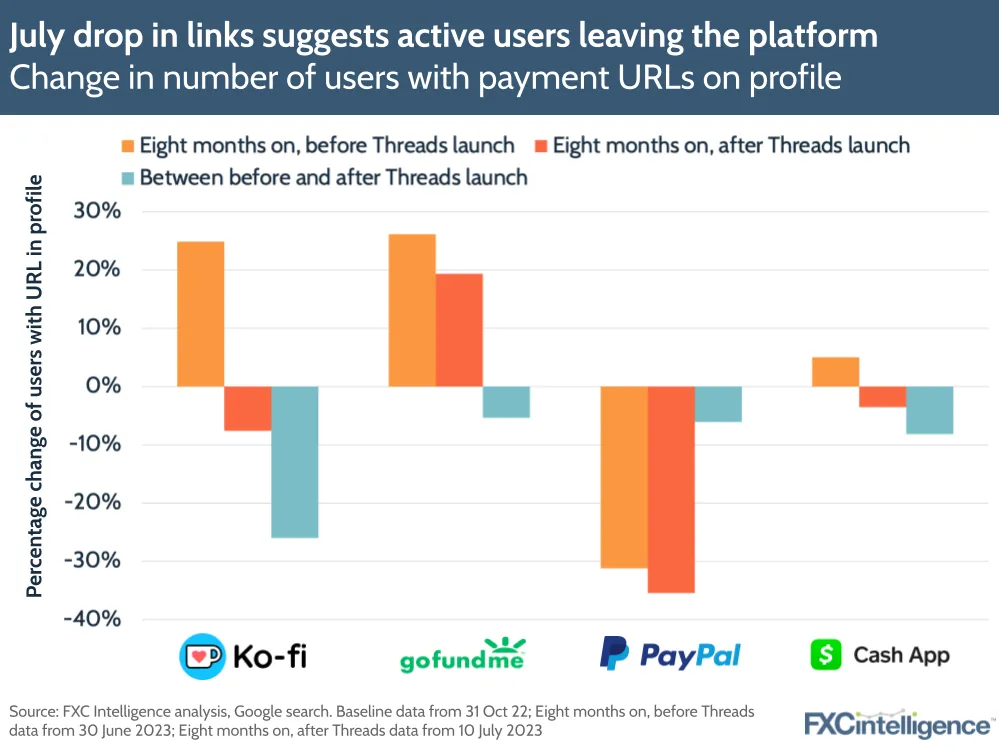 This indicates that while there is still a strong market for payments on Twitter, it is being reduced by actions taken by the company's management, and Twitter will need to find similarly sized alternatives unless it is to face a reduction in its total addressable market while it is still growing a payments offering.
Changing competition in the social media landscape
Amid Twitter's moves, the growing dissatisfaction from some users has led others to create alternative platforms to the social media player. These include Mastadon, a donation-run decentralised platform that has been around for some time but which has attracted growing interest since Musk took over Twitter, as well as Bluesky, a project from Jack Dorsey, former Twitter CEO and current CEO of payments leader Block. Launched on iOS in February 2023 and Android in April 2023, Bluesky is still in beta and remains inaccessible to those without invite codes.
The latest addition is Threads, a spin-off from Meta-owned Instagram that launched at the start of July. Although still in its infancy, the platform has seen sign-ups pass 100 million since its launch.
While these platforms pose a threat to Twitter in terms of userbase (discussed in more detail in the final section of this report), they also, along with other social media players, reflect the increasingly diverse approach to monetisation that platforms are exploring. While adverts have been a mainstay on social media, and are expected to be key to the as-yet-unmonetised Threads, other approaches are gaining traction.
Bluesky's sole revenue source at present is a feature that enables users to buy custom domains as part of a wider move to retain user ownership of their own data. It has also promised to explore "other avenues of monetisation". It remains unclear at present what these will be, but given Dorsey's ownership of Square and CashApp parent Block, payments are a natural move for the company.
Facebook's own brands have been exploring payments in some markets for some time, with WhatsApp offering embedded P2P payments in a number of countries, including India.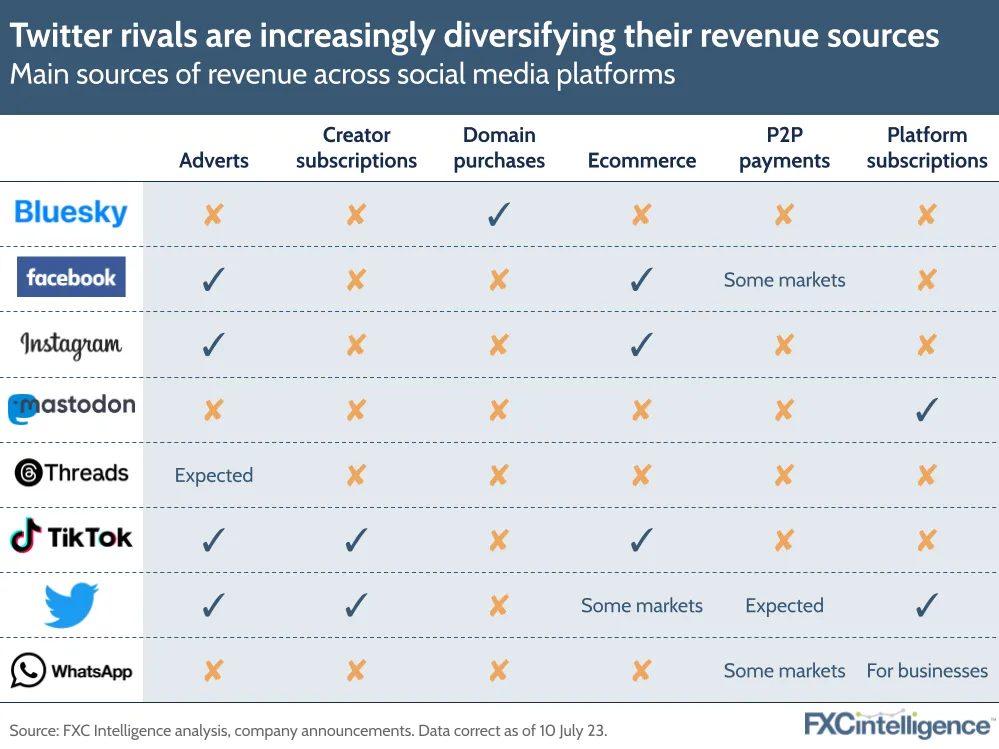 Twitter's payment-related projects so far
Twitter has also begun to make moves towards its own payments project, with the late 2022 relaunch of Twitter Blue to give users improved status and verification on the site, as well as the launch of Subscriptions that enable individual posters to monetise their content on the platform.
It is thought that having Twitter Blue will enable other payment services to be more easily added on top, as it will help streamline KYC processes and provide a central holding of customers' payments information. However, uptake so far remains relatively low. Twitter has not put out figures directly, but industry estimates suggested that it had around 300,000 subscribers in February and has not yet passed 1 million worldwide.
Twitter Subscriptions, meanwhile, which launched in its current form in April, also appears to have low uptake. Our own analysis of publicly visible user profiles suggests that only around 35,000 users worldwide have one or more subscriptions, with the vast majority subscribing to just one person.
Under the Twitter Subscriptions feature, users can charge $2.99, $4.99 or $9.99 per month, with Twitter currently giving all money after the 30% cut from app stores directly to the creators. Musk has said that from April 2024 the iOS and Android fees will drop to 15% and Twitter will begin taking a "small amount on top of that".
Based on these numbers, Twitter is currently likely to be paying out between $110,000-$350,000 per month and if it took a 10% cut from next year, it would yield between around $14,000-$45,000 per month if subscriber rates remained the same.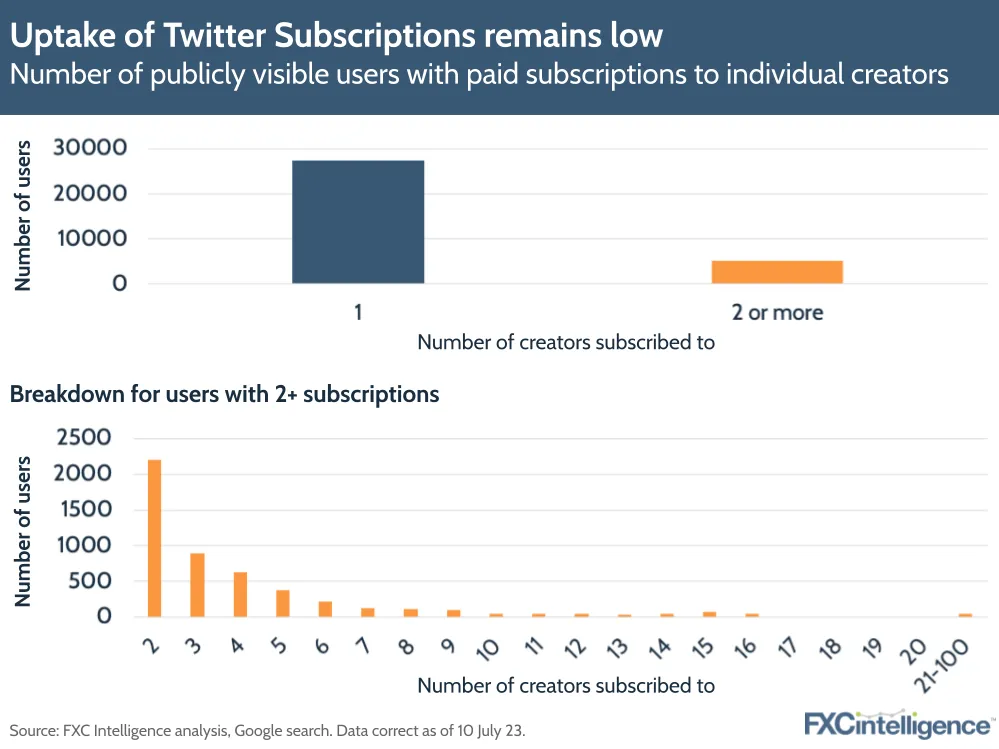 Trust in Twitter under Elon Musk
However, foundational to the success or failure of Twitter's payments offering, as with any fintech, is customer trust. Customers will not hand over their payments details to a brand they do not trust, even if they otherwise like the product it is providing. And here, there is evidence to suggest that under Elon Musk Twitter has lost considerable trust from its potential customers.
Multiple decisions around the moderation of content have led to concerns about increased hate on the platform, while the loss of key staff has also prompted questions from users. In particular, the loss of two heads of Trust and Safety within seven months has been a particular issue for some users.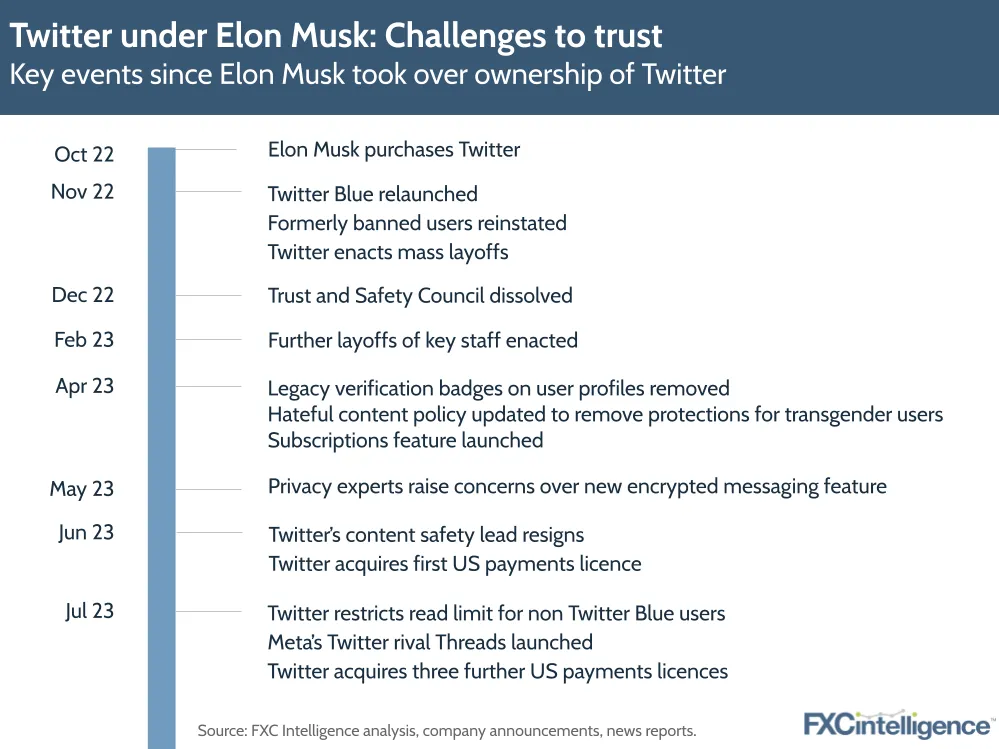 Concerns over hate and harassment have been reflected by research, with an ADL survey finding that US users on the platform reported greater levels of harassment in 2023 than either 2022 or 2021. While this remains considerably lower than on Facebook, it does place Twitter above several other platforms and makes it one of the only social media sites to see an increase in 2023.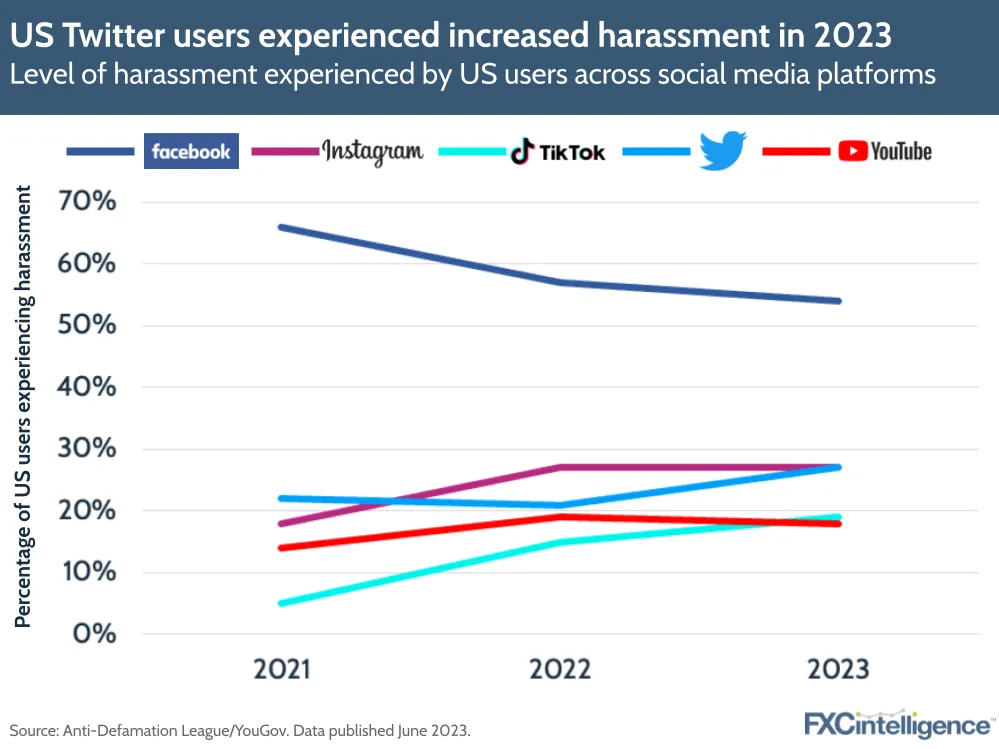 There are also indications that users are increasingly not expecting to stay on the platform in the long term. A survey by Pew Research found that 60% of US users thought they were either only somewhat likely, not very likely or not at all likely to be on Twitter in 2024. This number was lower for men (53%) and for Republicans (55%) but in all cases remained significant.
Differences along political lines are reflected by a number of surveys of US Twitter usage. A January 2023 report by The Covid States Project found that trust in Twitter to "do what is right" dropped among Democrats between October 2022 and January 2023, but rose among Republicans. However, for both it reached around 34% either agreeing "a lot" or "some".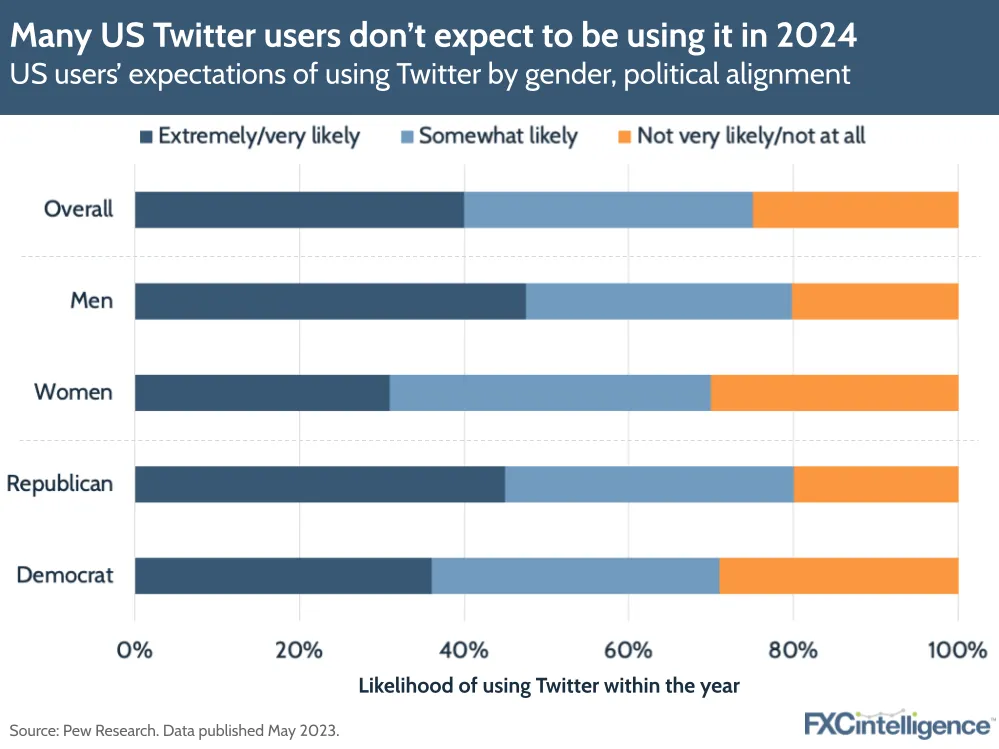 Evidence that users are leaving or looking to leave Twitter as a result of policies enacted under Elon Musk is also reflected in search volumes. Relative rates of searches on Google for the term "Twitter alternative" compared to "Facebook alternative" and "Instagram alternative" over the past year show the former spiking several times in line with the announcement of major policy or feature changes.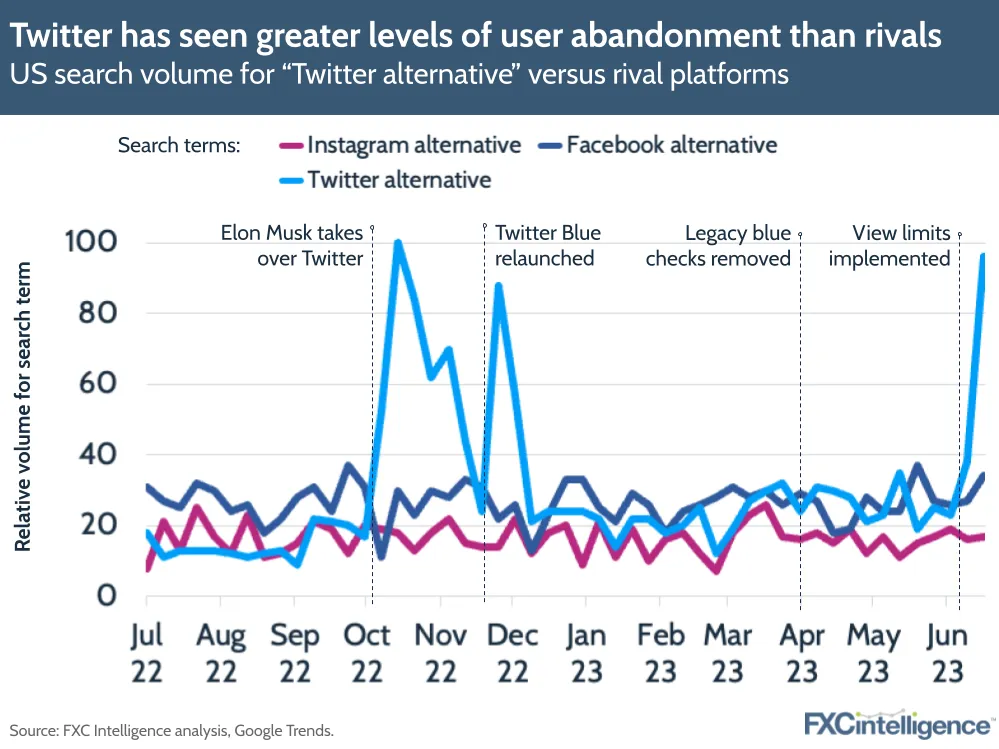 For Twitter, then, there is evidence that payments can form a successful part of a social media strategy, and could ultimately support a superapp play, as Musk has alluded to in the past. However, if Twitter is going to reach the scale it will need for payments to be viable, it will need to significantly increase its current paid userbase both in the US and internationally. This will require winning over as-yet-unconvinced users already on the platform, but potentially also grow the number of people signing up to Twitter.
This is by no means impossible, but it makes trust and brand image absolutely critical. And it is here more than any other area where Twitter has its work cut out.