Remitly has published its first results as a public company, so as part of our Post-Earnings Call Series, Remitly CEO Matt Oppenheimer discusses the company's plans and Q3 2021 earnings. Download it here. 
Please note each submission request for a copy of the report will be reviewed by FXC Intelligence.  
You will be sent the report within 2 working days if your request is accepted; it will not automatically download.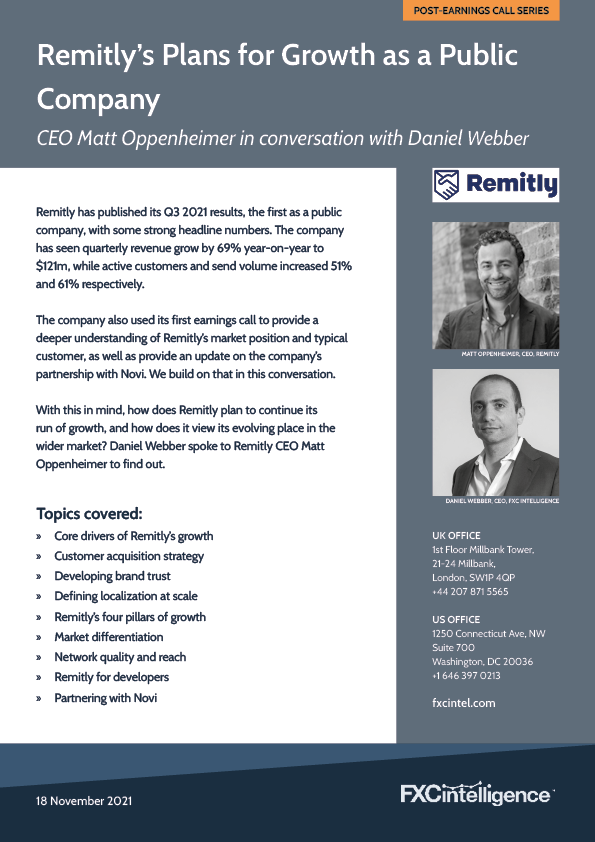 In 'Remitly's Plans for Growth as a Public Company'
Remitly has published its Q3 2021 results, the first as a public company, with some strong headline numbers. The company has seen quarterly revenue grow by 69% year-on-year to $121m, while active customers and send volume increased 51% and 61% respectively.
The company also used its first earnings call to provide a deeper understanding of Remitly's market position and typical customer, as well as provide an update on the company's partnership with Novi. We build on that in this conversation.
With this in mind, how does Remitly plan to continue its run of growth, and how does it view its evolving place in the wider market? Daniel Webber spoke to Remitly CEO Matt Oppenheimer to find out.
Topics covered:
Core drivers of Remitly's growth
Customer acquisition strategy
Developing brand trust
Defining localization at scale
Remitly's four pillars of growth
Market differentiation
Network quality and reach
Remitly for developers
Partnering with Novi