In the latest report in our Post-Earnings Call Series, OFX CEO Skander Malcolm discusses the company's strong H1 2022 results and future plans. Download it here.
Please note each submission request for a copy of the report will be reviewed by FXC Intelligence.  
You will be sent the report within 2 working days if your request is accepted; it will not automatically download.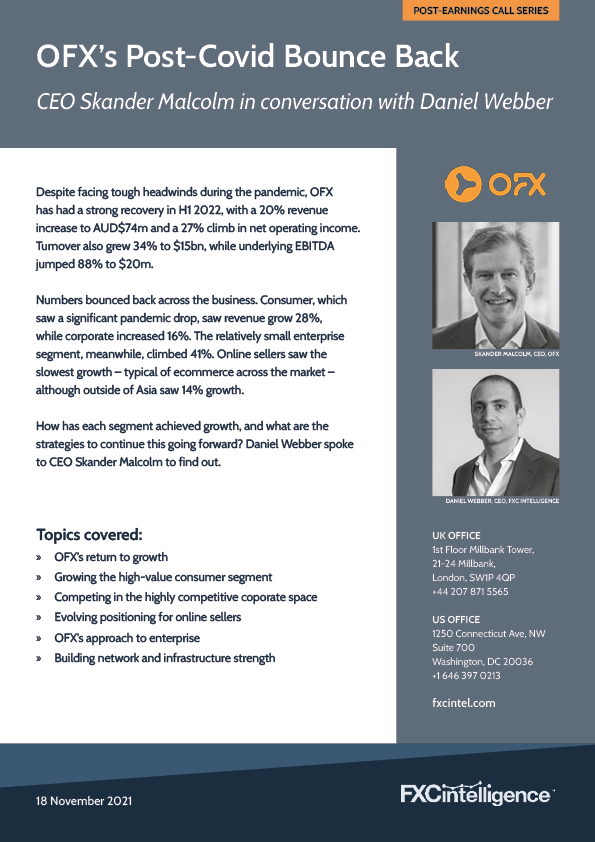 In 'OFX's Post-Covid Bounce Back'
Despite facing tough headwinds during the pandemic, OFX has had a strong recovery in H1 2022, with a 20% revenue increase to AUD$74m and a 27% climb in net operating income. Turnover also grew 34% to $15bn, while underlying EBITDA jumped 88% to $20m.
Numbers bounced back across the business. Consumer, which saw a significant pandemic drop, saw revenue grow 28%, while corporate increased 16%. The relatively small enterprise segment, meanwhile, climbed 41%. Online sellers saw the slowest growth – typical of ecommerce across the market – although outside of Asia saw 14% growth.
How has each segment achieved growth, and what are the strategies to continue this going forward? Daniel Webber spoke to CEO Skander Malcolm to find out.
Topics covered:
OFX's return to growth
Growing the high-value consumer segment
Competing in the highly competitive coporate space
Evolving positioning for online sellers
OFX's approach to enterprise
Building network and infrastructure strength