FXC Intelligence's Daniel Webber spoke to OFX CEO Skander Malcolm about the company's FY 2021 earnings results and transition to B2B and enterprise.
Please note each submission request for a copy of the report will be reviewed by FXC Intelligence. 
You will be sent the report within 2 working days if your request is accepted; it will not automatically download.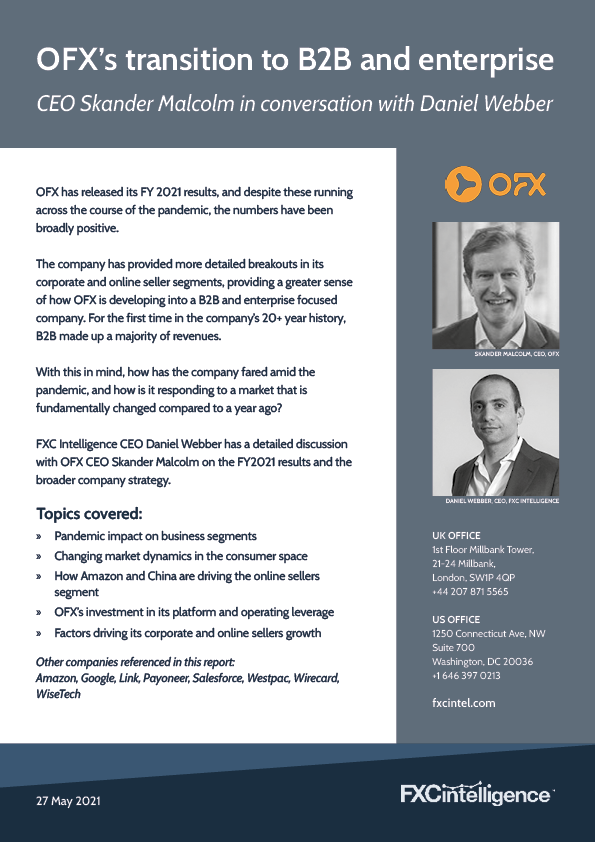 In 'OFX's transition to B2B and enterprise'
OFX has released its FY 2021 results, and despite these running across the course of the pandemic, the numbers have been broadly positive.
The company has provided more detailed breakouts in its corporate and online seller segments, providing a greater sense of how OFX is developing into a B2B and enterprise focused company. For the first time in the company's 20+ year history, B2B made up a majority of revenues.
With this in mind, how has the company fared amid the pandemic, and how is it responding to a market that is fundamentally changed compared to a year ago?
FXC Intelligence CEO Daniel Webber has a detailed discussion with OFX CEO Skander Malcolm on the FY2021 results and the broader company strategy.
Topics covered:
Pandemic impact on business segments
Changing market dynamics in the consumer space
How Amazon and China are driving the online sellers segment
OFX's investment in its platform and operating leverage
Factors driving its corporate and online sellers growth