FXC Intelligence's Daniel Webber spoke to MoneyGram CEO Alex Holmes about the company's Q1 2021 earnings results and future plans.
Please note each submission request for a copy of the report will be reviewed by FXC Intelligence. 
You will be sent the report within 2 working days if your request is accepted; it will not automatically download.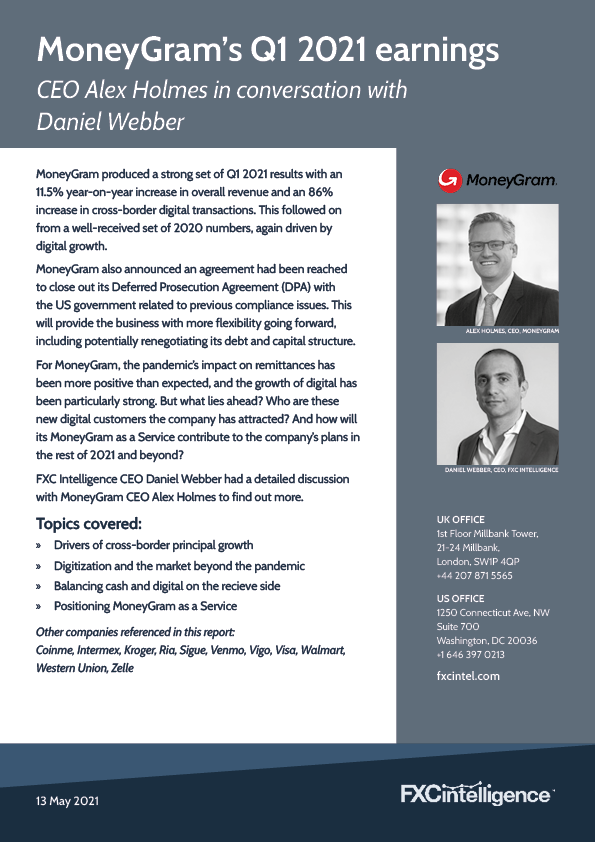 In Daniel Webber's conversation with CEO Alex Holmes on MoneyGram's Q1 2021 earnings
MoneyGram produced a strong set of Q1 2021 results with an 11.5% year-on-year increase in overall revenue and an 86% increase in cross-border digital transactions. This followed on from a well-received set of 2020 numbers, again driven by digital growth.
MoneyGram also announced that an agreement had been reached to close out its Deferred Prosecution Agreement (DPA) with the US government related to previous compliance issues. This will provide the business with more flexibility going forward, including potentially renegotiating its debt and capital structure.
For MoneyGram, the pandemic's impact on remittances has been more positive than expected, and the growth of digital has been particularly strong. But what lies ahead? Who are these new digital customers the company has attracted? And how will its MoneyGram as a Service contribute to the company's plans in the rest of 2021 and beyond?
Topics covered:
Drivers of cross-border principal growth
Digitization and the market beyond the pandemic
Balancing cash and digital on the recieve side
Positioning MoneyGram as a Service