Mercedes pay+: Turning the car into a payments device
Payments have broadened significantly over the last few years, not least in the automotive space, where Mercedes pay+ is a key example. We spoke to Mercedes pay MD and CEO Nico Kersten to find out how the company is making the car a device for payments.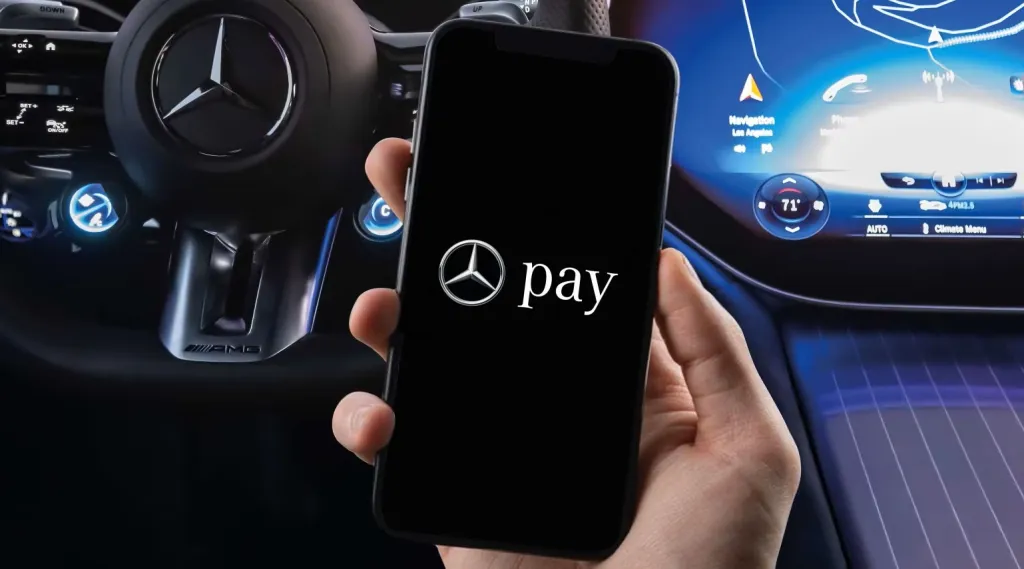 The rise of embedded payments has seen many industries begin to incorporate payments into their wider operations, but arguably one of the most compelling examples of this is in the automotive space. Through the convergence of a host of digital and physical technologies, the car has the ability to become a payments device in and of itself – an approach already being explored by some companies, including Mercedes-Benz.
"The entire automotive industry is seeing a huge shift in business model, and this is not only coming from the shift from combustion to electric engines and a completely new kind of vehicle evolving with that, but also with what we call the software-defined vehicle," says Nico Kersten, MD and CEO of Mercedes pay.
"The car is not a car that you might know from 20 years ago, but it's now something that is software defined."
This ability to augment a vehicle's capabilities with software led Mercedes to launch its own payments company in 2018: Mercedes pay. Since then, its capabilities and reach have grown alongside the vehicle's own technology; Mercedes pay is now operational in over 40 markets globally and in March of this year it reached its current apex with the launch of Mercedes pay+.
Through this, customers are now able to pay for car-related products, services and upgrades via a biometric fingerprint sensor built into their vehicle. This ability to make in-vehicle payments creates new opportunities for both the company and the wider payments industry.
"We truly believe that this is a growth opportunity for Mercedes-Benz in expanding the services business offering, but also an opportunity for the complete payment industry to offer great experiences to the customer in such an emotional point of sale," says Kersten.
Mercedes pay+: Connecting payments within the customer journey
The advent of Mercedes pay+ has come as the wider car industry sees customer demand shift into online sales, digital experiences and ecosystems – something that is particularly key at the luxury end of the market.
"This is the Mercedes-Benz story: having more digital offerings based on the newest car technology, having digital online sales and also bringing additional services that we could not offer 20 years ago to the customer within an overarching experience," says Kersten, adding that what connected all of these elements was a need to process payments.
"That's why we said, 'Okay, we need our own payment team'."
Sitting at the intersection of fintech and the automotive industry, Mercedes pay is designed to cover all customer touch points, not only at the initial vehicle acquisition stage but also beyond, as the customer uses it.
This includes reserving and making a deposit for their next vehicle and then purchasing outright, financing or leasing. However, it also covers upgrades and reconfigurations for both first and second-hand owners, as well as more mundane day-to-day payments, including vehicle car charging or fuel payments.
"This is something where we see great value for the customer and also an opportunity for us to bring payments in that space to the next level," he says.
At present, Mercedes customers in markets including Germany are now able to pay for fuel without leaving their car at participating petrol stations, as well as paying for on-street and multi-story parking fees from the vehicle.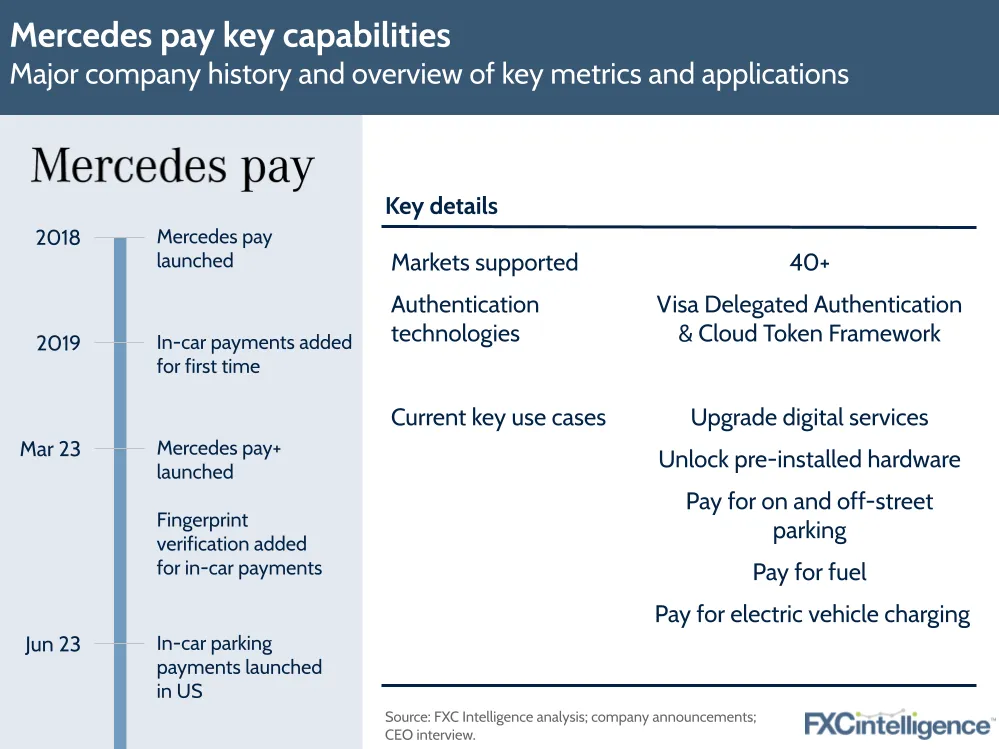 The software-defined vehicle
Over the last decade or so, the humble car has gone from a largely mechanical device to what Kersten describes as a "software-defined, connected vehicle" through the iterative addition of a variety of technologies. This has created the opportunity for cars to have a digital presence as well as a physical one, and so interface with digital networks, including those related to payments.
"With those kinds of vehicles, we can offer more services that you can use while you drive," explains Kersten, highlighting that this has only become possible with advancements in vehicle technology.
"As Mercedes has built its own software, its own interface, we can control that and combine it with fintech technology."
Here he points to the use of network tokens for card payments and similar, as well as the biometric authentication now commonplace in pass-through e-wallets such as Google Pay and Apple Pay.
"This was the groundwork on mobile devices that we can now shift to the environment of the car. That's why Mercedes pay is, in the end, the biometric authentication of payments in the car, using state-of-the-art technology developed in the past year."
Kersten highlights that while this service is enabled by technology, the customer experience is the vital component. Mercedes pay is designed to be convenient and reduce customer friction, pointing to the money and time he himself has saved by not having to go inside each petrol station to pay for fuel.
"I have a seven-year-old son, and I'm happy that I do not have to go inside and leave him alone in the car or stand in a long queue with him. I also save time using that technology in the car," he says.
"There are use cases and experiences that really bring value to daily life, where you can avoid long queues and can avoid additional budget for sweets or whatever."
Partnerships and cross-border payments
From a technical delivery perspective, Mercedes pay is focused on "defining the experience" for customers, through how they interact with the vehicle and software. As a result, the technical details of enacting the payment are, says Kersten, "not the core of what an automotive industry player should do".
Instead, much of the payment processing is achieved through partnerships with payment services providers, digital wallets and other players.
"What we bring to the table is that we connect the world of Mercedes-Benz with the complexity of the fintech and banking world," he explains.
"We have great partnerships with payment service providers, wallets and so on, worldwide that enable credit card payments, debit card payments, wallet payments, you name it."
Through this approach, the company localises payment methods to each market, rather than centralising payments in Germany with associated cross-border payment costs. However, it also enables customers to drive to other countries and pay locally, with the associated FX fees.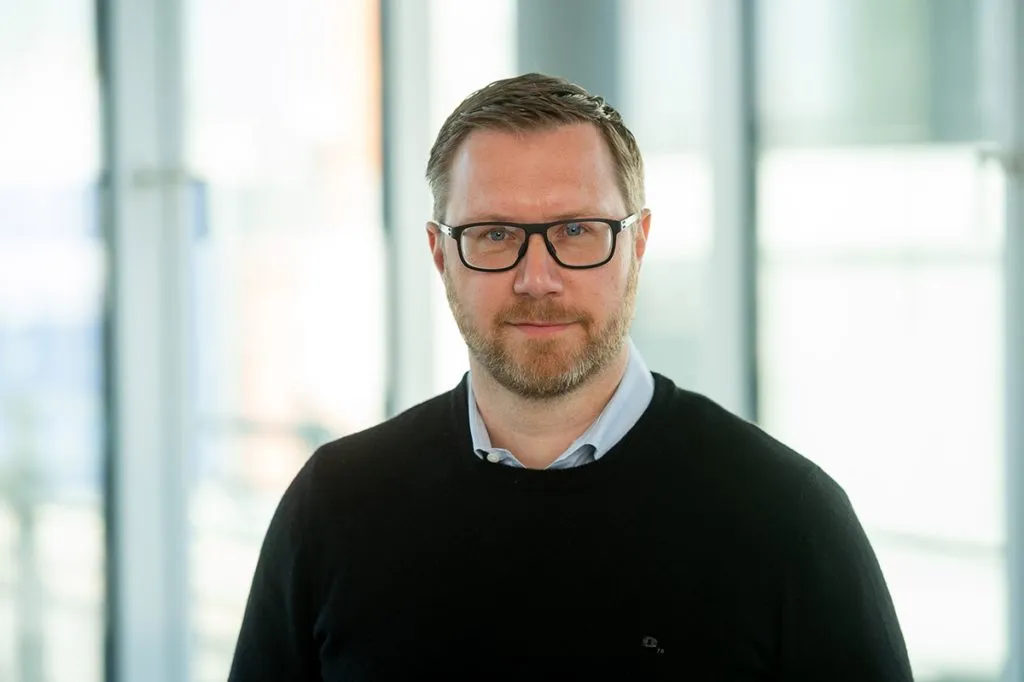 The future of automotive payments
While at present the touchpoints Mercedes pay+ covers include day-to-day purchases such as fuel, in the longer run Kersten wants to broaden what customers can access through the system.
"Looking into the future of where we want to go, our ambition is to enable the complete journey on all devices that are available and, with that, growing the amount of services you can purchase," he says.
However, when it comes to payments' potential for the automotive industry, Kersten sees the technology as part of the future of all vehicles.
"I would really love to see more and more automotive players join that movement and bring these kinds of technology to the customer," he says.
"We truly believe that every customer – not only Mercedes-Benz customers – deserve to use such technology."