Lumon: Growing in cross-border payments through build and buy
Lumon has built a strong cross-border payments business through a build-and-buy strategy that has focused on a string of acquisitions. But what's next? We spoke to CEO Shamus Hodgson to find out.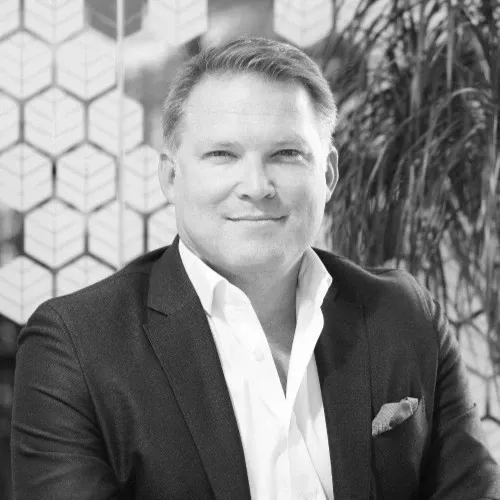 Acquisitions have been an increasingly popular approach for cross-border payments companies to add growth for some time, and consumer and business money transfers provider Lumon is a key example.
Backed by Pollen Street Capital, which previously invested in Moneycorp, Lumon is taking a "build-and-buy strategy to growth", according to CEO Shamus Hodgson.
"I like to characterise us as a relatively new business that's actually been around for 15 or 20 years," he says.
This hybrid approach has been bearing fruit. The company saw revenue grow 27% year-on-year to £26m in FY 2022, following a 2021 rebrand that saw it change its name from Foreign Currency Direct to Lumon.
"We wanted the business to be seen as something that was in the sector, but not necessarily of the sector," says Hodgson.
"Felt a little bit more modern, felt a little bit more digital, felt a little bit more focused on what customers wanted."
Build and buy: Lumon's acquisition-led strategy
Having completed five major acquisitions since 2018, the most recent of which was NU Currencies in June 2021, Lumon's backing by Pollen Street Capital has enabled it to make acquisitions a key part of its growth strategy.
"Pollen obviously have been in this market before with Moneycorp, had a good experience there, and they understand the market," says Hodson.
"Pollen tends to invest in technology businesses that have an element of difference to them; that are within a sector, but are trying to do something slightly different."
This began with Pollen's acquisition of private customer-focused Foreign Currency Direct (now Lumon), although since then Lumon, with Pollen's backing, has also acquired B2B payments businesses including Infinity, with acquisitions typically broadening the company's customer base further.
"Part of the acquisition strategy has been to build out our customer base, but actually it's also been about acquiring talent into the business as well," he explains.
This approach has seen the company grow five times in terms of volume, people, transactions and trades since its original acquisition in 2018, according to Hodgson, with the company now offering a broad roster of services.
"We look at businesses where we think that from a cultural perspective, from a growth perspective, they fit our model. We like to acquire businesses where we are bringing onboard talent that adds to the bench strength of the team," he says.
"But it is about growth for us, we're a growth business. And that build-and-buy methodology has worked for us."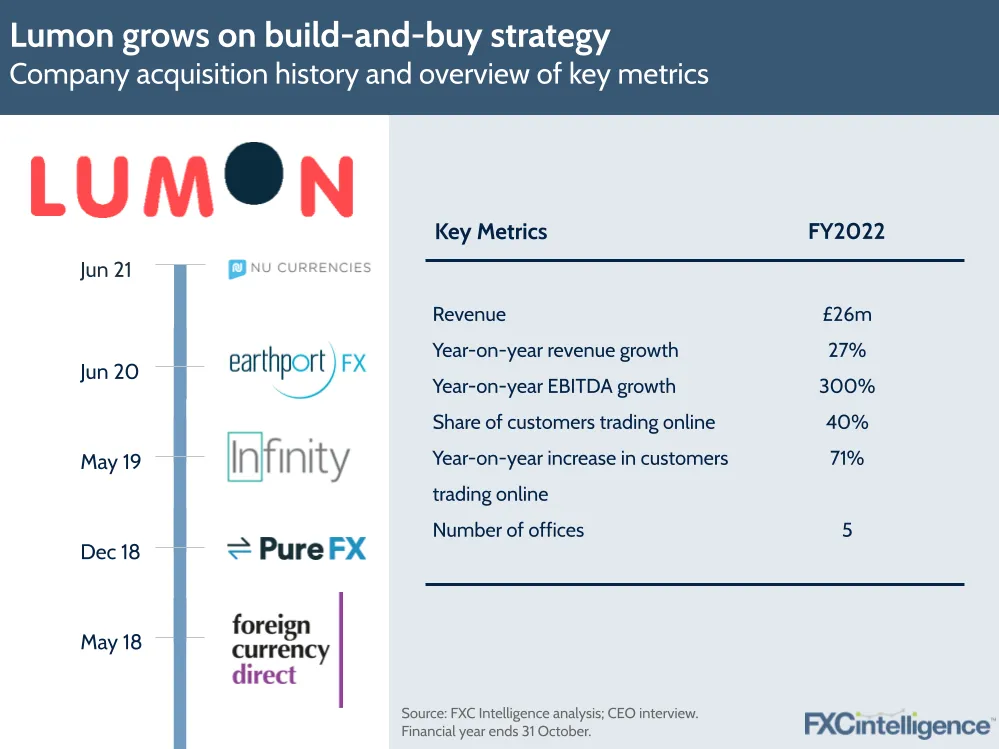 Business, consumer and beyond
Acquiring such a range of customers has seen Lumon become a cross-border payments solution for a wide range of use cases.
"We provide a really broad mix of services to a relatively broad mix of customers," he says.
"All the way through from very individual, private consumer customers, right the way through to large enterprise-size customers, who are very interested in risk mitigation, risk management and complex hedging strategies, which we support them on, and everything in between."
This puts Lumon in relatively rare company as a provider that caters to individual, SME and enterprise customers, particularly given the relatively even split of transactions.
"It's probably about a third, a third, a third [for each segment] in terms of transacted volume," explains Hodgson.
"Clearly, volume of customers is larger down at the SME and corporate customer end."
Here, while there are differences in needs between client types, he does see similarities in terms of how the company approaches these customers.
"We are just part of a cog of someone else's business, or someone else's lifestyle.They want good pricing; they want the money to get from A to B; they want that sense of security; they want a bit of speed and they want it to be easy, rather than anything else," he says.
"We find that's consistent from somebody who is buying their first property abroad right the way through to a fairly large insurance business that is interested in a 12 month hedging strategy to make sure that they are protecting their P&L. Generally they want similar things."
Having relatively recently moved all its teams into one office in London, the company has seen these similarities reflected in the experiences of different teams serving different customer types.
"There's a lot of commonality about what those customers want, what's important to them and what we need to do to make sure that we're supporting their lifestyle or business as well," he says, adding that this translates into strong technology, expertise and a "laser focus on customer service".
"When I joined this sector three years ago, I was quite taken aback about how little focus there was on the customer," he says.
"I come from a school where if you truly focus on customer service, the commercial upside will follow. If you focus on the commercial upside, and then tack on a little bit of customer service, you'll never optimise and never maximise the commercial upside of the business."
Retooling the technology
While strong customer service is vital to Lumon's approach, so too is the company's technology platform, which has been designed to underpin services for all three of the company's customer bases.
"There are obviously changes with how you present yourself and how you engage with a hedging customer, as opposed to a SME, as opposed to a private customer, but it's all built on the same platform," explains Hodgson.
"It's all built on the same technology; you toggle on and toggle off some features."
This approach has seen the company not only solve the challenge of catering to different customers, but also incorporating the operations of its multiple acquired businesses.
Hodgson stresses that the company did not want to just "bolt businesses on and carry on" but instead develop a scalable solution that meets its broad needs. This has seen the business undertake a complete re-tooling and re-platforming since the start of 2020, covering the company's own technology, trading platforms and CRMs in a scalable, cloud-based solution.
"Everything has been revised, everything is now in a state that we could go 10, 20 times in terms of our number of trades, in terms of our size. It wouldn't cause us any issue in terms of our technology at all."
This, he says, was developed to be "absolutely cognisant of the fact that it has to support different groups, sometimes with very different needs", as well as support the company as it develops.
"How you can digitise in the best possible sense; how you use technology to improve performance; how you use technology to improve customer service; how you use technology to make sure you are scalable and you can grow."
The next sources of Lumon's growth
As Lumon looks to the next stages of its growth, it has multiple avenues to explore, one of which is geography. At present, the company is licensed to operate in Europe and the UK, and has offices in the UK, Ireland, Spain, Portugal and France. However, while it does have access to some US customers, it is unlikely to jump into a significant geographic expansion any time soon.
"We are looking at other territories, it's always been on the strategic agenda. But the reason why we haven't really stepped so far is because there's so much business in the UK and Europe for us," says Hodgson.
"Geographical expansion will definitely happen, but we are not jumping to open offices elsewhere, look at licences elsewhere at the moment. This is a massive market that we are in at the moment and there are so many customers out there who we can help in the territories we currently operate in as it stands at the moment."
Meanwhile, Lumon is seeing organic growth, with many of its customers coming from banks or traditional FX brokers, as well as the digital and direct market.
"The traditional broker play has been to beat bank rates and take customers from banks. We absolutely still do that," he says.
"I think it's inexcusable that the banks take their customers for granted, and almost offer them a really poor service in this space, and price gouge to a certain extent as well."
However, he doesn't believe this customer source will remain low-hanging fruit forever.
"They're waking up to that. They're not stupid, they move slowly sometimes, but they will get to it," he says.
"You can already see that some banks are starting to take international payments and FX more seriously. I think our digital cousins have been partially responsible for that, and opened up the opportunity to the wider world.
"For us it's about how we then convince customers to work with us, rather than to work with our competition. It's not as if customers don't have a lot of options in this market."
One potential challenge is the economic downturn in the market, which he acknowledges will "undoubtedly have an impact", however he argues that the company has a "massive amount to go for, even if the market in totality contracts".
However, away from organic growth, there is also the prospect of Lumon making another acquisition.
"We are always looking for opportunities in the market," he says, adding that it is about the quality of a deal rather than size or quantity.
"Pollen is a brilliant investor. They are super smart people, they're ambitious, and they want us to grow as much as we want to grow. So there are technically no limits – we are interested in anything."