Intermex has become the latest remittance provider to report record results in Q2 2021, with year-on-year revenue climbing 37% to $117m. This has been fuelled by a 53% increase in volumes to $4.4bn, with remittance transactions reaching 10m for the first time. I spoke to CEO Bob Lisy to learn what the company plans next – download our conversation below.
Please note each submission request for a copy of the report will be reviewed by FXC Intelligence. 
You will be sent the report within 2 working days if your request is accepted; it will not automatically download.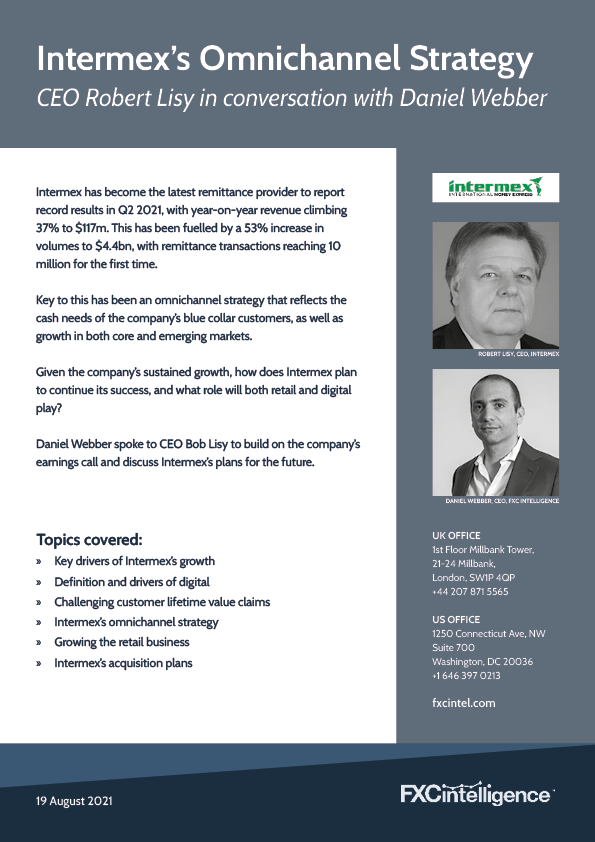 In 'Intermex's Omnichannel Strategy'
Some highlights from the earnings announcement:
Intermex saw particularly strong growth in its core markets, with Mexico, Guatemala, El Salvador and Honduras reaching market share of 21% for the first time.
Emerging markets were also strong, with the Dominican Republic, Nicaragua and Ecuador seeing transactions growth of 41%.
Despite traditionally catering to blue-collar customers who prefer cash, Intermex is growing its digital presence, combining this with a strong retail presence to form an omnichannel strategy that CEO Bob Lisy attributes to the company's strong quarter. 
More than 22% of transactions are processed digitally, and more than 20% of its remittances are now settled digitally in the receiving country. Intermex also saw bank account deposits increase 50% year-on-year.
Looking to the next few years, Intermex is looking to improve its presence in areas of the US that are currently under or unserved. Digital is seen as a key aid to this, although Bob believes this approach could see the company's retail remittance business "more than double in size" over the next few years.
The strong quarter has led Intermex to update its revenue guidance for 2021, which has now risen by  around $30m to $441m – $450m.
Building on this, my conversation with Bob covers the following:
Key drivers of Intermex's growth
Definition and drivers of digital
Challenging customer lifetime value claims
Intermex's omnichannel strategy
Growing the retail business
Intermex's acquisition plans