How are payment companies thinking about artificial intelligence?
We review the Q1 2023 earnings announcements of major cross-border payment companies to determine how the industry is approaching artificial intelligence.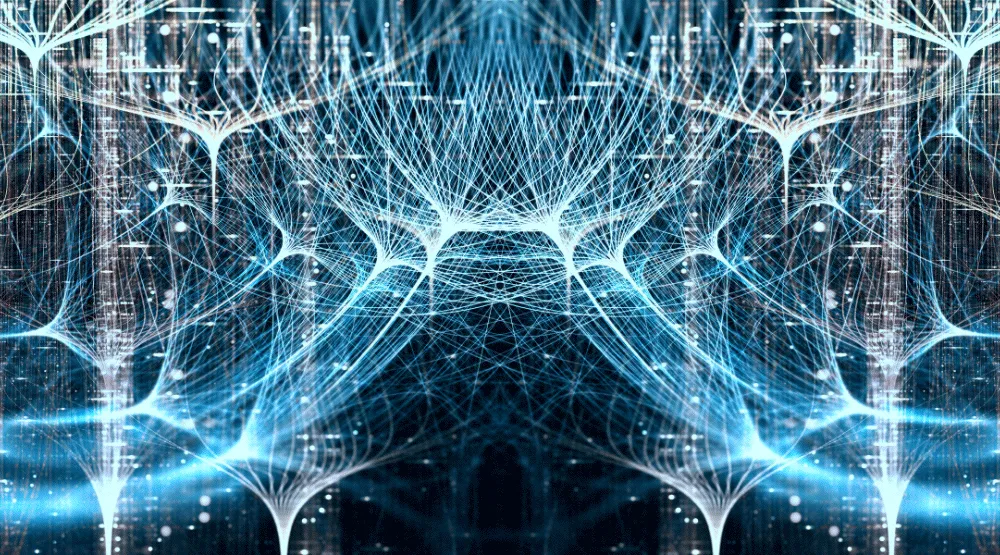 Artificial intelligence (AI) has taken over from cryptocurrencies as the leading buzzword of 2023, with generative AI technologies such as ChatGPT driving growing interest and attention in the field. This has been reflected in the latest earnings season, with companies across a host of verticals rushing to explain how they are incorporating the technology into their own operations.
The world of payments is no different, with artificial intelligence getting a mention in a broad range of different companies' earnings announcements. But how companies in the space are applying AI varies significantly, and their future plans speak to a shift in how the technology is being used.
In this short report, we explore how payment companies are currently talking about their use of AI, and what it suggests about the adoption of the technology within payments.
Which payment companies mentioned AI in Q1 2023?
Reviewing the earnings call transcripts and supporting documentation from 20 public companies in the cross-border payments space, we found that nine (45%) mentioned artificial intelligence at least once during their call. Of those that didn't, all but one had mentioned the technology previously, either in interviews, previous announcements or other releases.
The range of companies that mentioned AI in Q1 23 was quite diverse, including fintechs such as Block, Mastercard, PayPal and Visa, as well as payment processors such as FIS and Fiserv and B2B players such as Flywire. This suggests that the technology is generating interest not only from newer, more highly tech-focused companies, but also from those who are more established.
However, while this provides a sense of who is keen to be publicly associated with AI, it does not provide a full picture of who is developing AI initiatives. As AI is currently attracting interest from investors, there may be benefits in re-highlighting long-established uses of the technology; for others, keeping quiet about their AI projects may currently be a strategic choice.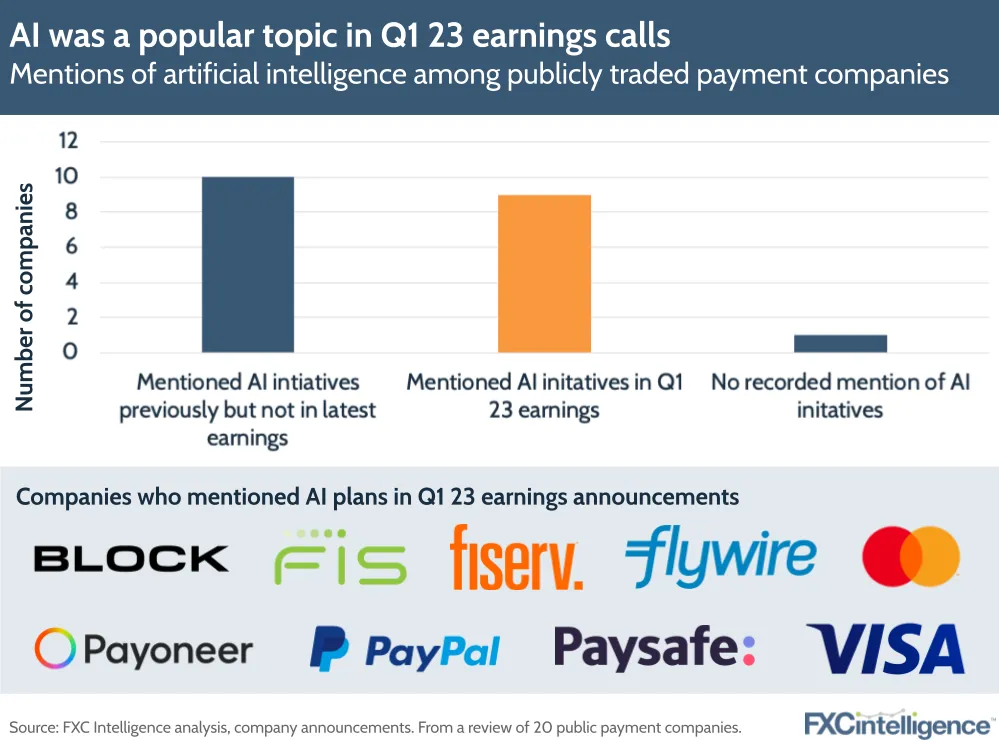 How are payment companies using AI?
The term AI covers a broad set of different technologies, and in common business parlance can include areas such as machine learning and chatbots, as well as the much more recently developed generative AI technologies.
As a result, what companies referred to as AI within their earnings calls varied significantly, reflecting both long-established technologies and highly experimental versions. In many cases, the precise technology was not completely clear – only three out of the nine specified the use of generative AI, for example – and some companies took the opportunity to discuss multiple phases of AI development spanning over a decade.
The current popularity of AI among investors may have led some CEOs to bring up AI projects that have been in place for some years, while others opted to share genuinely novel initiatives. As a result, it is helpful to divide the AI initiatives mentioned into both current and future applications.
Our analysis of earnings call transcripts and supplementary materials found that all of the mentions of AI fell into three categories of application: fraud protection and/or risk management; customer service and/or customer experience; and productivity and/or cost improvements.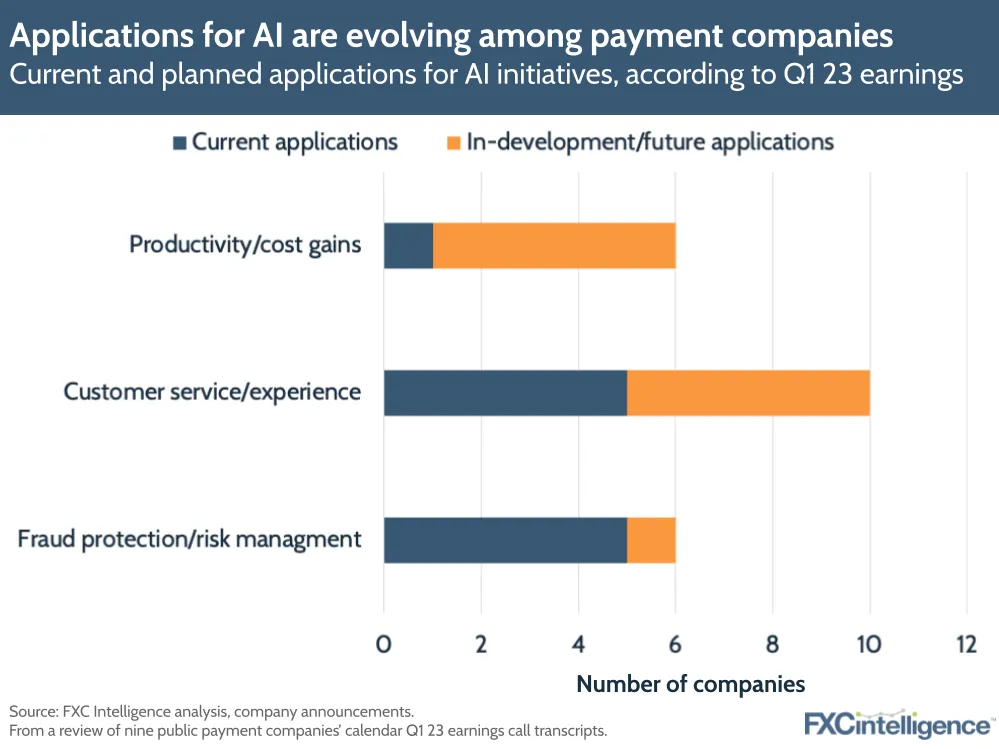 Cybersecurity-related AI use
Fraud protection and/or risk management covers areas such as cybersecurity and fraud detection, and is arguably the longest established form of AI when it comes to being fully implemented in business operations.
Mastercard CEO Michael Miebach, for example, highlighted that the company had been using AI "for the better part of the last decade", pointing primarily to cybersecurity applications. Fiserv, PayPal, Paysafe and Visa also referenced its use for similar applications, with Fiserv highlighting its use to combat fraud.
While cybersecurity-related AI technologies continue to develop, these are largely quite different to ChatGPT-style AI solutions, and in general are proven technologies. As a result, they were among the most common types of AI cited as being in use at the moment, but the least for future projects, and are also not the type that is attracting excitement among investors.
Customer service-related AI use
Customer service and experience-related AI, meanwhile, is more complex, because the applications sit broadly across more traditional AI and emerging, generative AI. Some applications such as chatbots, for example, have seen multiple iterations as the technology has evolved, with the most recent using novel forms of AI that were simply not possible a few years ago. In other cases, the potential customer service improvements of AI have evolved, allowing companies to add new features and capabilities over time.
The result is a broad range of current and future applications. Fiserv, for example, pointed to an AI-enabled expense management solution for businesses, while Payoneer said that the company was using AI to assist with onboarding customers. Several also spoke about AI's use in assisting with customer service, with Paysafe discussing how the company uses machine learning and natural language processing to help manage customer inquiries, while Flywire discussed the benefits of its AI chatbot.
When it came to future and in-development customer service-related AI applications, many of the companies spoke in broader or more abstract terms about potential benefits. Block, for example, spoke of the ability "to create entirely new features for our customers", while Visa discussed how the company was "spending a fair time thinking how generative AI will change the way that sellers sell and we all buy". Where examples were given, these were typically small features that combined to iteratively improve the experience for customers, rather than a large-scale single solution.
Productivity and cost-related AI use
Generative AI and other related emerging AI technologies are often discussed in terms of how they can bring productivity gains to existing businesses, or remove the need for some roles entirely, making it no surprise that this area of applications was most featured in terms of future or in-development solutions.
Many companies spoke of finding small efficiencies across many areas of their business, including in terms of operational costs – an area that has arguably prompted the most excitement among investors. Some spoke in direct financial terms, with PayPal saying that it expected AI to enable it to "meaningfully lower costs for years to come", while Visa said that there was an opportunity to take its current, already significant AI services to "the next level".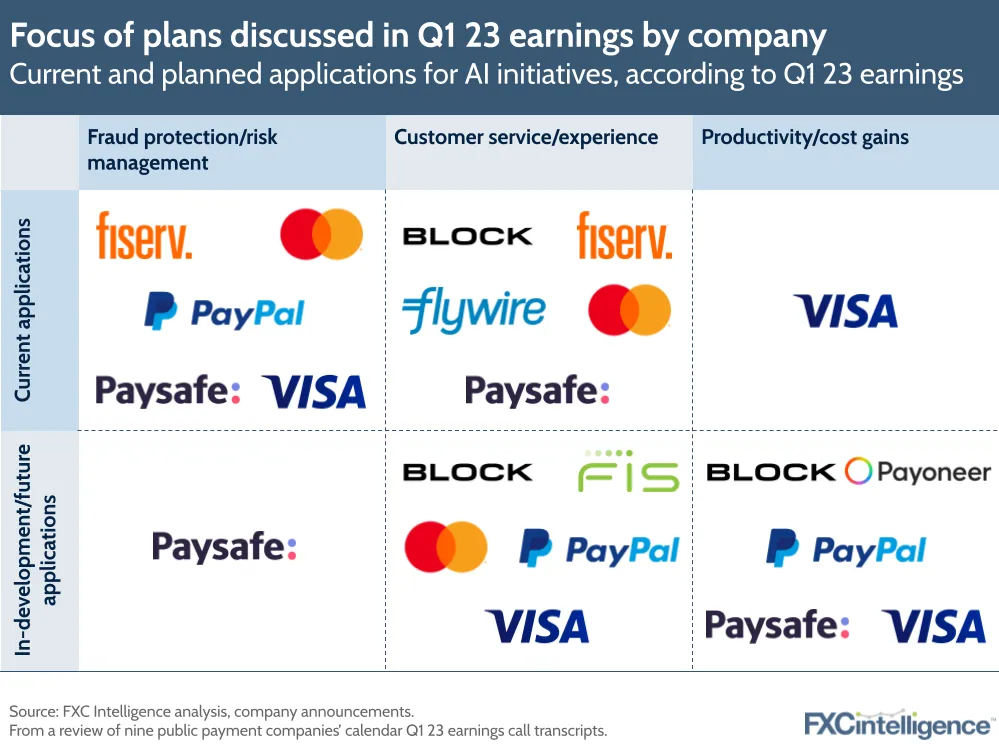 Enthusiasm and trust over AI use by payment companies
While there was little in the way of firm, trackable data, the tone of discussion around AI among payment companies in Q1 2023 was largely highly positive, with many discussing its huge transformative potential.
"There's no question that AI is going to impact almost every function inside of PayPal, whether it be our front office, back office, marketing, legal, engineering, you name it," said Dan Schulman, CEO of PayPal. "AI will have an impact and allow us to not just lower costs but have higher performance."
Interestingly, only one company addressed the concerns held by many around AI, which include fears around job automation, as well as the trustworthiness of work produced by generative AI. Here, Mastercard addressed these issues and stressed the importance of the company being principled about how it tackled the technology.
"The application of AI needs to be done in a principled way," said Miebach. "We approach data privacy in a principal way. We approach the crypto space in a principled way and the same thing applies here. So trustworthy AI is clearly the focus."