In the latest report in our Post-Earnings Call Series, Flywire CEO Mike Massaro discusses the company's strong Q3 2021 results and future plans. Download it here.
Please note each submission request for a copy of the report will be reviewed by FXC Intelligence. 
You will be sent the report within 2 working days if your request is accepted; it will not automatically download.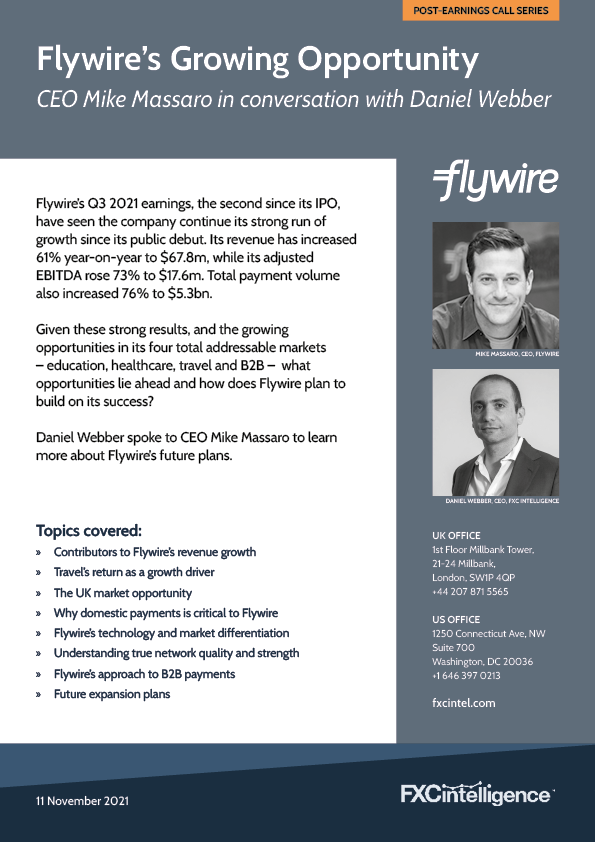 In 'Flywire's Growing Opportunity'
Flywire's Q3 2021 earnings, the second since its IPO, have seen the company continue its strong run of growth since its public debut. Its revenue has increased 61% year-on-year to $67.8m, while its adjusted EBITDA rose 73% to $17.6m. Total payment volume also increased 76% to $5.3bn.
Given these strong results, and the growing opportunities in its four total addressable markets –education, healthcare, travel and B2B –  what opportunities lie ahead and how does Flywire plan to build on its success?
Daniel Webber spoke to CEO Mike Massaro to learn more about Flywire's future plans.
Topics covered:
Contributors to Flywire's revenue growth
Travel's return as a growth driver
The UK market opportunity
Why domestic payments is critical to Flywire
Flywire's technology and market differentiation
Understanding true network quality and strength
Flywire's approach to B2B payments
Future expansion plans