Q2 2021 saw Flywire report its first set of results as a public company, providing an insight not only into its path to profitability, which it is set to reach this year, but also its plans for future growth. Download my conversation about what's next with CEO Mike Massaro below.
Please note each submission request for a copy of the report will be reviewed by FXC Intelligence. 
You will be sent the report within 2 working days if your request is accepted; it will not automatically download.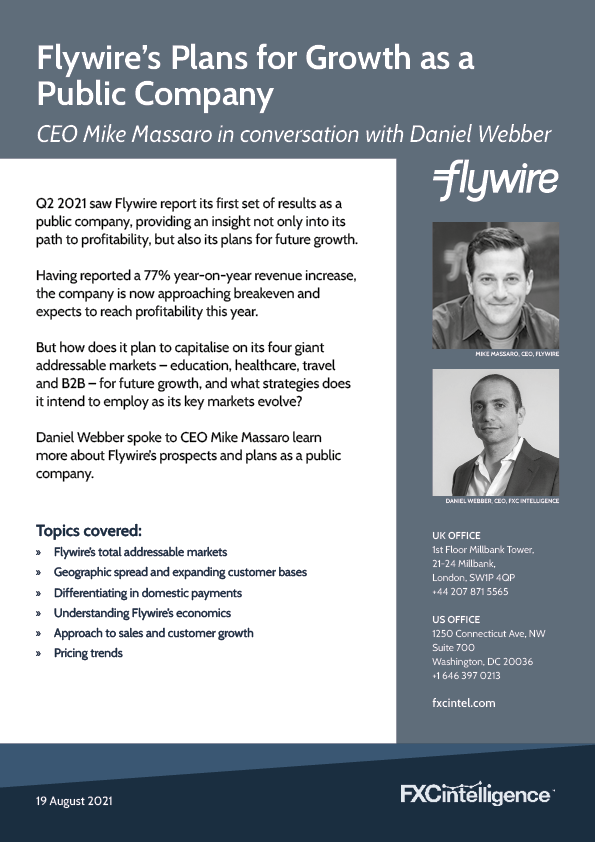 In 'Flywire's Plans for Growth as a Public Company'
Flywire reported Q2 2021 revenue of $33m, a 77% increase on Q2 2020. It also saw total payments volume increase by 85%, with adjusted EBITDA now approaching breakeven.In this quarter, 77% of the company's revenue came from transaction revenue, the majority of which is cross-border, while the remaining 23% came from platform and usage-based fee revenue, most of which is domestic.
But how does it plan to capitalise on its four giant addressable markets – education, healthcare, travel and B2B – for future growth, and what strategies does it intend to employ as its key markets evolve?
Key topics in my conversation with Mike include:
Flywire's total addressable markets
Geographic spread and expanding customer bases
Differentiating in domestic payments
Understanding Flywire's economics
Approach to sales and customer growth
Pricing trends